5 Star Car Title Loans Google Reviews:
To get extra money for anything I need, I just go online and send in an application to 5 Star Car Title Loans. They take it from there and guide me through the simple steps
Fred Newton
12:18 13 Feb 20
I sure wisht I knew about bike title loans earlier. I had no idea that I could use my bike to get a quick loan. After I found out about them, I went ahead and applied and sure enough! Those nice people over there called me back and helped me get the money I needed. And I got to keep my bike the

whole time!

read more
Howard Krebs
05:25 11 Oct 19
Kiara was the BEST!! I was in need of funds to to a family emergency & Kiara came to my rescue! Everything was simple & quick. I would def recommend this place & Kiara needs a raise for her efficiency & knowledge..
About This Location
Samuel R Morales Insurance Agency provides registration services for 5 Star Car Title Loans customers. The store is located at Martin Luther King Jr Blvd, near the intersection with Potomac Ave. If you live in Bakersfield and in need of registration services, stop by Samuel R Morales Insurance Agency that works with 5 Star Car Title Loans in Bakersfield. Samuel R Morales Insurance Agency provides our clients with unmatched customer service. 5 Star Car Title Loans does not issue loans at this location.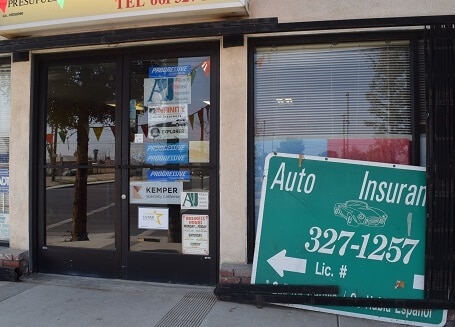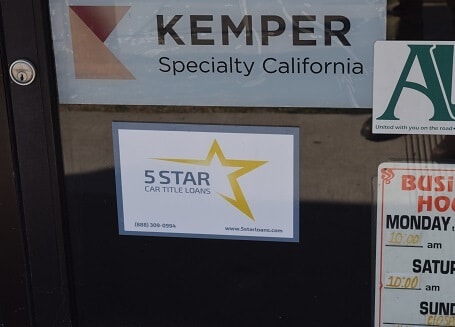 5 Star Car Title Loans in Bakersfield
If you need some extra money in Bakersfield, come to us! We process fast loans that you can use for anything you need. If you own a private vehicle, send in your online application to us at 5 Star Car Title Loans in Bakersfield today!
What Precisely are Auto Title Loans?
You'll be happy to know that auto title loans are a type of personal loan. Since title loans use something that you own as collateral for a loan, auto title loans use the title of your automobile. If you are ready to get some extra cash and own a car, then you are invited to send us your online car title loan application. At 5 Star Car Title Loans in Bakersfield, we have people waiting to hear from you.
Are There Any Requirements to Getting No Credit Check Loans?
Of course, the most important point here is the requirement that you must own a vehicle that has good value. Because when we get your auto title loans online application at our 5 Star Car Title Loans office, we'll want to find out how much your car is worth. If the value is high enough, we'll ask for your ID, proof that you can repay the loan and your car title. Depending on how your situation looks, we may also want to run a credit check, see your insurance policy or other supporting documents, such as a list of your expected income and expenses for each month.
If I Haven't Finished Paying Off My Car, Can I Still Qualify for Car Title Loans?
If you still have a few more payments to go on your financing, send us your online application. We'll work together to see if we are able to loan you the money you require to pay off your loan. With whatever money that's left over, you can use it to pay bills, make a purchase or take a trip. It's your money and you can do what you want with it! Call us or come in today to 5 Star Car Title Loans in Bakersfield.
Do You Charge Prepayment Penalties?
We absolutely do not charge you a penalty if you want to prepay your car title loans. If you're able to pay us back that's great so go ahead. And remember that when you are approved for a loan from 5 Star Car Title Loans in Bakersfield, there are no hidden fees!