Online Car Title Loans in Culver City, CA
Customers applying for online car title loans in Culver City, CA, can now use our new and fast services! All you need to do is turn on your mobile phone and send us your online application at any moment! Forget about driving to an office, standing in line and waiting your turn. Instantly apply with our online services.
5 Star Car Title Loans is now offering a more convenient way to get your money with online title loans in Culver City, CA. Enjoy the ease and simplicity of online car title loans!
Car Title Loans Online Application Process
Pre-Qualify – Fill out our quick online form and instantly see if you pre-qualify

Additional Info – Use our mobile app to upload vehicle photos, driver's license and car title

Loan Offer & Terms – One of our loan specialists will contact you with your loan offer
Online Car Title Loans - How it Works:
A. Submit the following info to see how much cash can you get:
Your name
Phone number
Vehicle information
Address
Date of birth
Social Security Number
B. Once pre-approved, our user-friendly mobile app will allow you to upload:
Photos of your vehicle
Driver license
Car title
C. Get an online title loans offer and terms
Upon receipt of the above described items, one of our loan specialists will be contacting you with your loan offer and terms.
D. Complete the loan process and get your money
To complete the title loan process, all* you'd need to do is stop by any FedEx store and ship the title to us. Our loan agent will print out a FedEx label for your convenience.
Once the title was dropped, we will simply direct deposit the funds into your debit or prepaid card.
*In some case you will be required to stop by one of our GPS Centers so we can install (free of charge) a tracking device onto your vehicle.
Online Title Loans in 4 Easy Steps
Enter Your Car's Details: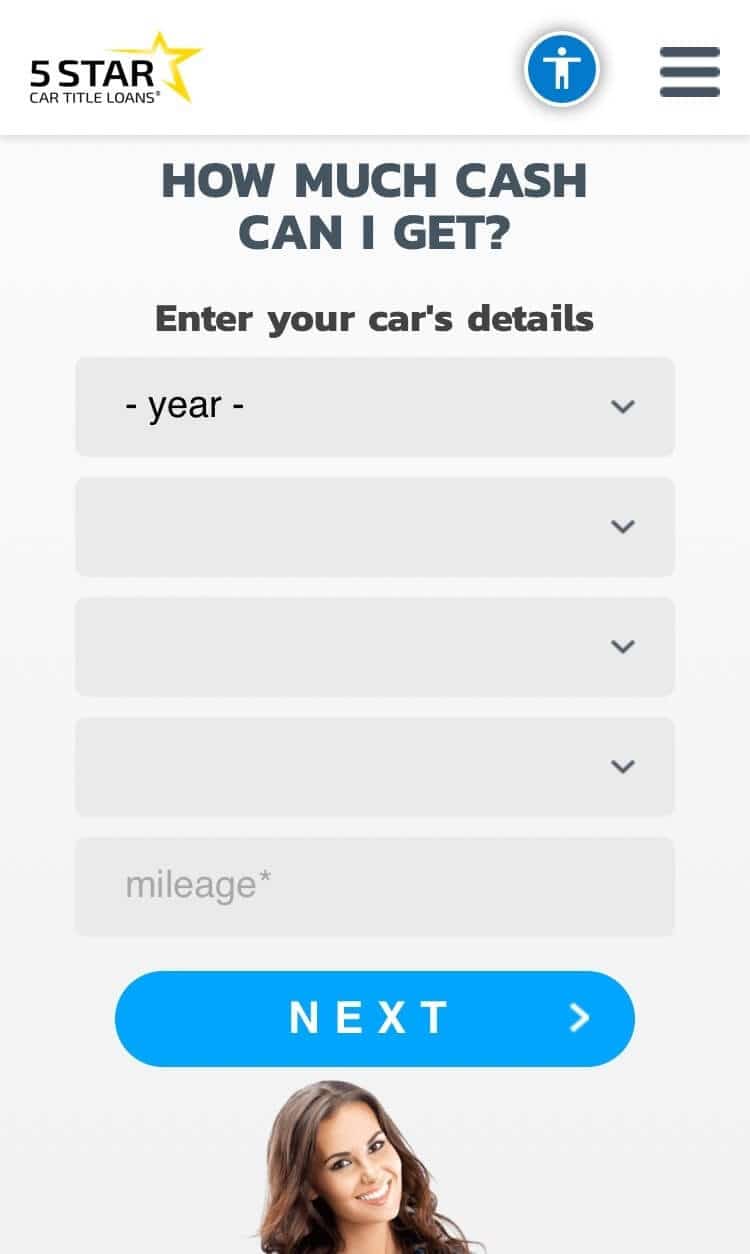 Your Personal Information: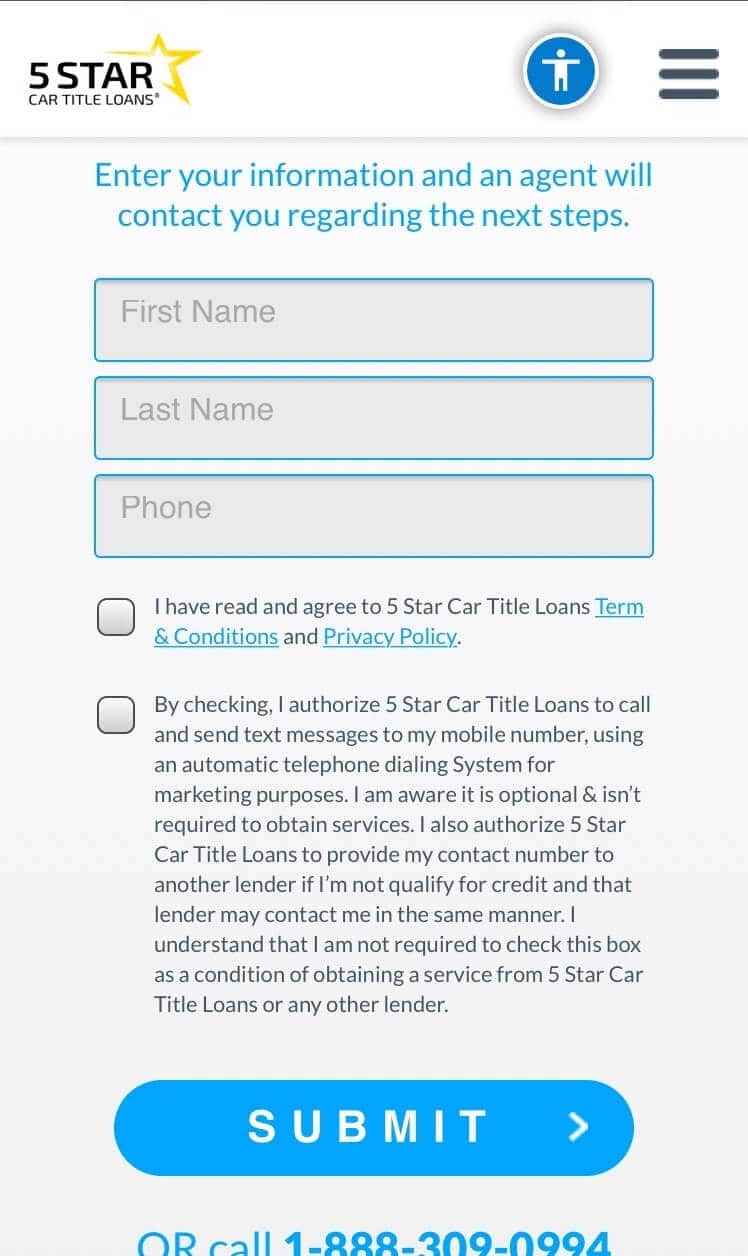 Address, Date of Birth and SSN: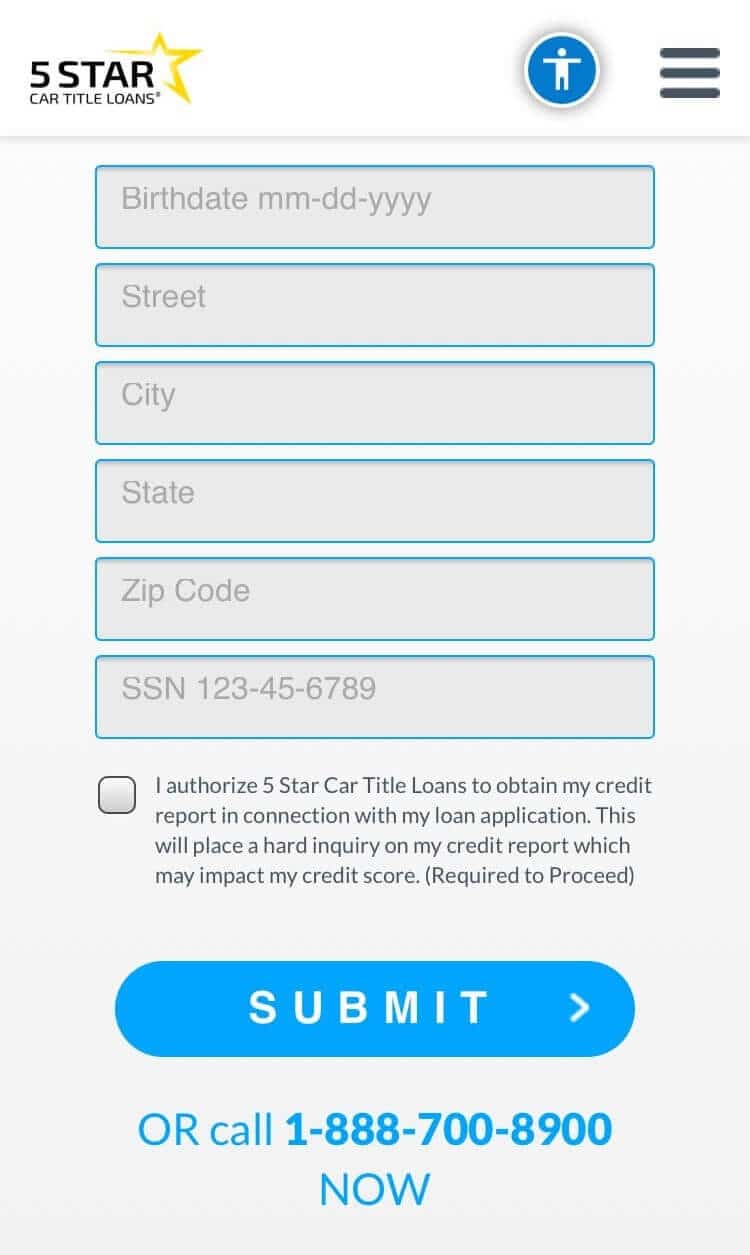 Upload Photos of Your Vehicle: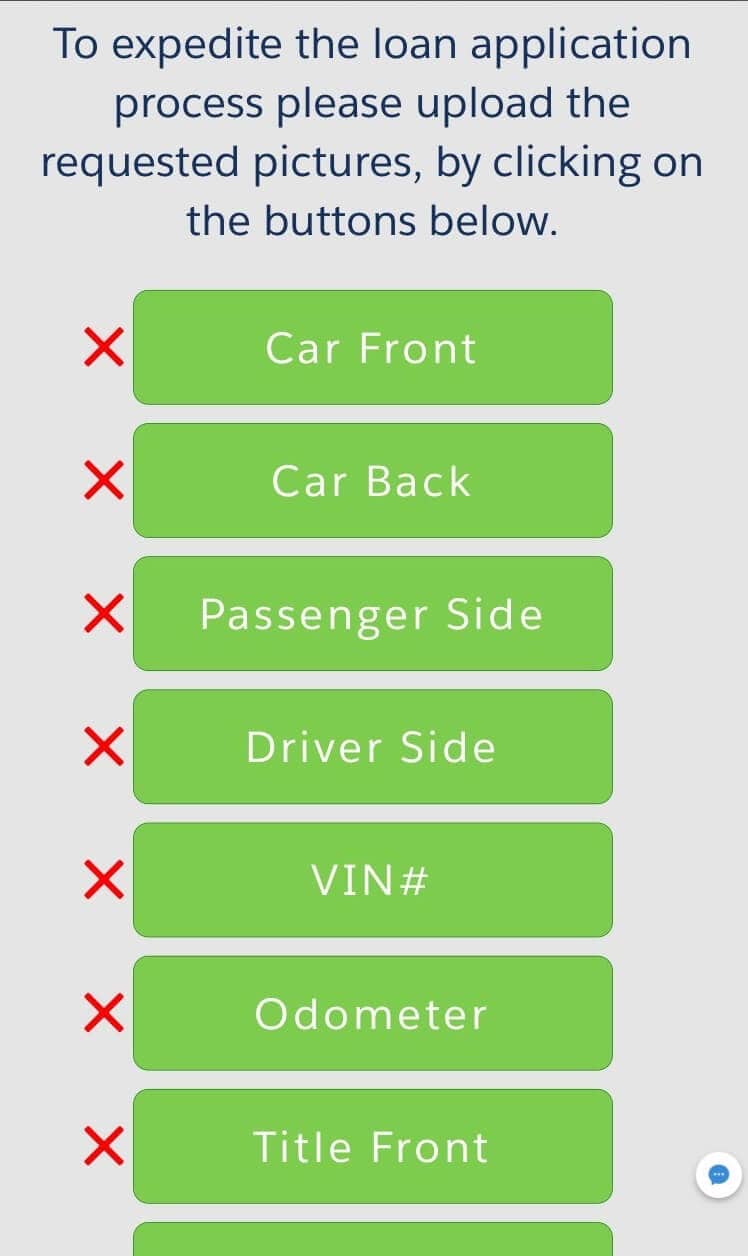 Getting an Online Title Loan in Culver City, CA Streamlines the Process:
Compare rates and pre-qualify online
Apply using our website instead of visiting our branch
Get a fast approval decision
Get a free estimate – compare a variety of offers!
Get a direct deposit of funds* to your debit card or a prepaid card


*You can also walk into any MoneyGram location inside a Walmart Center close to you and pick up Cash at the MoneyGram kiosk
Products Details
Any Credit History Accepted

Title Loans Ranging From 25% to 120% of Car's Value

No Extra Fees or Penalties for Prepayment

Annual Percentage Rate (APR) From 60% Up to 175%

Keep Driving Your Vehicle!
5 Things You Should Know About Best Car Title Loans
When you apply for fast cash online, you want to know that you will be getting the best car title loans possible. Here is a check list you can use to guide you through the process, so you'll be a satisfied customer.
1. Loan amount: At 5 Star Car Title Loans is depending on your car's value, your ability to pay and various credit factors.
2. Simple to compare: It takes only a few minutes for online pre-qualification. With comparison sites, you can view loan offers that are coming from many lenders. You only need to fill out the form once to see multiple offers.
3. Help with debt: When you get car title loans for bad credit, you can use the money to consolidate all your debt into one simple monthly payment. Don't struggle with remembering all your payment dates and don't take a chance of missing a payment that is due. Pay them off with your cash from a title loan.
4. Credit types: Since we look at more than just your credit report when approving applications for fast title loans, all credit types have a chance. We might consider other factors such as your occupation or education when making an approval decision. If you have a low credit score or are new to credit, this could be a good opportunity for you.
5. No risk online estimates: At 5 Star Car Title Loans, you can actually pre-qualify and see what your rates will be without signing anything or paying an application fee.
How Much Is Your Car Worth When Applying for Auto Title Loans in Culver City?
When you send your application for auto title loans in Culver City, the most important factor is to find out how much your car is worth. We have a method of checking your car's value that begins with looking up your model/year in Kelly Blue Book. Using that figure as a base, we either increase the value or lower it after checking the following factors:
1. Equity – Your car's equity is the first stepping stone to being pre-approved for cash title loans. The equity amounts to how much of the car you personally own. For instance, if you still have a few car payments due, then the loan company owns that portion of your car. The equity is the value of your car minus any payments that are due.
2. Outside condition – The way your car's body looks is important to its value. This is especially true if the car has suffered damage and has dents or scratches. Anything that is broken, such as mirrors or glass, will decrease its value.
3. Interior condition – The inside of your car should be clean and well cared for to get top value.
4. Odometer reading – The more miles you have on the odometer, the less your car is worth. There is a range of miles driven that should be according to the age of the car.
Best Title Loans – Competitive Rates
The interest rate of an instant cash loan is affected greatly by the amount of interest charged. At 5 Star Car Title Loans, we go to great lengths to offer interest rates that are manageable while being competitive. We also try to alieve any worries from our customers by never charging prepayment penalties or putting hidden fees into the contract.
We offer our customers that qualify an APR beginning as low as 60% or a higher rate that can go up to 175%. Send in your application for instant cash loans online today to find out what your rate will be.
Frequently Asked Questions
1. What are the requirements for auto title loans online?
Look at the following list to find what is needed to apply for auto title loans online:
Official form of ID
Recent photos of your auto
Vehicle title that is free and clear
Proof of income and expenses to show you can pay the loan
Contact details of your employer
We may need to see other documents, but these are the basics. In general, we need to confirm that you are the owner of your car and that you have steady income so you can repay the loan. You need to be over 18 years of age.
2. Does my credit need to be good to apply for an instant cash loan?
Even with bad credit, you can still be approved for an instant cash loan today. Send us your application and we will contact you.
3. Do you accept salvaged titles?
Sometimes we can accept salvaged titles. To learn more, call one of our agents for help in getting vehicle title loans.