Online Car Title Loans in San Bruno, CA
Good news for anyone needing fast title loans. You are now able to apply for online car title loans in San Bruno, CA using your mobile phone! There's no need to wait for offices to open or to take a number and stand in line. Apply now and get a quick response.
5 Star Car Title Loans is now offering a more convenient way to get your money with online title loans in San Bruno, CA. If your cash is running low, apply for quick cash loans online.
Car Title Loans Online Application Process
Pre-Qualify – Fill out our quick online form and instantly see if you pre-qualify

Additional Info – Use our mobile app to upload vehicle photos, driver's license and car title

Loan Offer & Terms – One of our loan specialists will contact you with your loan offer
Online Car Title Loans - How it Works:
A. Submit the following info to see how much cash can you get:
Your name
Phone number
Vehicle information
Address
Date of birth
Social Security Number
B. Once pre-approved, our user-friendly mobile app will allow you to upload:
Photos of your vehicle
Driver license
Car title
C. Get an online title loans offer and terms
Upon receipt of the above described items, one of our loan specialists will be contacting you with your loan offer and terms.
D. Complete the loan process and get your money
To complete the title loan process, all* you'd need to do is stop by any FedEx store and ship the title to us. Our loan agent will print out a FedEx label for your convenience.
Once the title was dropped, we will simply direct deposit the funds into your debit or prepaid card.
*In some case you will be required to stop by one of our GPS Centers so we can install (free of charge) a tracking device onto your vehicle.
Online Title Loans in 4 Easy Steps
Enter Your Car's Details: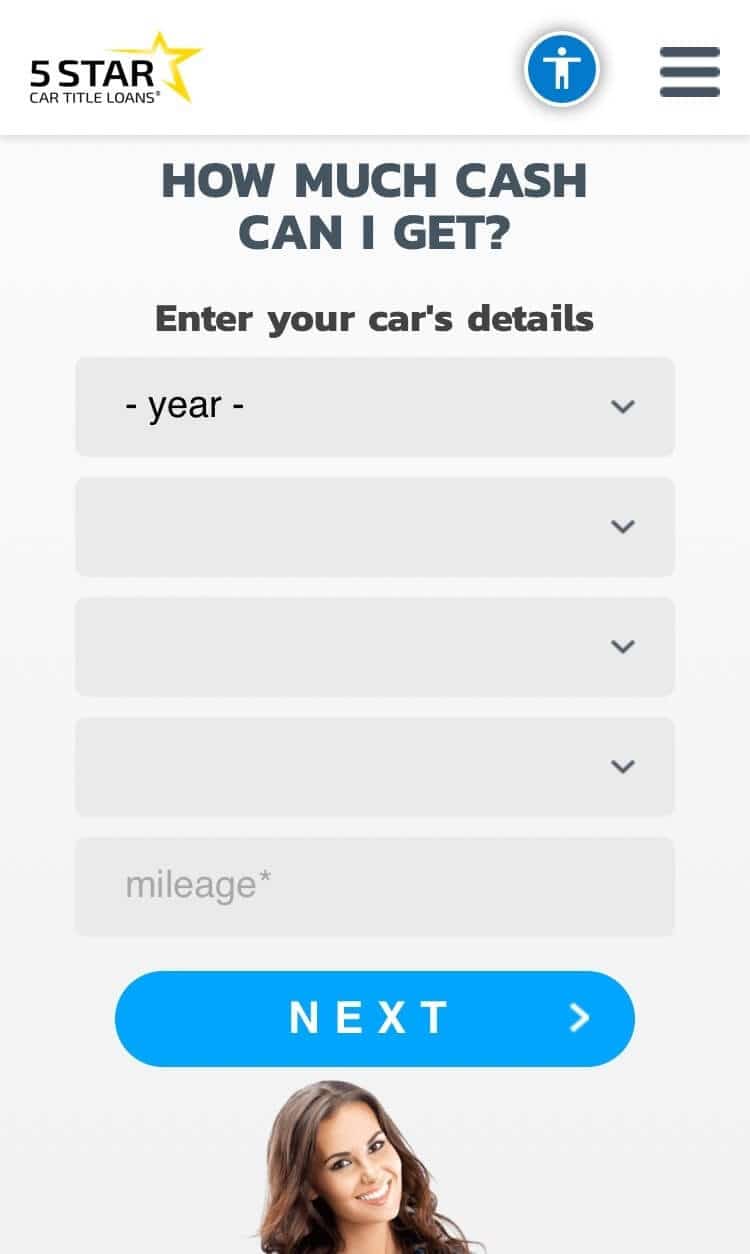 Your Personal Information: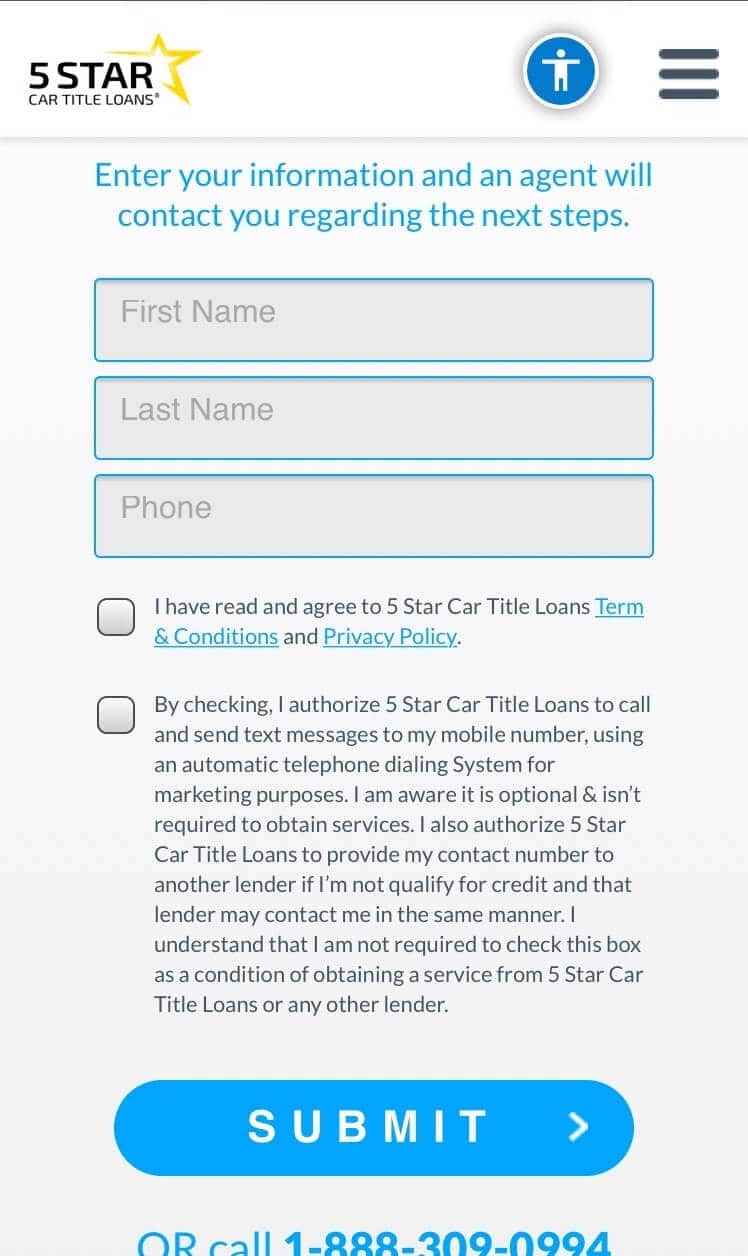 Address, Date of Birth and SSN: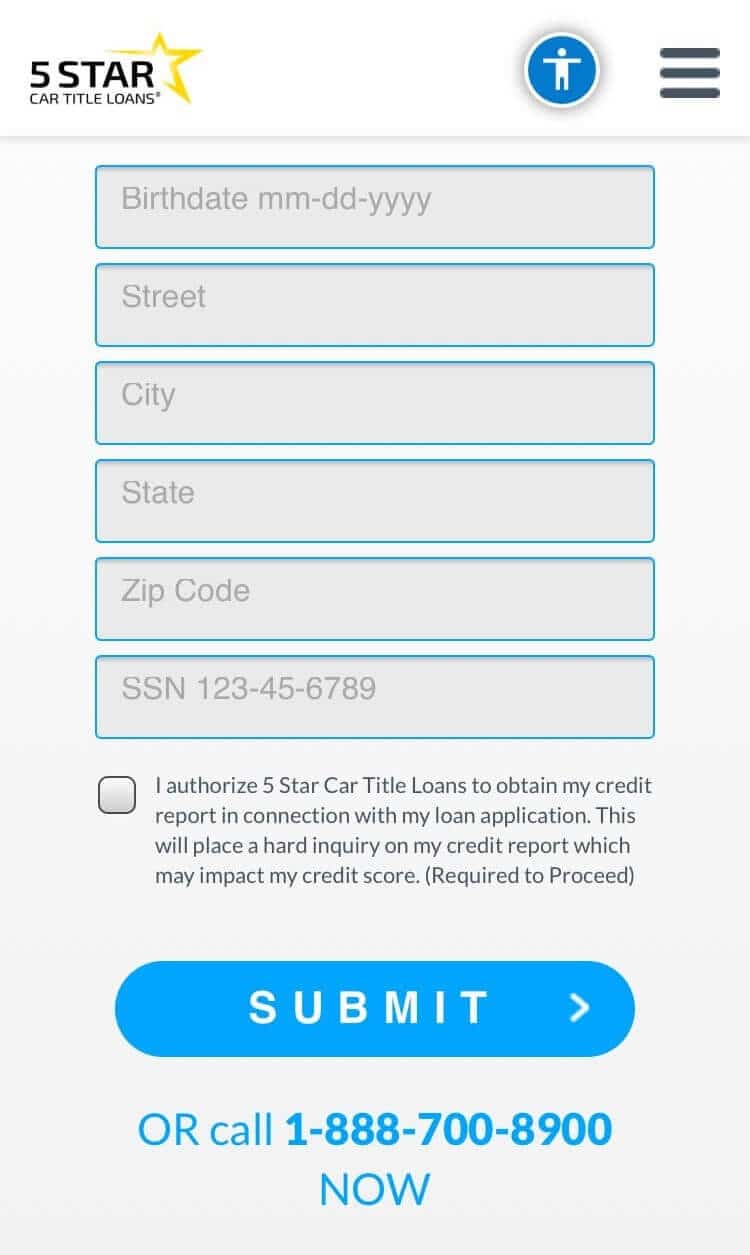 Upload Photos of Your Vehicle: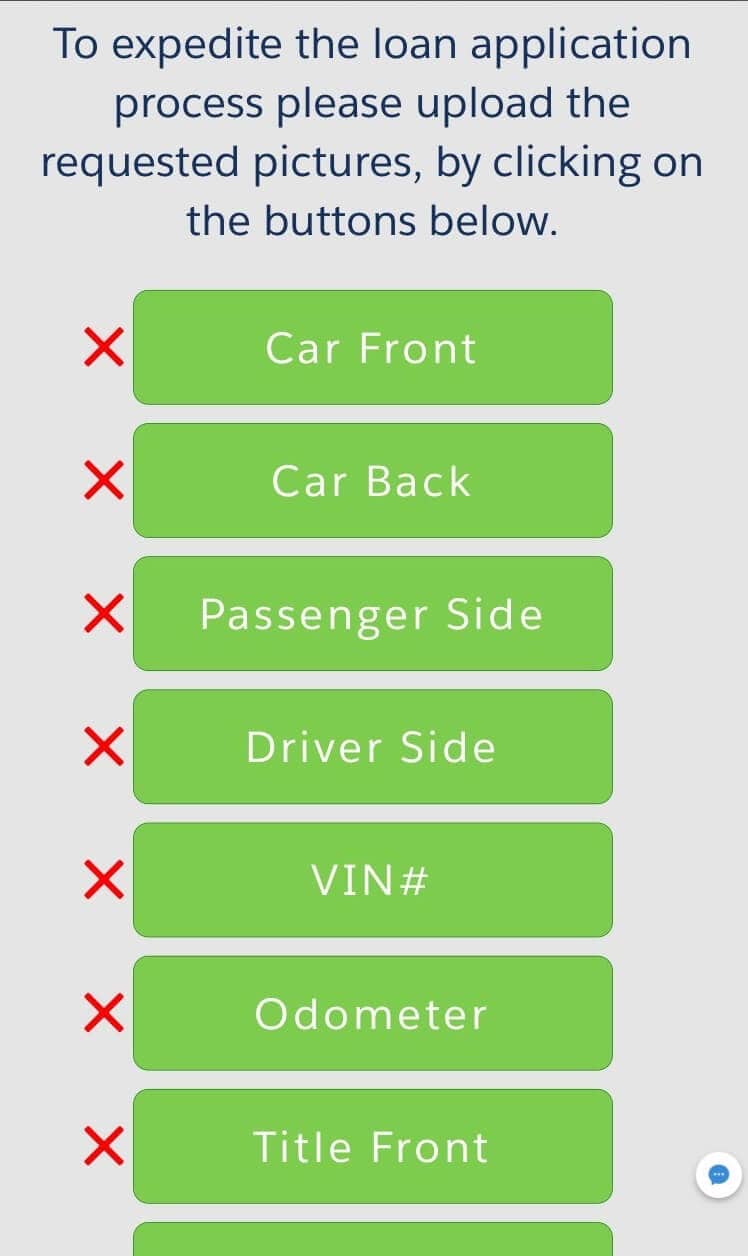 Getting an Online Title Loan in San Bruno, CA Streamlines the Process:
Compare rates and pre-qualify online
Apply using our website instead of visiting our branch
Get a fast approval decision
Get a free estimate – compare a variety of offers!
Get a direct deposit of funds* to your debit card or a prepaid card


*You can also walk into any MoneyGram location inside a Walmart Center close to you and pick up Cash at the MoneyGram kiosk
Products Details
Any Credit History Accepted

Title Loans Ranging From 25% to 120% of Car's Value

No Extra Fees or Penalties for Prepayment

Annual Percentage Rate (APR) From 60% Up to 175%

Keep Driving Your Vehicle!
Learn About Our Quick Cash Title Loans
Applying for cash title loans from 5 Star Car Title Loans makes you eligible for many benefits. Here are some of the facts you should understand about getting fast cash online:
Type of rates charged – simple interest
Payments of title loans – one per month
Length of loan term – 36 months
Credit rating types:
Poor credit.
Good credit.
Never had credit.
No hidden fees
No prepayment penalties
Send in your no-risk application today. All title loans from 5 Star Car Title Loans are pusuant to CA Financing Law License No. 603F508.
Services for Online Title Loans in San Bruno
You can be confident when you send in your application, knowing that you'll receive the following services:
Easy online applications
Secure personal information
Your choice of payment options
Keep driving your car
Fast funding
Customer service agents are available
Lots of California locations.
Assisting with registering an out of state license
Assisting with updating your car title
Get your cash fast with:
Repay for direct deposit
Cash with MoneyGram
Company check
Easy Online Loans for Bad Credit Applicants in San Bruno
If you are dealing with a bad credit status, you might be worried about where you can get easy loans online approval. If you own a car with good value and you have a steady job that will enable you to repay a loan, you can apply for easy online loans for bad credit. Our credit criteria is different than that of a traditional loan. We will look at your credit history, but we'll take your current situation into account as well. We'll check that you'll be able to pay and that your car's value is adequate. Apply now for fast online loans for bad credit.
Various Payment Methods for the Best Car Title Loans
One of the factors you should compare when deciding on the best car title loans is the methods of paying back the money. Be certain that whatever type of instant cash loan online that you apply for, you'll be able to pay it back comfortably.
4 payback options:
A. Pay by phone: To pay back your fast cash online by phone, simply call our office and the loan agent will help you. Have your credit card or debit card ready.
B. Pay online: Paying your cash title loan online requires an account. If your account is set up you can easily submit your payment each month. If you have trouble setting up your account, call us and we'll walk you through the simple steps.
C. Check or cashier's check: To make your monthly payment by check, you can mail it to us. Be sure to allow enough time for it to arrive by mail.
D. Pay with cash: Paying by cash can be done by taking your monthly payment into a 7 Eleven store. At the checkout counter, you can submit your cash.
Frequently Asked Questions
1. Can I get vehicle title loans if my car isn't paid off yet?
Send us your application. We'll evaluate your car and ability to pay to see if we can give you enough money to pay it off and still have cash left over.
2. What are title loan requirements*?
Valid ID
Vehicle title without liens
Proof you can repay the loan
Pictures of your vehicle
Employer's contact details, such as email and address
Your personal information
*Other documents might be needed for the application. The lender will notify you.
3. Is there a penalty for prepayment of quick cash loans online?
No, there are no prepayment penalties.