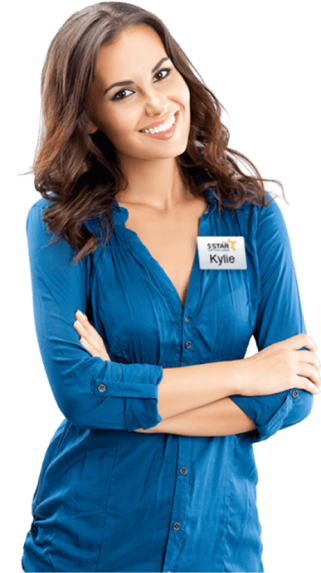 Customer Centered Service

Providing excellent customer service and a positive loan experience is 5 Star Title Loans top goal and we work tirelessly to make this happen for each and every customer.

Loans for Low Credit Score

We don't like turning away customers simply for having a bad credit score. We will work hard to get you a loan regardless of your bad credit.

Easy Application Process

We understand the urgency when getting a loan, so we offer simple options for applying. You can choose to apply either by phone or online.
Products

Car Title Loans

Payday Loans

Bad Credit Loans

Personal Loans

Online Title Loans

RV Title Loans

Process

Apply by phone or online

Complete all necessary requirements

Visit our local if needed

Get your money

Requirements

Car details

Personal details

Car title

Identification

References

Benefits

Keep driving your car

No prepayment penalties

No hidden fees

Quick funding

Personable service
5 Star Car Title Loans in Lynchburg, Virginia
Life gets stressful when an unexpected financial burden hits us, not having any emergency cash makes the situation worse.
Asking for help from friends and relatives doesn't always seem like a good option and a traditional bank loan can make you wait for days, weeks, or even months.
During such situations, short term loans such as (payday loans and title loans) can really help you out. And if you have a well maintained car under your name choosing a car title loan becomes a more suitable option. 
With only a few documents and poor credit scores, you can get money through a title loan within a business day.2
What is a Car Title Loan & How Does it Work?
Auto title loans are a kind of short-term loan designed for people who need some emergency cash. These are secured loans entitled to use your car's title as collateral for the loan.1
The way Lynchburg car title loans work is pretty simple, once you get approved you need to transfer the title of your car to the lender. 
Even though the title loan lenders will hold your car's title you are still free to use your car while repaying the loan. You need to pay the whole title loan amount (principal + interest) to get the car title back in your name.1
Once your loan gets closed you will get the title back in your name.
How Does The Application Process Work?
One major reason why car Lynchburg title loans are gaining popularity is due to their easy loan process & competitive interest rates.1 Unlike any other loan, you don't have to fulfill a slew of requirements and wait for days before you could get approved for an auto title loan. 
With 5 Star Car Title Loans you can apply for a loan in like 3 easy steps:
Either Apply Online or Call Us
To make the title loan process more streamlined we provide you with ways to apply as per your interests. You can choose to call us or apply online by visiting our web portal.
All you need to do is submit a few basic details and you can know if you are pre-approved for the title loan or not in just 5 minutes.2
Submit Required Documents
Once you get qualified for a car title loan in Lynchburg, Virginia, you need to submit a few required documents. No, you don't have to make any in-person, you can just email a copy of your documents. The earliest you provide us with the documents the quicker loan amount you will get. 
Get Your Money
Once we are satisfied with the documents provided by you, you'll be handed  loan documents/ agreement. You need to read the agreement paper to understand the details of your loan.  
After successful final approval, you can expect to get a direct deposit in your account within 24 hours.2
What Documents are Needed for Title Loans in Lynchburg, Virginia?
Providing certain documents is essential to getting approved for 5 Star Car Title Loans in Lynchburg, Virginia. It helps us to verify your legality and risk associated with lending the money.  
Clean Title to the Vehicle
The processing of car title loans couldn't begin until you provide this document!
You need to present a clean car title that verifies your exclusive ownership of the vehicle. You are also required to provide evidence that the car has been fully paid for and that no other creditors have a claim on it.
Pictures of Your Vehicle
Title loan lenders are required to take into consideration the car value before making an offer. They will concentrate their attention on the following aspects of your car in particular: 
Year

Maker

Interior

Model

Mileage

Extras
However, considering that usually the processing of 5 Star Car Title loans are done online, you now can upload or email photos of your vehicle. Make sure the pictures are taken from different perspectives for us to determine the value of your vehicle.
Documentation Proving Your Income
What if you are one of the individuals living in Lynchburg, Virginia who is currently jobless?
Worry not! 
If you can demonstrate that you can repay the loan, then you may still be eligible for car title loans. If you don't have any other evidence of your earnings, you might provide any one of the following documents instead:
Tax returns

Recent pay stubs

SSI Statements

Pension papers

Retirement account statement
Proof of Residency
You are going to need to produce evidence of your residency to be eligible for a title loan in Lynchburg, Virginia. You can do that by providing any of the following basic documents:
Utility bill

Mortgage statement

Lease agreement

Credit card or bank statements

Property tax bill

Medicare benefit statement

Homeowners insurance policy
Identity Proof
A government-issued ID is required to verify personal information when applying for 5 Star Car title loans because these loans are only available to people of legal age (18+). You can choose to submit a copy of your driving license, passport, or any other state-issued identity card.
Get a Title Loan and Keep Driving Your Car!
There are a lot of misconceptions that circulate regarding loan applicants being prohibited from driving their cars while they are still making payments on the loan.
However, the reality is that the title to your vehicle can be used as collateral, and the only thing that your lender will do to it is put a lien on it.
Once your loan application has been processed and accepted by 5 Star Car Title Loans in Lynchburg, Virginia, you will be able to take your car back with you along with the loan amount that has been granted to you and utilize it any way you see fit.1
After you have finished paying off all of your installments, the title to your vehicle will be transferred back into your name.
How Much Cash May I Borrow with a Car Title Loan in Lynchburg, Virginia?
It is helpful to have a notion of how much money you are capable of borrowing through car title loans. It assists you in calculating the required EMI amount in addition to the period of the loan.
The elements that determine whether or not you are eligible for a title loan are also the same factors that influence how much money you can get from a car title loan.
If you have a high capacity for repayment and a high worth in your vehicle, you will be able to obtain a loan for a greater amount. 
You are welcome to give us a call or stop by our location in Lynchburg, Virginia if you would like to make an initial inquiry on the loan. 
Can I Apply for a Title Loan in Lynchburg, Virginia Without Bringing in My Car?
Absolutely yes!1
Instead of having someone look at your vehicle in person, we will just require a few images of it. It is sufficient to submit a few photographs of your vehicle's interior, exterior, vehicle identification number (VIN), odometer (to check mileage), and any other relevant components.
Because of these photographs, we can validate not only the value but also the brand, model, manufacturing year, overall condition, and mileage of the vehicle.1
To establish that you are the rightful owner of the vehicle, we can also compare the Vehicle Identification Number (VIN) to the title. 
During the loan application process in Lynchburg, Virginia, we will provide you with information on what we require and make it easy and fast for you to provide the required photographs.
All Credit Types Invited To Apply for Lynchburg, Virginia Title Loans
You've got a bad credit score? Practically every major financial institution indeed requests credit checks. There is no need to worry about credit history or score while obtaining a 5 Star Car title loan.1
Although credit checks may be necessary in some cases, it is not always the case.1 As a result, no matter what your credit history is, you can acquire a title loan in Lynchburg, Virginia. Title loans are based on two primary variables, however, they are not restricted to these.1
Ability of repayment
Your ability to repay a title loan is the single most significant consideration. For instance, you'll need to verify that you have a steady source of income.1
The value of a vehicle
The current value of your car acts as collateral for the title loan.1 If you're wondering how much a title loan would cost, keep in mind that the amount of equity you still have in your car plays a crucial role (plus the ability to repay the vehicle owner).
As a result, if you have a good monthly income and a lot of equity in your qualifying vehicle, you may be eligible for a greater loan amount.1
How to Get a Title Loan with the Title Not in my Name
The process for getting a loan from 5 Star Car Title Loans in Lynchburg, Virginia is a little bit different. In the state of Virginia, if the title to your vehicle is not already in your name, you will be unable to receive a title loan without first transferring the title into your name.1
 To qualify for a title loan in Lynchburg, Virginia, one of the most important requirements is that the car title is in your name. 
Therefore, you need to get the title changed into your name if it is not already in your name for any reason at all. You will need to go to the state Bureau of Motor Vehicles to accomplish this (BMV). For the process to be completed, the BMV requires that you bring in certain documents.
Required docs are as follows: