Online Title Loans in Watsonville, CA
Now is the easiest time ever to apply for online title loans in Watsonville, CA! You can apply online at any time that is good for you! That's right, if you're at home, you don't need to leave to apply. If you're at your office, just connect to the internet on your laptop or use your mobile phone. There's nothing to stop you from applying for an easy cash loan online!
5 Star Car Title Loans is now offering a more convenient way to get your money with online title loans in Watsonville, CA. Apply for fast cash loans from wherever you are without waiting!
Car Title Loans Online Application Process
Pre-Qualify – Fill out our quick online form and instantly see if you pre-qualify

Additional Info – Use our mobile app to upload vehicle photos, driver's license and car title

Loan Offer & Terms – One of our loan specialists will contact you with your loan offer
Online Car Title Loans - How it Works:
A. Submit the following info to see how much cash can you get:
Your name
Phone number
Vehicle information
Address
Date of birth
Social Security Number
B. Once pre-approved, our user-friendly mobile app will allow you to upload:
Photos of your vehicle
Driver license
Car title
C. Get an online title loans offer and terms
Upon receipt of the above described items, one of our loan specialists will be contacting you with your loan offer and terms.
D. Complete the loan process and get your money
To complete the title loan process, all* you'd need to do is stop by any FedEx store and ship the title to us. Our loan agent will print out a FedEx label for your convenience.
Once the title was dropped, we will simply direct deposit the funds into your debit or prepaid card.
*In some case you will be required to stop by one of our GPS Centers so we can install (free of charge) a tracking device onto your vehicle.
Online Title Loans in 4 Easy Steps
Enter Your Car's Details: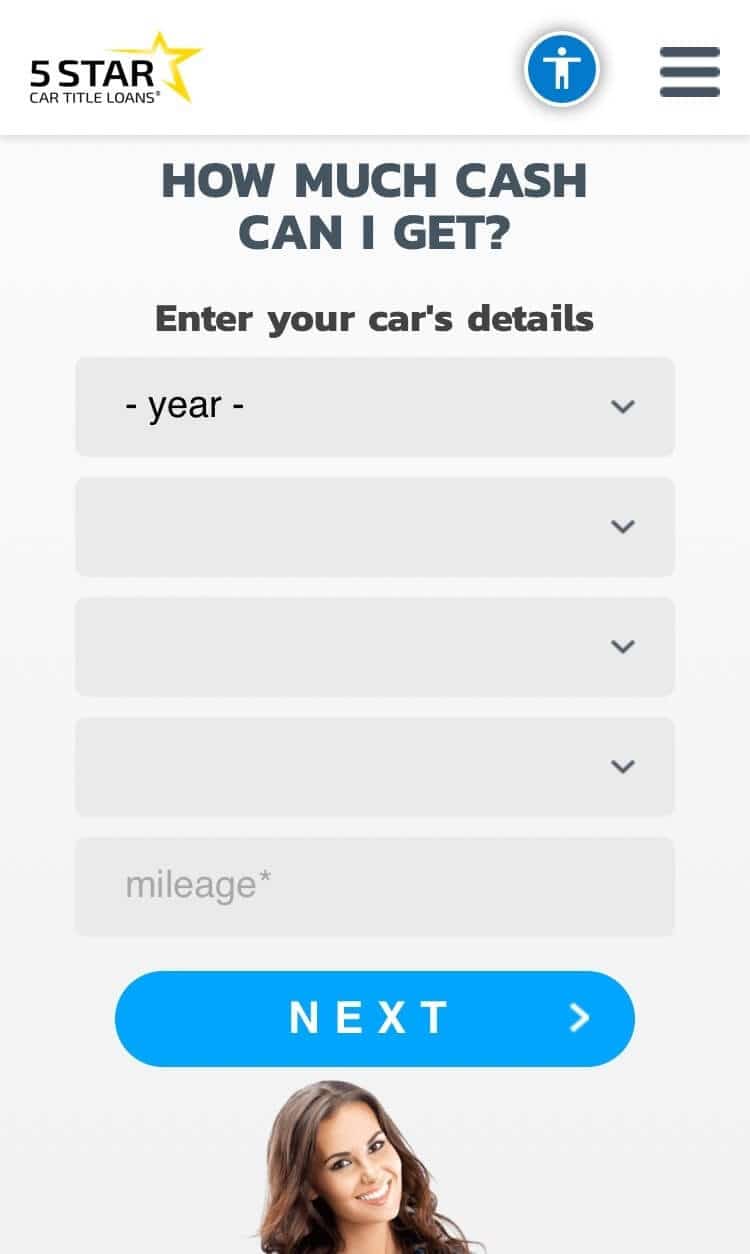 Your Personal Information: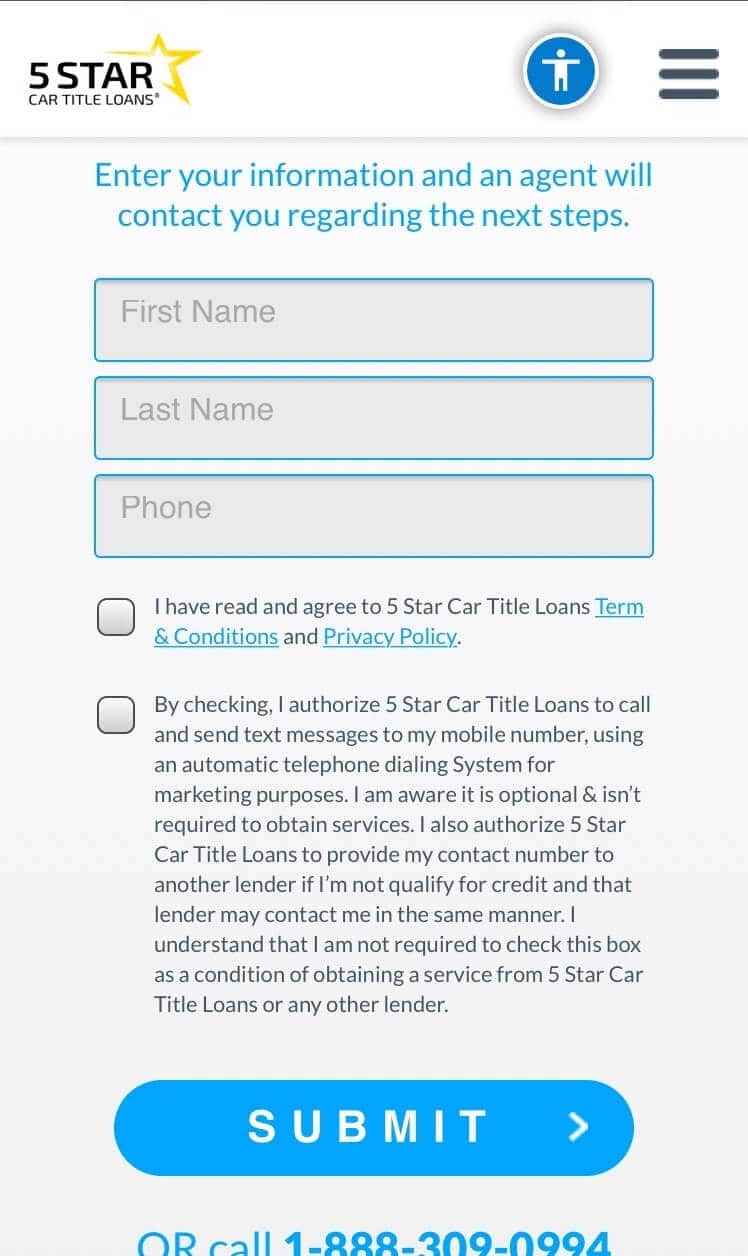 Address, Date of Birth and SSN: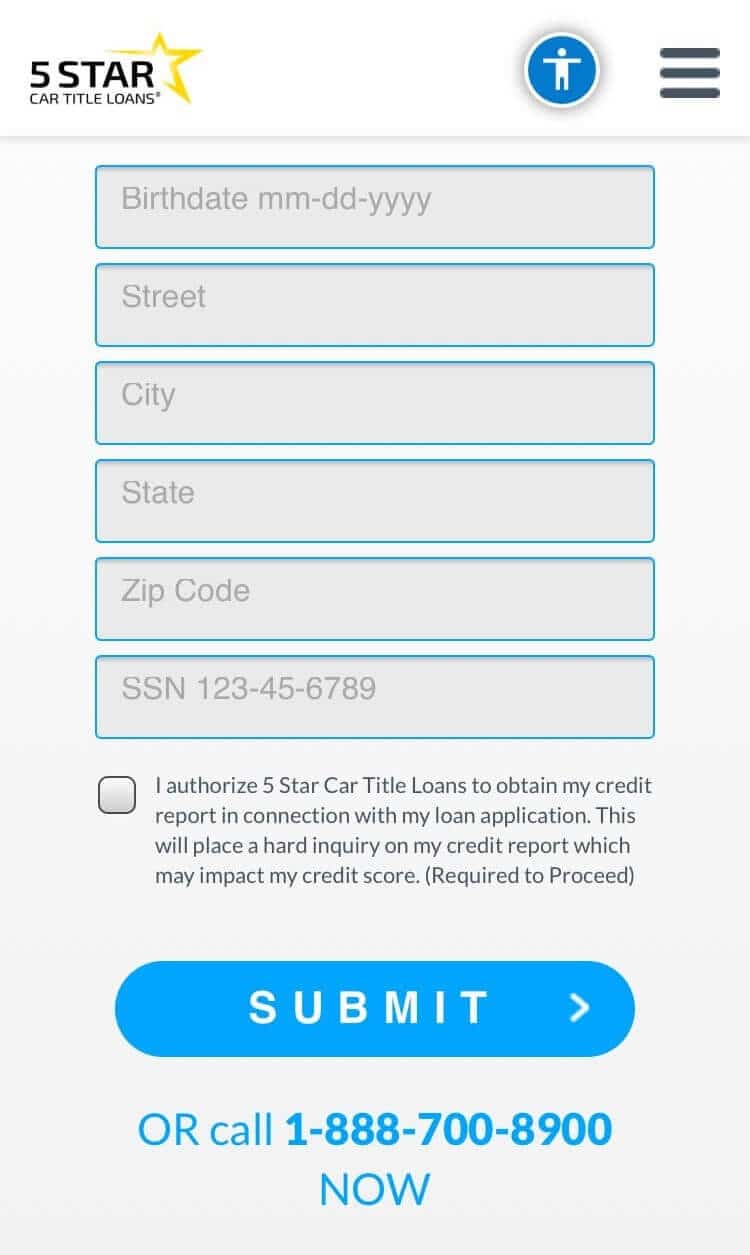 Upload Photos of Your Vehicle: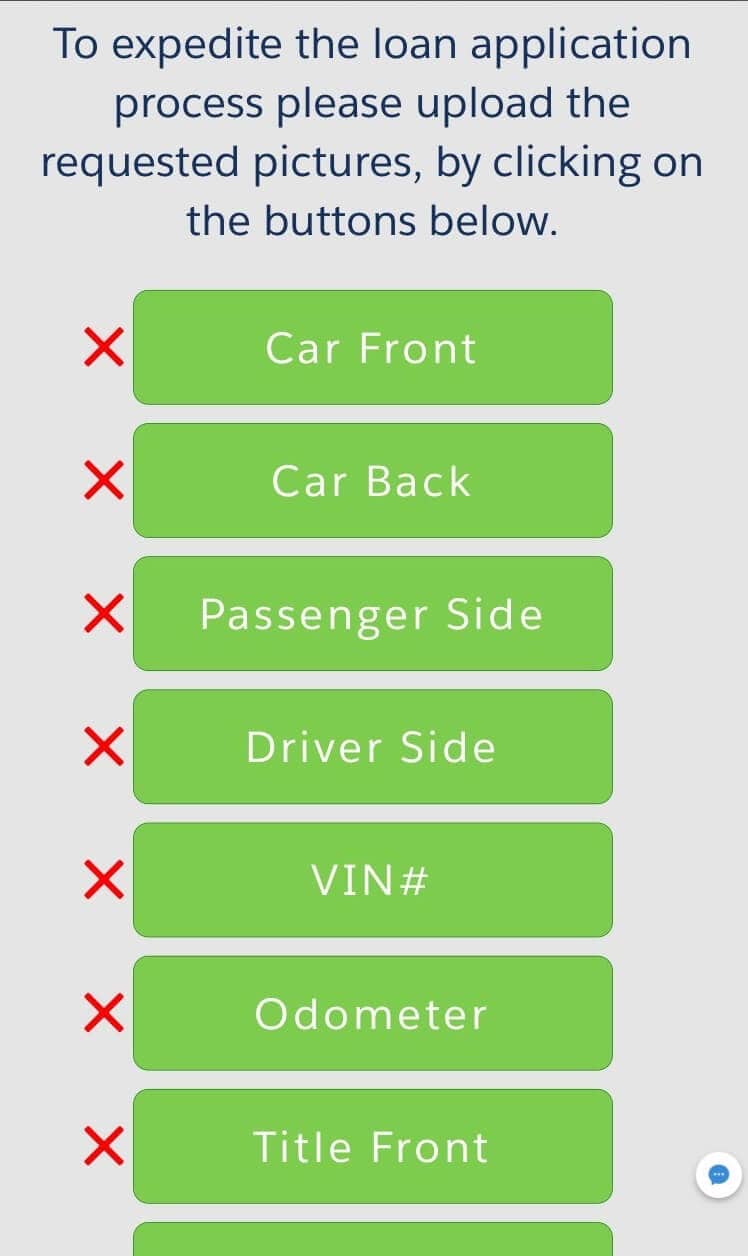 Getting an Online Title Loan in Watsonville, CA Streamlines the Process:
Compare rates and pre-qualify online
Apply using our website instead of visiting our branch
Get a fast approval decision
Get a free estimate – compare a variety of offers!
Get a direct deposit of funds* to your debit card or a prepaid card


*You can also walk into any MoneyGram location inside a Walmart Center close to you and pick up Cash at the MoneyGram kiosk
Products Details
Any Credit History Accepted

Title Loans Ranging From 25% to 120% of Car's Value

No Extra Fees or Penalties for Prepayment

Annual Percentage Rate (APR) From 60% Up to 175%

Keep Driving Your Vehicle!
How Online Car Title Loans in Watsonville Can Help with Fast Cash Loans
If you're stuck in a difficult financial place, you can apply for easy loans online. Since they are completely online loans, you can send in your request now, no matter what the hour. Here are some of the benefits you can receive:
Instant cash loans online with payback term of 36 months
Annual Percentage Rates (APR) range from 60% to 175%
All credit types accepted: good, bad or no credit at all
3 payment methods, including online, over the phone or cash
Instant cash advance beginning at $2,600
If you want to hear more about how online car title loans in Watsonville can help you, send in your application or give us a call.
5 Reasons Vehicle Title Loans Are so Popular
When you need money quickly, it can be hard to decide which direction to go – where to get the money. Here are some of the facts that people love about vehicle title loans:
1. Easily compare rates – You need to only send in one pre-qualification application, which only takes a few moments. You'll get to see offers from several online title loan companies so you'll be able to do a quick and easy comparison of terms and rates.
2. One monthly payment – You can apply for instant cash loans online and then use the money to pay off your bills, such as credit cards. Then with your instant cash loan, you will only have one single, monthly payment to worry about.
3. Good credit, bad credit and no credit types accepted – Even if you have had a bad credit status in the past or you've never gotten credit before, you can still be approve for easy online loans for bad credit. At 5 Star Car Title Loans, we use our own credit criteria to evaluate applications.
4. Completely Online – Since you can take care of online title loans completely online, convenience is a prime factor. From the time you apply until accepting the loan, you can manage everything online. Getting fast cash loans has never been easier!
5. Estimates with no risk – With the online title loans process, you don't need to pay anything upfront. Unlike other types of loans, you can apply and get an offer without paying a cent. Applications for fast online loans are without obligation.
5 Star Car Title Loans Services in Watsonville
When you apply for car title loans in Watsonville, you should know what to expect. Here is a list of our basic services:
Online application process is quick and easy
Personal details are confidential and secure
Fast funding with:

MoneyGram for cash payments
Repay for direct deposit
Company Check

Don't give up your auto
Customer service representatives 6 days a week
Multiple options for monthly payments
Multiple California locations to choose from
Help transferring your title, if needed
Help with registering titles in California, when needed
Choose from Different Loan Types
To get vehicle title loans in Watsonville, you don't need to own a car. We have different loan types that we offer to our customers.
Loan Types:
Car title loans
Personal loans
Boat title loans
Motorcycle title loans
Unsecured loans
Pawn title loans
ATV title loans
As you can see, we offer many types of loans at 5 Star Car Title Loans. If you don't see your vehicle or loan type on the list, give us a call.
3 Options for Loan Payment
We have three options available, so that you can choose whatever is the most convenient for you:
1. Online payments – To take advantag of this option, you'll need an account to log inti. It's not a problem to set up an account. Just call our office and we'll help you.
2. Pay on the phone – To pay using the phone, you can call our office. After giving the details of your credit or debit card, our phone representatives an help you put your payment through.
3. Cash payments – If it's easier for you to pay by cash, you only need to enter a 7 Eleven to do so. Go to the one closest to you or the one that's the most convenient.
Car Title Loans for Bad Credit
Even if you have a bad credit status, you can still get fast cash online. The reasoning is simple. We use our own credit criteria for establishing approval:
Sufficient value of your car
Proof of ability to repay
Other credit criteria
With a poor credit status, you can still get fast cash the same day. Apply now for yours!
Frequently Asked Questions
1. Can I get a title loan in Watsonville if I've gone through a bankruptcy?
We would want to know if your bankruptcy has been discharged. If it has, we'll check that you have the ability to pay and that you're receiving credit counseling. If you are still in the midst of bankruptcy proceedings it can be more difficult but sometimes possible. Check with our local office for more specifics on quick loans for bad credit relating to your specific situation.
2. If I haven't finished my car payments, can I still get the best title loans?
The best title loans are based on the equity in your car and your ability to pay. If you own good equity in your car, you can still be approved for the best title loans. It's possible we can advance you enough cash to pay off your car with cash left over.
3. Can you help me with transferring the title into my name?
We can help you with registering your car and getting a title that is up to date. To use your car title for collateral on an instant cash loan, it must be in your name. Call us today for help with your title.
4. Will I have to go to the DMV?
In many cases, we can handle that for you. Send us your application and let's see how we can help.