5 Star Car Title Loans Google Reviews:
Temple City has a lot going for it, but when I tried to attend too many events I got myself in debt. Partly from ticket prices but also because of the work I missed. I have my spending under control now and got back on my feet with auto title loans.
Larrisa Cruz
22:39 16 Jan 20
When you need a bad credit loan, you should try out using your vehicle as security. If it's worth enough money, then you can get the money fast, even with bad credit.
James Ferguson
07:15 26 Dec 19
I figured I'd try to get an auto equity loan, since it seemed like the only way I could get some quick money. The company really messed me up though. I thought I'd be able to get money in one hour, but it was not like that at all. The main holdup was they wanted to see a copy of my income to know if I'd be able to pay back the loan. What a drag. I had to write up a list and send it to them. They were real nice about it though and even helped me. In the end I did get the money later that day, so all was OK. Looking back, I guess I can understand why they wanted to check my ability to pay, but I wasn't expecting it.
Dahlia Mraz
13:16 05 Dec 19
Great service! Took all of my stress away.
Loretta Boatright
18:37 23 Aug 18
About This Location
Power Savings Insurance Services provides registration services for 5 Star Car Title Loans customers. The store is located at 5646 N Rosemead Blvd near the intersection with E Las Tunas DR. If you live in Temple City and in need of registration services, stop by Power Savings Insurance Services that works with 5 Star Car Title Loans in Temple City. Power Savings Insurance Services provides our clients with unmatched customer service. 5 Star Car Title Loans does not issue loans at this location.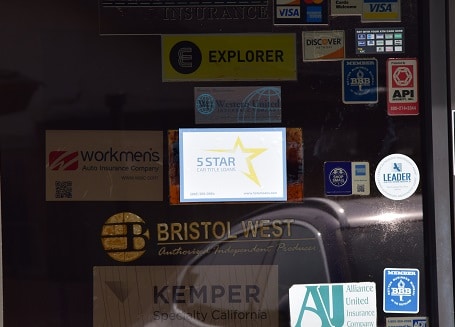 Temple City, California
Temple City started life out as Temple, CA back in 1923. Walter P. Temple bought 400 acres of land near San Gabriel. Temple was the tenth child who had been born to Antonia Margarita Workman, who was the daughter of Pliny Fisk Temple. Temple had dreamed of a community for average people to be able to buy their own homes. In the beginning, the development was called "City of Temple," but because the postman got the name mixed up with Tempe, Arizona, the name was changed to Temple City.  In 1960 it was incorporated under that name. From Temple City was David Klein, who lived there when he invented the Jelly Belly.
Finding Extra Cash in Temple City
You might be able to get all the Jelly Bellies you want in Temple City, but what about cash? If you need cash for any need, that can be harder to come by than jelly beans. If you've tried to get a bank loan but they shut the doors on you due to bad credit history, that isn't the end of the road for you. We might have a cash loan for you beginning at $2,600! Anyone who owns a car can send in an online application to 5 Star Car Title Loans in Temple City. We will evaluate your request and get back to you as quickly as possible. Go ahead and apply now!
Cash for Cars in Temple City
If you are selected for a car title loan from 5 Star Car Title Loans in Temple City, you don't have to be afraid that you'll need to give away your car. Not at all! On your application you will need to tell us what kind of car you have and its details. According to that info, we'll find out what its worth is. If we can use your vehicle as security against a quick cash loan, you will still get to keep your car! We're waiting for your application!
Qualifying for Car Title Loans
To find out if you qualify for a fast loan from 5 Star Car Title Loans in Temple City, we will find out if your car is valuable enough, if you can repay the loan and that you meet our credit specifications. Then we'll contact you to finish the application process.