5 Star Car Title Loans Google Reviews:
I highly recommend 5 Star Car Title Loans when you need a long term loan for bad credit. They are professional and helped me throughout my loan, made things so easy for me...
Presley Hester
12:42 27 Jun 21
I came in today to apply for a payday advance loans. The team was very professional and helped me get my loan. I will be recommending them to my friends.
Lionel Skiles
13:26 29 May 21
A friend mentioned 5Star Car Title Loans a while back and how helpful they were for her. I honestly hoped I'd never need a loan but what can I do.... They were great with me as well and I'm glad to pass on the recommendation.
Lexi Darwin
17:30 15 Mar 21
They did a good job but I hope I can payoff sooner than later. Thanks.
Nicholas Bryant
08:22 01 Mar 21
I already had a title loan and wanted to refinance so I could get lower monthly payments. 5 Star Car Title Loans helped me right away and did all of the annoying communication with my former company so it was really easy for me. Highly recommended!!
Marguerite Jannie
05:23 21 Jan 21
Came in and out no hassles very good service and easy way to get a loan if you are in need of some quick cash.
Mack Scoville
12:17 31 Dec 20
Very nice staff and very helpful I recommend anyone to call here for quick cash if they need.
Wilhelmina Brooks
11:37 22 Dec 20
The loan process was fast and easy. The rep was great and kind. Over all my experience was very positive.
Lance K Kline
08:19 12 Dec 20
I got a recommendation to try out the online loans they offer and I got to tell you it's much more convenient than the regular way of going to the store directly and wasting your time. I will definitely tell other people about this option.
Shawn A. Christopherso
12:42 16 Nov 20
Outstanding customer service! I will be coming back to them for car title loans in vallejo and referring everyone I know! thank you!
Elizabeth Smith
10:30 10 Nov 20
Thank you again for going out your way to make sure I got a quick loan done! If I can rate this company more then 5 stars I definitely would.
Leon Paschal
07:42 29 Oct 20
My car title loan was so approved, yeah I won the bet with Dad. Application was easy and I had my money in no time!!! Also, the support team was 24/7 active to help me with my queries.
Terrence Kozey
09:33 23 Oct 20
To all 5 Star Employees, you are so awesome and my husband and I truly appreciate how kind you all are every time we call. Best service in Vallejo
Sandra Gilbert
13:29 16 Oct 20
Whenever I need extra money, I get title loans from 5 Star Car Title Loans. They provide you complete info regarding the process and the interest rates, and their processing time is the fastest. I got my check within 24 hours from the application. Thank you for your efforts in making this happen.
Yolande Leach
16:23 11 Sep 20
5 star loans is an honest company that's what made the difference for me. A lot of companies try to rip you off but not them. I recommend them for fast instant loans.
John P. Chacon
09:30 10 Sep 20
I'm always meticulous about terms and conditions, especially when it comes to title loans. I'm just thrilled that 5 Star Car Title Loans don't have any hidden charges.
Danny Wisly
05:35 19 Jun 20
Dealing with the representatives in 5 Star Car Title Loans Vallejo has always been a pleasure.
Rose Wells
08:02 04 Jun 20
When I was just out of college I thought taking out a loan and starting my own company would be the coolest thing. I did it but it didn't turn out so great. I got over that financial hump and now I'm more careful about taking out loans.
Bryan Allen
12:52 20 Mar 20
I used to think that I had to go into town and fill out tons of forms to get a loan. Now I know that I only need to sit down at my computer and apply for an instant online title loan.
a same-day loan can put cash in your hands
Marc Arnold
06:14 30 Jan 20
5 Star has 100% Safety payment method and24/7 online support. Thanks Brian!
With a bad credit score like mine, most people think that I wouldn't be able to qualify for a loan. Wrong! I have my car, that's really expensive. I can always use its value to get ahold of fast cash when I need it.
Kevin Carr
05:45 10 Dec 19
I didn't know what title loans were until I got into a serious money problem. Then I found out that without giving up my car, I could get a title loan. I only needed $2,400, but the minimum loan amount is $2,600. Well that's ok. I can always use a little extra!
Dorothy Smith
10:06 11 Nov 19
Kiara was efficient and very professional!
Franksang888
20:33 11 Mar 19
spenser hooks
05:56 03 Dec 18
About This Location
Vallejo Express Registration provides registration services for 5 Star Car Title Loans customers. The store is located at 301 Georgia St. #105, near the intersection with Sacramento St. If you live in Vallejo and in need of registration services, stop by Vallejo Express Registration that works with 5 Star Car Title Loans in Vallejo. Vallejo Express Registration provides our clients with unmatched customer service. 5 Star Car Title Loans does not issue loans at this location.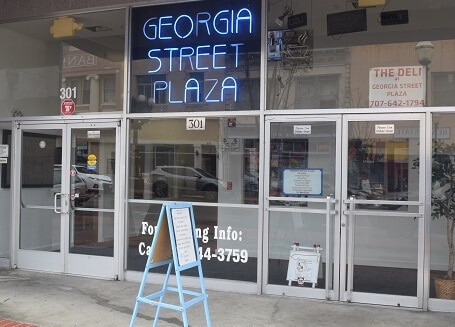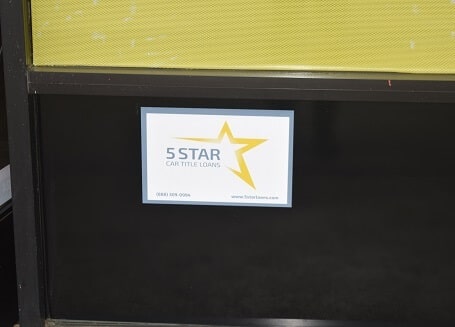 5 Star Car Title Loans in Vallejo
Getting extra cash in Vallejo is only one step away! Car owners are invited to send in an online application for car title loans. If your request is approved, you will get a fast loan that you can use for anything you want! Contact us today!
Can You Help Me with Car Title Loans if My Car Title Is from Nevada?
We'll find the fastest way for you to get ahold of a California title. We will try to make this into a one step process, so that while we're helping you with the registration, we can also process your loan request. Our experienced agents have lots of help and tips to offer, so contact one of them today at 5 Star Car Title Loans in Vallejo.
But What About Past Due Registrations?
Send us your online application and let us help you with your registration. We can sometimes issue a registration that is up to date for you. Of course, we'll first have to confirm that you own the vehicle that you want to use as security. After that, we can help you arrange your registration. Contact one of our agents at 5 Star Car Title Loans in Vallejo for more help with this.
If My Auto Is Still Being Financed Can I Apply for Auto Title Loans?
You certainly can! We'll even try to process an auto title loan for you that is high enough to cover your car's financing. With the money that is left after paying off your car's financing, you will be able to help pay your old bills, buy badly needed items or put away for a rainy day. Send in your application to 5 Star Car Title Loans in Vallejo and let's see how we can help you!
Are Online Loans for Bad Credit Paid Bi-monthly or Monthly?
Online loans for bad credit are paid once a month. Your first payment on your bad credit loan is due 30 days after your contract date. Going forward, you will make one payment each month until the signed contract has been completely fulfilled. Get the ball rolling by contacting 5 Star Car Title Loans in Vallejo for more information.
What Is the Amount of California Title Loans?
At 5 Star Car Title Loans in Vallejo, California title loans begin at 2,600. It all depends on your individual situation and the car you own, but you might be able to get the maximum amount of $20,000.