5 Star Car Title Loans Google Reviews:
From the beginning, they have been wonderful throughout the process of getting me the quick loan. Thanks again. I will most certainly use them again in the future.
Jasmina Mackle
06:01 19 Oct 21
Great staff and very helpful. I would highly recommend this place for your lending needs. Best in town!
Holland Aron
06:22 05 Jun 21
As I mentioned, they helped me get the fast loans bad credit I needed fast and professionally, as well as being so kind when I was distraught over my mom's passing.
Danna Kinley
14:55 04 Jun 21
The staff was very professional and polite. They made me feel happy that I received a fast loan. I couldn't ask for a better experience.
Luciano Armani
14:52 04 Jun 21
Needed some money to catch up on bills I was behind on. This loan was an easy solution since it's so quick. I plan to pay it off quickly so I don't gain too much interest. Good job 👌
lyman fagan
08:42 03 Mar 21
Back in Riverside, a loan company made it appear that the title loan is a sale of real property. They got sued for it. Most of the customers transferred to 5 Star Loans when the company launched its services there.
Lauren Finch
11:15 16 Feb 21
I regret not going to them the last time I was in this kind of mess. Thanks 5 star you guys are awesome and If I am in need of another loan like this ever again I will come back only to here for it!
Donald C. Whittemore
10:25 14 Feb 21
They really focus on offering an excellent customer service. You can tell by how flexible they are and how they actually listen to the needs of the customer. Loved doing business here and will come back!👍
Yolanda Taft
07:21 20 Jan 21
Probably the best company and nicest employees you could ask for when getting a personal loan. They are always willing to help and even stayed after hours for me! Unbeliveable!!
Michael Rodriguez
08:24 04 Jan 21
They were swift with the whole process of the loan and they gave me extra options for payments. Take it from me call 5 star car title loans! The other places are a waste of time…
Jeanette Marilee
07:56 28 Dec 20
Great, fast, friendly service I couldn't be happier.
Sherice Flor
05:00 22 Dec 20
This company is one of the best known that do title loans in California. They have a lot of experience dealing with people who need fast money and it shows in the way they the process is set up. Very quick and very smooth.
Younus Ali
09:14 07 Oct 20
There are many places that do car title loans near me but I think 5 star is probably the best one I dealt with.
Lisa Rowlett
18:27 10 Sep 20
I've heard positive reviews about 5 Star Car Title Loans, so I chose them when I was looking for title loans in Westminster. Great customer service!
Dick Beverly
10:09 10 Aug 20
I signed a title loan with 5 Star Car Title Loans because I wanted to surprise my wife with an overnight stay for our anniversary.
Nathan Estes
08:01 19 Mar 20
My bills were piling up so high that I thought they'd reach the ceiling. I did something really smart though. I got a pay off loan and paid for them all. That leaves me with one monthly payment.
Cliff Hanger
10:48 04 Feb 20
I don't worry too much about finding loans in Wesminster because I get car title loans online anyway.
Carolyn Scott
20:50 30 Jan 20
Daniel was excellent! Great customer service! Would recommend using them to friends and family.
Orlando Mendez Jr
23:58 30 Aug 18
Thank you Daniel for the great customer service.
Jose Carpio
23:15 29 Aug 18
About This Location
Ruby's Insurance and Taxes provides registration services for 5 Star Car Title Loans customers. The store is located at 7902 Westminster Blvd #B, near the intersection with Pacific Ave. If you live in Westminster and in need of registration services, stop by Ruby's Insurance and Taxes that works with 5 Star Car Title Loans in Westminster. Ruby's Insurance and Taxes provides our clients with unmatched customer service. 5 Star Car Title Loans does not issue loans at this location.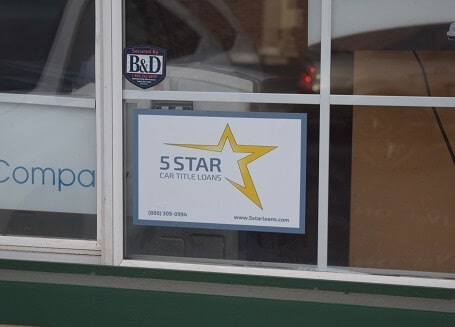 5 Star Car Title Loans in Westminster
Getting a quick loan in Westminster isn't as hard as you think, if you are a car owner. 5 Star Car Title Loans in Westminster issues online loans to folks just like you, so contact us now for more details.
What Are Auto Title Loans?
Auto title loans are personal loans that are issued according to how much value your vehicle has. If your car is valuable enough, we might be able to use its value as collateral for a fast loan. We will keep your car title in our office until the money is repaid. Then we'll return it to you. You will still be registered as your car's owner, however.
What are the Requirements in Getting California Car Title Loans?
To apply for California Car Title Loans, we'll need to see your car title and your personal identification documents. We'll also need to confirm your ability to pay the money back and a list of your monthly income and expenses. In certain cases we might request more documents, such as a copy of your car insurance policy.
What if My Title is From Nevada?
To be approved for California Car Title Loans, your title must be issued in California. If yours was issued in Nevada, we can help you get a California title. Sometimes we can take care of getting you a California title while processing your title. Call us and we can get started.
Do You Accept Salvaged Titles for Auto Title Loans?
There are instances where we do accept salvaged titles. To know if we can accept your salvaged title, please call one of our agents. We will evaluate your situation to see how we can work together.
Do I Have to Go to the DMV to Get California Title Loans?
We can usually take care of all the work regarding the DMV for you, so you probably will not need to go. To get started, just bring your title to us so we can help you. Once your request for California Title Loans is approved, we will keep your car title in our office. When the loan has been repaid, it will be returned to you.
What is the Minimum Amount I Can Borrow with Auto Title Loans?
The auto title loans we issue at 5 Star Car Title Loans in Westminster begin at $2,600.