5 Star Car Title Loans Google Reviews:
Are you looking for loan agencies in Wilmington? I suggest you try 5 Star Car Title Loans. Trust me. I tried and loved it.
Amos J. Poulin
10:08 19 Jul 21
The staff is really amazing! This location has a great set of people. The people are very professional and polite. They helped me to get the loan quickly. I highly recommend them.
Jesus Aarav
17:56 30 Jun 21
It was a very easy process from beginning to end and the employees love to see a smile. It's a job that makes me feel welcome.
Jazlene Skye
14:41 30 Jun 21
Employees who were kind and helpful in getting me the loan. I appreciate their kindness and willingness to help me so much.
Cason Silva
19:44 29 Jun 21
This company is friendly and the loan process was quick and simple. My monthly payments are affordable too. 👍
brittany dawson
19:23 12 Jun 21
Really amazing service they are providing! This is the best title loan online.
Megan Thompson
13:04 11 Jun 21
I highly recommend going here if you need a loan. Staff is friendly and willing to help you.👍
mabel price
12:20 07 Jun 21
The staff of your company is very helpful and knowledgeable. Their assistance with all the financial issues I needed was so appreciated! Thank you so much!👍
lillian morgan
12:17 07 Jun 21
From start to finish, they were there to listen to my concerns and help guide me through the car title loans process. They were especially helpful in answering my 'millions' of questions.
Rosalie Daniel
11:18 27 May 21
Very professional company they are really the best around Wilmington!! I actually enjoyed getting a loan and I think that says a lot!!! Will happily and confidently use them again if I need another loan.
Kiana Julia
10:55 15 Mar 21
I will recommend them to any one who asks me for a good place to take a car title loan from. These guys are beasts!
Kerry Currier
11:24 14 Feb 21
I always find something wrong when I go to other places but never had any complaints when I deal with 5 Star Car Title Loans so I wanted to leave a good review to them!
Billy Wiggins
11:08 02 Feb 21
It wasn't an easy decision for me to get a title loan but it was definitely a good one. Got the money I needed quickly and was able to pay the bills I needed. They were straightforward and kind with me.
Elease Puckett
11:09 18 Jan 21
These are instant loans that I would recommend to everyone who need money urgently. The process is quite simple and relatively fast I was happy with it.
Mary Martinez
10:01 07 Jan 21
This company is ON POINT! The process for title loans is soooo easy and quick.. You can get most of it done online... Seriously it's just so convenient I am so happy.. And now I can pay my bills and have no worries!
The were awesome! Very Professional, Friendly and Understanding! This company is the best bet for car title loans in Wilmington. I call the when I need cash.
Padberg Tawnya
18:14 10 Sep 20
A lot of my friends ask where they should get title loans in Wilmington. I always answer 5 Star Car Title Loans.
Troy Peterson
05:50 20 Mar 20
When I got to Wilmington, I was short on cash. It was pretty easy to go online and get a vehicle title loan using my truck for collateral.
John Pippin
08:13 08 Feb 20
With auto title loans, I can still keep my car but get money to pay my bills. I've gotten them more than once now and just wanted to say how they've helped me.
James Smith
11:37 06 Feb 20
Kiel is great to great rep. He's alway in a good mood and is always there when I have a question.
Joe Cheuvront
20:11 29 Oct 18
About This Location
Cisneros Registration Services provides registration services for 5 Star Car Title Loans customers. The store is located at 1316 N Avalon Blvd #A, near the intersection with E M St. If you live in Wilmington and in need of registration services, stop by Cisneros Registration Services that works with 5 Star Car Title Loans in Wilmington. Cisneros Registration Services provides our clients with unmatched customer service. 5 Star Car Title Loans does not issue loans at this location.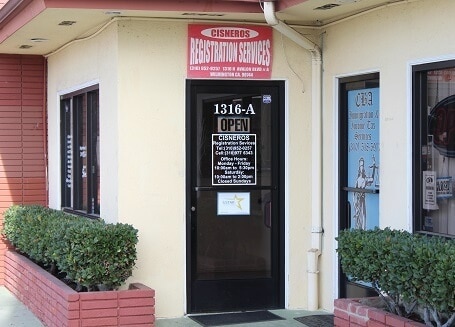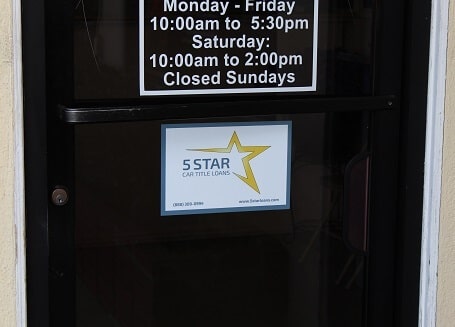 5 Star Car Title Loans in Wilmington
Getting extra money to pay your bills, cover expenses or to take a trip can be coming your way if you are a car owner in Wilmington. We are waiting to help you with your financial needs at 5 Star Car Title Loans in Wilmington.
What Are the Basic Requirements for Getting No Credit Check Loans?
Of course the main requirement is that you own a car, since no credit check loans are secured by your vehicle's value. But besides having a car with value, we'll need your ID, proof that you'll be able to handle the monthly payments, your monthly income and expenses and possibly the copy of your car insurance policy. After we evaluate these documents, we'll let you know if we will need to run a credit check. Be in touch with one of our loan agents at 5 Star Car Title Loans in Wilmington.
Are There Any Prepay Penalties with Auto Title Loans in California?
We're here to help you and if you are able to prepay your auto title loans in California, we will not penalize you. With auto title loans from 5 Star Car Title Loans in Wilmington, there are no prepayment penalties.
Are There any Hidden Fees when Applying for Bad Credit Loans?
Nope. There are no hidden fees with our bad credit loans. At 5 Star Car Title Loans in Wilmington, we think it's best to keep everything above board so that our customers will be happy. Contact one of our agents for more information.
What is the Minimum Amount I Can Get with Online Title Loans for Bad Credit?
The minimum loan amount that we offer for online title loans for bad credit is $2,600. But don't be surprised if we offer you more than that. The loan amount is determined by the value of your car, your ability to pay and our credit specifications. Send us your online car title loan application today. We're available to help you at 5 Star Car Title Loans in Wilmington.
Can You Help Transfer the Title into My Name?
Our experienced loan agents can help you get your vehicle registered in your name. We know all the steps to making this happen and will walk you through them until you get your updated registration form. If you need to know where the California loans location closest to you is, contact us at 5 Star Car Title Loans in Wilmington.