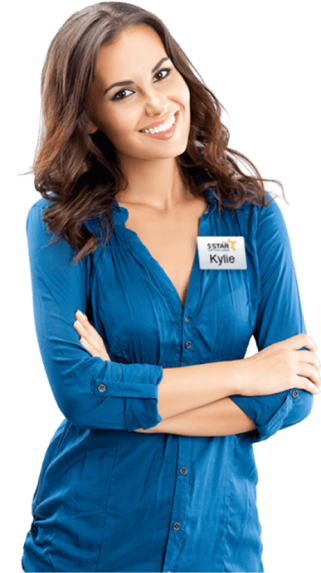 Customer Centered Service

Providing excellent customer service and a positive loan experience is 5 Star Title Loans top goal and we work tirelessly to make this happen for each and every customer.

Loans for Low Credit Score

We don't like turning away customers simply for having a bad credit score. We will work hard to get you a loan regardless of your bad credit.

Easy Application Process

We understand the urgency when getting a loan, so we offer simple options for applying. You can choose to apply either by phone or online.
Products

Car Title Loans

Payday Loans

Bad Credit Loans

Personal Loans

Online Title Loans

RV Title Loans

Process

Apply by phone or online

Complete all necessary requirements

Visit our local if needed

Get your money

Requirements

Car details

Personal details

Car title

Identification

References

Benefits

Keep driving your car

No prepayment penalties

No hidden fees

Quick funding

Personable service
5 Star Car Title Loans In Lawton, OK
Even though having a steady income and saving habits can help you get through most of the year, sometimes it ain't enough.
With so much happening in our lives on a daily basis, there are unexpected situations that require having more money by your side to pay for these sudden bills.
While facing these financial issues is hard in itself, the hefty application forms of traditional bank loans add further stress for the people who hope to get outside help for their short-term financial needs.
Fortunately, with 5 Star Car Title Loans, residents can avail of some cash fast without going through the hassle process of banks by just choosing and applying for affordable title loans in Lawton, Ok.
Let's understand further what are Lawton auto title loans and how they work.
Auto Title Loans: What Are They?
An auto title loan is a smooth, fast and easy collateral-based lending option that allows people to apply and get approved without waiting for days or filling in lengthy applications.
These easy title loans use your car condition, equity, and repaying ability to determine your eligibility and help you get a personal loan despite having a low credit score.1
Famous from other names such as pink slip loan, vehicle equity loan, and title pawn, these loans can be approved in as little as 24 hours2 and applicants can get access to funds within the same business day.2
How To Apply For Auto Title Loans In Lawton, Oklahoma City?
Title loans in Lawton are famous for having a flexible and streamlined application process where applicants don't have to wait unnecessarily or go through a hard credit check to apply and get a cash advance loan.1
When you opt for 5 Star Car Title Loans in Lawton, Ok you'll be able to apply online and get approval from the comfort of your home. Here are a few easy steps to apply and get a title loan in Lawton, Ok
Steps To Get Online Title Loans In Lawton:
Step 1: Fill in an Online Application
You can go to our website to submit some basic details on the basis of which your loan eligibility will be determined. Usually, you are required to fill in info about your vehicle make model, income, address, etc.
Step 2: Send in The Required Documents
When you are pre-approved for the loan, our executives will contact you and discuss all the loan terms and conditions, make sure you understand, and in case you have any doubts ask at that time or call later on at (888) 309 0994.
Once you agree, you'll need to send in some basic documents proving your repaying ability, car ownership, residences, etc.
Step 3: Receive Your Loan Amount in Your Bank Account
After you send in the documents, we'll verify and send you a loan contract mentioning all the discussed details, you are required to read, sign and submit the contract as soon as you can.
Once finalized, we'll process the loan request and you can expect to receive the funds in your preferred payment method within 1 business day.2
Documents Needed To Apply For Lawton Car Title Loans
Unlike other lending institutions, most loan providers of America title loans, Lawton has convenient terms and a painless loan process where you can avail of online instant cash with a few documents.1
These documents include:
Qualifying Car Title: A lien-free title registered in your name
Income Proof: Payslips, bank statements, compensation letters, or other forms of income will do.
Proof of Residence in Lawton, Oklahoma: Utility bills such as electricity gas or credit card, or rental agreements are accepted as proof of address for Lawton title loans.
Oklahoma or Government Issued Photo Id: A valid driver's license or passport can be shown to apply for a title loan in Lawton, Oklahoma.
Recent Photos of Your Vehicle: Make sure you include the VIN and odometer reading while clicking photos of your car for a virtual inspection.
Several References: Some lenders also ask for a couple of professional or personal references.
How Long Does It Take To Get A Car Title Loan?
It depends on you!
At 5 Star Car Title Loans, we work to provide fast cash loans at flexible terms1 so that borrowers can get approval easily and get their pink slip loan as soon as possible.
Once you send all the requested documents and signed contract, we'll process your loan request and you can expect to get the loan money in your bank account within 24 hours.2
How Can I Pick My Loan Money In Lawton, Oklahoma?
Once you are approved for the pink slip loan, you can contact the 5 Star team and choose your preferred method from our payment options to receive your amount:
Here are some of the most used payment options:
Direct Deposit in the Bank Account
Moneygram locations in Lawton, Ok
By a Mailed Check
Wire Transfer
In-Person Pick Up
What Are Auto Title Loans Based On?
As opposed to payday loans, a car title loan allows you to avail yourself of bigger amounts of cash at competitive rates and more flexible terms.
Even though many title loan companies perform a credit check, the credit score is not the final determining factor which makes it possible for people with bad credit history to apply and get approved for the loan.1
Here are the 3 major factors that can lenders use to determine eligibility, minimum loan amount, interest rates, and other loan terms.1
Ability To Pay Back The Loan Amount
When you are applying for a title loan, the lender wants to know whether you can afford the loan or not and whether you'll be able to pay back the loan amount in time or not.
Having a consistent and reliable income helps you to present a strong repaying ability which increases your chances to be eligible for larger amounts of loans.1
Vehicle's Condition and Value
As title loans are collateral-based loans, your car's condition and market value play a major role in the loan amount you can get. Generally in Lawton title loans, customers can access around 50-75% of their car's current market value.1
Customers who present a well-maintained car of a known brand, model, and make can get more money as compared to those with old and heaped cars.
Equity In The Vehicle
In-car title loans, borrowers surrender their car ownership to the lender and get a loan against that ownership. Therefore, the more equity you have in your car, the more you can temporarily surrender and the more money you can get.
Even though it's possible to get a title loan on a financed car1 if you want to get higher amounts, try using a car that you have full ownership of.
Can I Apply For An Auto Title Loans With Poor Credit?
Yes, you can!1
An auto equity loan is a short-term loan with looser credit qualifications1 where people who possess a qualifying car title and demonstrate a strong repaying ability can qualify for a title loan without worrying much about their credit history.1
Even though a routine credit check can be there, it's possible for people with bad credit to apply and qualify for a title pawn.1
Can I Get Affordable Title Loans, Lawton Without A Job?
We at 5 Star Car Title Loans understand that many of us face crises at different time periods, not every time we have a secure job with us.
For example, A person could have gotten recently injured and is temporarily unemployed or it could be a retired person who got some serious home damage that his pension can't pay off.
Thus, it's possible for these people to apply for a title loan by showing their award letters, SSI, or compensation letters and getting an auto title loan to cover these sudden bills.
People who don't do a 9-5 job and have other sources of income can present their bank statements to get approved for auto title loans in Lawton, Ok.1
Can I Qualify For Car Title Loans, Lawton If The Title Is Not In My Name?
Although there can be multiple reasons why your vehicle title is not under your name. Having a clean and lien-free title registered under your name is a prerequisite to apply for a car title loan in Lawton, Oklahoma.1
The good news is that transferring the vehicle title is very easy and you can call the 5 Star team and take their help to transfer your car title in Lawton, Oklahoma.
Steps To Transfer Vehicle Title in Lawton, Oklahoma
Visit Your Local DMV: The first thing you need to do is to visit your Local DMV which is a dedicated organization that deals with all the title issues in that area.
Submit the Documents: Make sure you carry the required documents such as notarized car title, proof of car insurance, Oklahoma car registration and driver's license, etc.
Pay the Fees and Get The Title To Your Name: When you get your title transferred, you'll be required to pay a small fee and excise tax. Thus, make sure you carry some cash.
By following the above-mentioned steps, you'll get the title transferred to your name and once it's done you can contact the 5 Star team and apply for an auto title loan.
Frequently Asked Questions
Are there prepayment penalties?
No! At 5 star we focus on providing splendid customer service where we don't charge our customers just because they want to pay their loan early. Additionally, we encourage them to pay on time so that they can avoid any other penalties too.4
Can I cancel my title loan?
Surely, You can! Applicants who wish to rescind their loan application can do it by contacting our team on the same day of the application. But when you choose to cancel your title loan, the whole loan amount needs to be returned to the lender either by cash or check to get back their car title.3
Does paying off an auto title loan early hurt my financial credit?
No! Title loans were designed to have flexible loan terms where people with bad credit can also apply and get instant money. As most title loan lenders don't report the loan happenings to the credit bureau, these loans won't have a major impact on your credit score.1
Do I need car insurance?
Not necessarily, even though most don't require you to provide car insurance to qualify for a title loan, some companies can have different requirements.1
Benefits Of Choosing 5 Star Car Title Loans in Lawton, Oklahoma
At 5 Star Car Title Loans, our focus is to create a streamlined loan process where residents can apply and get a personal loan with the least issues possible.
Here are some of the benefits you get when you choose to get your next title loan from us:
Easy Application Process
Lending Options For Poor Credit1
Fast Cash Within Same Business Day2
No Hidden Fees
Check Your Title Loan Eligibility Today!
If you are facing some financial issues or have a big event coming up, you can call the 5-star team today and take our help to finance yourself and be prepared for those occasions.
So