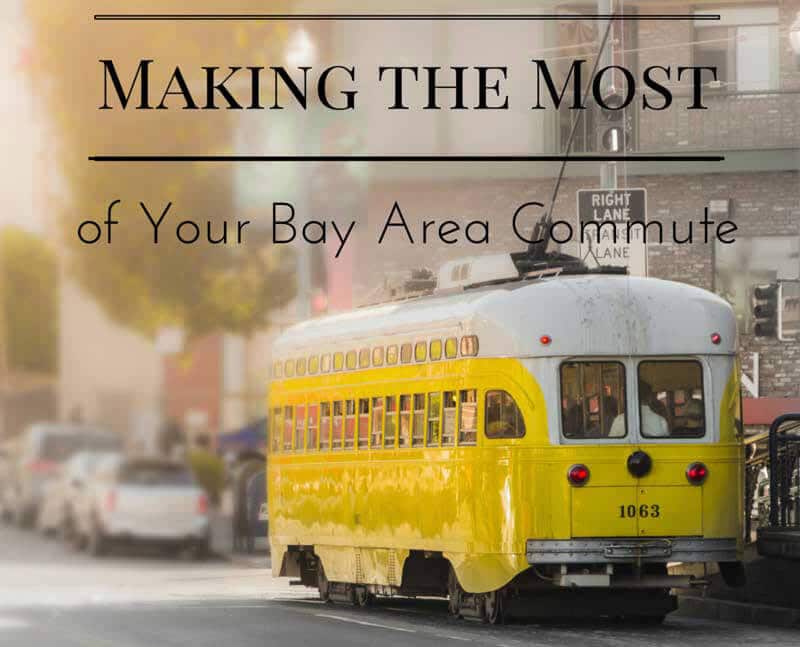 It may come as no surprise that the Bay Area commute is one of the worst in the nation. Given the high cost of housing, many people who work in the Bay Area live outside of it. According to the Census Bureau, we have the most "mega commuters" (people who travel at least 50 miles and at least 90 minutes to work, each way) in America. Even our short-distance commuters spend a lot of time on the road: in San Jose, people with a 30-minute commute spend an average of 84 hours a year stuck in traffic.
If you're one of the many people with a long drive to start and end each workday, here are a few tips for making your Bay Area commute a little more calm and a lot more interesting.
Breathing exercises can help relieve stress. During your commute, practice "even breathing" (breathing in, to the count of three, and breathing out to the count of three), which can promote a sense of calm.
Check out audiobooks. Really, you can check them out, free, from the local library. Choose from audio books on CDs and audiobooks that you can download to a device and play in the car. Another great place to find audiobooks—on CDs—is Goodwill. For a few dollars, you can listen to a bestselling business book or learn a language—both of which can help you on the job.
Listen to a podcast. Here's a list of 50 educational podcasts — from TED Talks to the Naked Scientist. Download to your smartphone, then follow the Tech Guy's instructions on how to play what's on your smartphone in your car—even if your stereo has a cassette player!
Try yoga. There are some "sitting yoga" poses that can relieve the stress of your commute. The simplest is shrugging your shoulders (wow, you've been doing yoga all along!): with your hands on the steering wheel, raise your shoulders up, then exhale as you let them drop. Now try a shoulder roll, forward for three rolls and then backward for three, holding your hands steady on the wheel as you roll. When you're ready to advance to the "seated cat-cow" and the "kapalabhati breath" refer to the experts here.
Get some fresh air. Driving up 101 or 280, how often do you see someone with the windows rolled down? Even when the weather's fine, most people drive with the windows up and AC running. Turning off the AC will give you better gas mileage, and a bit of fresh air is a nice way to begin the day or unwind on your way home.
Practice your acceptance speech. C'mon, everybody's done this! Practice the speech you would give to accept an Oscar, a Nobel prize, or a raise at work. You'll be combining gratitude and positive thinking, and both will boost your mood.
Here in the Bay Area, there's not a lot you can do to reduce the number of minutes, hours, and—over the course of a year—days you spend in the car, traveling to and from work. But you can try some of these tips, and come up with a few of your own, to make the most of your commute.