The holiday season can be a significant drain on your financial resources. Between buying gifts for others and fulfilling those long-awaited purchases on your 'to-buy' list, it's easy to lose track of your budget and end the year with a near-empty bank account.
Holiday spending itself keeps on rising every year. According to the National Retail Federation, the average individual spent $718 on holiday shopping in 2010. Five years later in 2015, this number is up to $805. More than half ($462) of this gift giving will be spent for the family.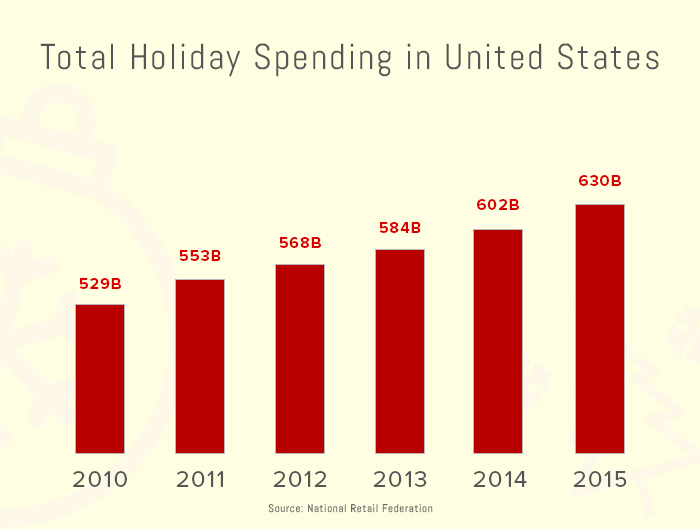 In fact, according to the Accenture Shopping Survey, nearly 40% of Americans said that they planned to spend even more this year. In all, holiday spending is expected to top $630 billion.
With all this money being spent, it's easy to get carried away and overshoot your budget. Fortunately, with a bit of planning, you can drastically cut your expenses and save while you shop.
In this post, we'll take a look at some steps to plan your holiday purchases.
1. Create a Holiday Budget
When most people think of a 'budget', they think of complicated Excel spreadsheets and endless number crunching. This deters a lot of people from keeping a budget, which eventually ends up costing them financially come holiday season.
In truth, a successful budget doesn't have to be complicated. Any document that helps you keep track of your spending and purchases is enough to help you save money. A "back of the napkin" system that records broad expenses is sufficient for most purposes.
It's important to remember that you'll get better results from a simple budget you actually follow than from a complex budget you forget to update. Don't sweat the small stuff when tracking your expenses. Instead, keep track of larger, budget-breaking purchases. For example, a lone $2.95 pack of candy won't affect your financial health, but three $60 video games certainly would. In your budget, keep track of the latter and skip the former – it'll make following a plan that much easier.
Easy budgeting: follow the 'Envelope System'
If you are absolutely new to budgeting, you'll gain a lot by following the "Envelope System".
This is a simple system to keep track of and visualize your expenses. It essentially involves three steps:
Set aside money (in cash, avoiding the use of credit cards can save you a lot of money by itself) for major expenses each month, such as groceries, gas or bills in separate envelopes.
Use only money from the envelopes to pay for these expenses.
If you have money left over in any envelope at the end of the month, you're under budget.
For example, if you set aside $300 each month for groceries, you'll have to use only this $300 for your food purchases for that month. If you run out of cash, use leftovers until the next paycheck. If you have money left in the envelope, either reward yourself by buying something nice, or put that money into a savings instrument (or your holiday shopping fund).
This system sounds disarmingly simple, but it can go a long way towards keeping you financially fit. Start by creating separate envelopes for each major expenses category – groceries, gas, bills (such as telephone or electricity), rent, etc. Put enough cash in each envelope to last you the month, then spend only the cash in the envelope. Dave Ramsey has a good explanation of the system here.
2. Create a Shopping Itinerary
Your budget will tell you how much you can spend during the holidays. What it doesn't tell you is what's the best time to spend this money.
A shopping 'itinerary' is basically a simple guide to getting the best discounts on different product categories. You'll be surprised to know that for many products, Black Friday and Cyber Monday are not the best days to go shopping. Plenty of retailers offer little-marketed deals on different products on different days. Taking advantage of these deal-days can help you cut spending by hundreds of dollars.
Based on research from Rather-Be-Shopping, ShopItToMe.com and Freebies2Deals, the best shopping days for different product categories are:
Toys, stocking stuffers, electronics and gift items: December 13-18th. Prices for gift items tend to go down right before Christmas as stores try to sell excess stock.
Airplane tickets: Sundays, since few people choose to travel right before the start of a new week. Airlines offer lower prices to offset the poor traffic.
Large purchases (expensive electronics or cars): Monday, especially for cars. This applies even when you are renting a car; Mondays are busy for rental agencies which can help you get free upgrades.
Outerwear: Saturdays. As per ShotItToMe
Even if you don't follow the above schedule, there is a good reason to avoid the stores on Black Friday. There is a lot of data to suggest that the best shopping deals are actually offered on the days leading up to, and after Black Friday.
3. Make a Shopping List in Advance
Figuring out what to buy and who to buy it for can save you hours of wasted time and money. Once you have a shopping list, it becomes much easier to choose the right retailer and the right day to get the best deals.
Follow this process to create your shopping list:
Step #1: Make a list of people you need to gift
The first step is to create a list of all the people in your life you need or want to gift. This should be a large list and should include friends, family, acquaintances, neighbors, and co-workers. Don't trim out anyone right now – you can do that later once you've figured out gift ideas and budgets.
Step #2: Make a list of gift ideas for each person on your list
Once you have a list of people, start jotting down a bunch of gift ideas for each of them. You can go as specific ('Samsung 32" LED TV') or as broad ("electronics") as you want. Try to jot down more than one gift idea in case one goes beyond your budget.
It's also a good idea to figure out if there are any discounted items available for each item on your gift list. For example, you can save hundreds of dollars by buying a refurbished Mac from Apple.
You can either do this on paper, or you can create a simple spreadsheet in Excel to keep track of these ideas. Something like this can work well enough: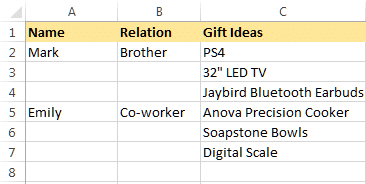 Step #3: Create a gifting budget for each person based on these ideas
With your list of gift ideas, it's now time to figure out a prospective budget for each person. In a separate column, jot down the expected price for each idea. This doesn't have to be an exact price; a range is good enough.
If you're doing it in Excel, something like this will be solid: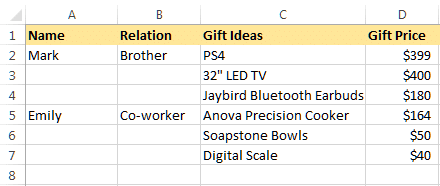 Step #4: Calculate total budget based on gift prices
Once you have an expected price for each item, you can calculate the total budget for all purchases. This will be a range with the minimum being the lowest you can go, and the maximum being the highest you might have to pay.

Based on this, you will have an idea of how low or high your holiday budget should be.
Step #5: Trim your list
Finally, after you have a budget range, you can think of dropping some people from the list if it means overshooting your savings. Trim out acquaintances, distant relatives, etc. first. If that doesn't work out, think of buying cheaper variants of each gift (a non-brand TV instead of a branded one, for instance)
Once you've gone through these five steps, you'll find it much easier to figure out what to buy, what to skip, and how much to spend on it.
4. Choose the Right Retailers and Shop Smarter
You have a list of things to buy and a list of days to buy them on. The only thing you need now is a list of retailers to buy your gifts.
You can easily save hundreds of dollars each holiday season simply by choosing the right retailers to shop from. Most shoppers make the mistake of heading off to the local Best Buy or Target and expecting the best prices. However, you'll find that small, niche stores often have better deals on specialized products. A retailer that sells only video games, for instance, will have better deals on games than Best Buy.
Follow these tips to help you shop smarter:
Shop from niche stores when possible. Search for "[niche] + store" to discover some stores where you can save.
For Black Friday and other sale days, consult this list from WalletHub to find retailers with the best deals. For example, JCPenney has an average discount of 68%, while Costco offers a discount of only 19.5% on average across categories.
Avoid stores that don't offer any discounts or low discounts. Apple, for example, is notorious for not offering any Black Friday deals.
Always use coupon codes when shopping online.
If you get a cash rebate, don't forget to redeem them.
Keep track of prices of items on your gift list. Use tools such as CamelCamelCamel, SlickDeals Price Tracker, or PriceZombie.
Use price comparison tools before you hit buy. Use tools such as RedLaser to make this easier. You can also try ScanLife to compare prices locally as well as online.
5. Go DIY
DIY gifts are severely underrated. Not only are they extremely affordable, they also leave a lasting impression on the receiver, especially when gifting to adults (children don't seem to be as enthusiastic about handmade gifts!).
DIY works particularly well for fashion and decor related gifts. Check out Pinterest to get some DIY gift ideas, or see this Lifehacker post. You can also go DIY for any personal gifts such as salon visits.
If you do take the DIY route, make sure to leave yourself enough time to make the gifts.
6. Have a Source of Emergency Cash
No matter how well you plan your holiday shopping, you might still come up short by the time the New Year rolls around.
There are two ways to make up this cash shortfall:
Keep aside emergency cash in your budget.
Borrow cash.
For the first method, the Envelope System can work wonderfully well. Whatever money you manage to save from your envelopes each month should go into an emergency cash fund. Don't touch this stash until and unless you absolutely need it.
For the second method, i.e. borrowing cash, it is much better to take a collateral-backed loan than a personal, collateral free loan. This will ensure much lower interest rates and you won't end up with more debt than when you started saving.
One way to get great borrowing rates is to take out a car title loan. A car title loan is a short-term loan given out in exchange for your car, truck or commercial vehicle's title. Since you are essentially offering the car as collateral, the interest rates for these loans is quite affordable. The loan amount is also higher – you can get loans ranging from $2,600 to $20,000. This makes it a great alternative for emergency holiday cash.
You can learn more about getting a car title loan here.
Conclusion
The holiday season can drain your finances very quickly if you aren't careful with your spending. Between buying gifts for friends, family and treating yourself, you can easily blow through hundreds of dollars.
Fortunately, with some smart planning and budgeting, you can cut your expenses in half and save hundreds of dollars in the process. Couple this with an emergency source of cash and you can enter the holiday season with complete confidence that your financial future is secure.