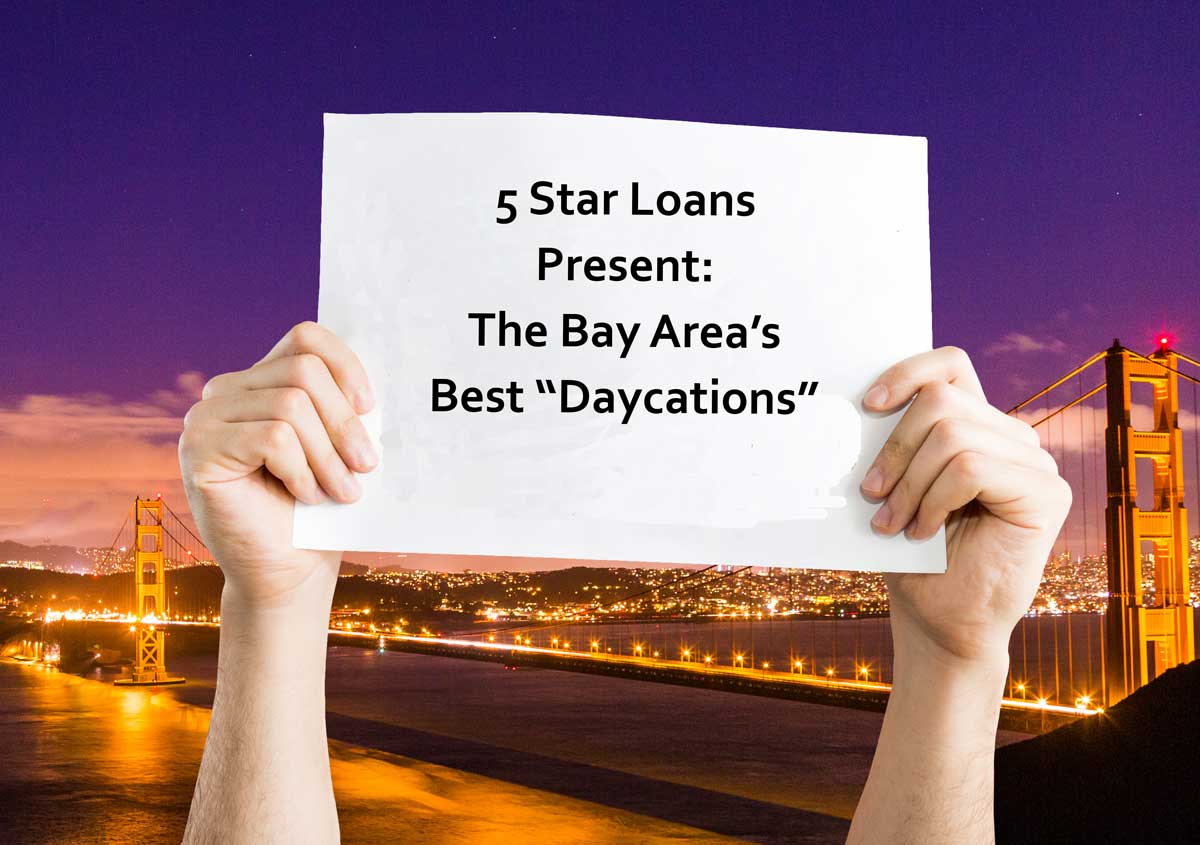 The Bay Area is an expensive place—so expensive that, if you live here, you might feel like you don't have enough money left over for a vacation. Afterall, even road trips can get expensive, once you factor in the costs of fuel, meals and lodging.
Via: I DRIVE SAFELY
The biggest cost of most vacations is lodging. But if you make your road trip a "daycation", you can sleep in your own bed, saving money and dreaming about how great it feels to stick to your budget as you work toward your savings goals.
Breathtaking views, the great outdoors, and award-winning cuisine—it's all here, in the Bay Area, where you can find some of the most exquisite "daycations" in the world. There are plenty of local, low-cost adventures waiting for you, and just a short drive away.
Beginning in the South Bay, take a day to visit the charming town of Saratoga. Bring a picnic lunch to the Fremont Older Open Space Preserve, which has more than 700 acres of trails for hiking, bike riding and equestrians. Next, stroll through zen serenity at Hakone Gardens, the oldest Japanese estate garden in the Western Hemisphere. Admission is $8 for adults and free for children under five. Finally, walk the Skyline to the Sea trail to see astonishing views of Santa Clara Valley. The entire trail is 35 miles long, but even a few hours will be rejuvenating.
Next up: Half Moon Bay. From Highway 280, going west on Highway 92 will take you to this welcoming coastal town. Famous for its pumpkin patches, Half Moon Bay offers things to see and do not just in October, but all year long. Begin your day at Mavericks, where you are likely to see surfers who have come from all over the world to surf the giant waves. Working your way south on the gorgeous Highway One, you can stop at Half Moon Bay State Beach for a walk along the shoreline. Just a few miles up the road, Half Moon Bay's "downtown" area is filled with restaurants and cafés. If you have the time, drive a few miles south to the town of Pescadero. Not only will you find a quiet state beach, but also a local hideaway called Duarte's (the locals pronounce it "Dew-arts"). The artichoke soup is famous—and so is the olallieberry pie.
To the north, there's a hidden gem in Marin County and it's called Point Reyes. The Point Reyes Lighthouse has been shining since 1870. Lighting ceremonies and tours of the lighthouse are free to the public. For up-close views of wildflowers—and wild elk—take the Tomales Point trail. Later, when you've worked up an appetite, stop into one of the local towns for California's best oysters, fresh out of the sea.
Finally, there's always a tried and true—and free—adventure right in the middle of San Francisco: walking across the Golden Gate Bridge. Don't wait for your out-of-town friends to visit; it's a wild and windy walk that is unforgettable. To round out your day, you can visit one of the 11 San Francisco museums that offer free admission days and times. If your budget is a little bigger, you can checkout 5 Museums for $10 and under.
We're living in one of the most magnificent places in the world. Yes, it's expensive to pay rent, commute and even buy groceries here, but enjoying a day trip in the Bay Area can be affordable and amazing.
Call NOW – (888) 309 0994