Can I Get a Title Loan without My Car?
Car title loans are loans which use a customer's vehicle as collateral (used to secure a loan) so proving a vehicle's ownership is obviously very important. However, you can get a title loan without the vehicle present!
Title Loans Without Seeing the Car
You must have a vehicle under your ownership for getting a title loan, but we don't have to physically see your car in order to approve you for a loan. You can simply send photos of the vehicle as part of the application process, as long as the following requirements are met:
You have a car under your ownership
You have the title of the car which is free of liens
You have consistent access to the vehicle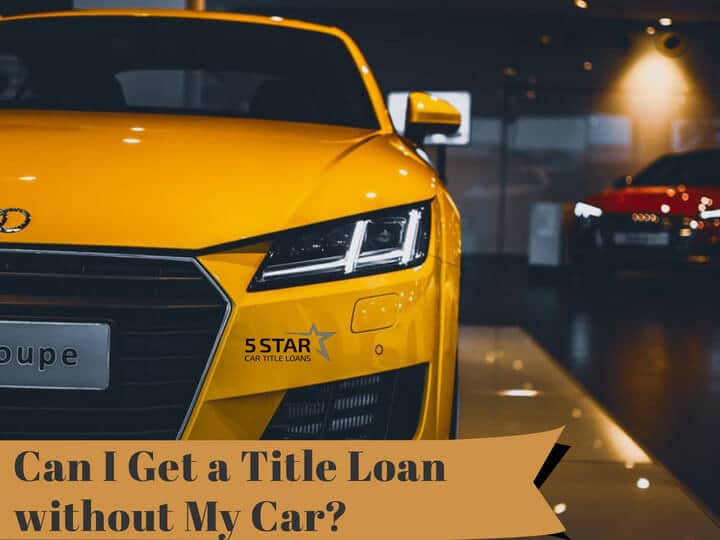 We don't want to take unnecessary time out of your busy day so we simply require that you send several photos of the vehicle which can help us assess its condition and value. There is no need for you to drive to our office or undergo a lengthy inspection

The Process of Getting a Title Loan Without Seeing a Car
The process of a title loan without a car is simpler than you might think! We've worked hard to make getting a title loan without a car present easier than ever. Here's how it works:
Start by filling out our simple application form. All it takes is entering a few basic details about yourself and the car.
Once we confirm that you are pre-approved for the loan, you will need to complete your application by submitting final documents such as a picture of your title and vehicle.
When your application is complete and approved, you will get your loan. Our experts will go over the offer and loan terms with you so feel free to ask any question!
This is the last step in the process*. You will be asked to ship your title via FedEx and the funds will be transferred to you.
*In certain cases, the borrower will be asked to visit one of our GPS Locations to get a tracking device installed in the vehicle. We have locations all across the state and this is completely free of charge.
As you can see, getting title loans that don't require the car to be seen by the loan provider can be a simple and hassle-free process. To learn more about the loan process works, click here

Requirements for a Title Loan without a Car
Title loans are aimed for people who are experiencing financial difficulties but are seeking out solutions which are different from traditional bank loans. Unlike other types of personal loans, auto title loans use your vehicle as a collateral to secure the funds and don't require a perfect credit score to get approved.
As with any other loan, there are certain requirements which must be fulfilled in order to borrow out any amount:
You will be required to provide a car title that is free of liens and is registered under your name.
Provide an Identification Card
We accept many forms of identification including a state-issued license or ID or passport. Your ID will be used to verify your address, age, and other personal details.
Proof of Ability to Repay
You will be asked to prove your ability to repay the loan. This can be done by providing regular income stubs, your recent bank statements, or other acceptable proofs.
In order to get any loan, you must provide between 3-5 references of people who are close to you. For each reference, the address, relation, and phone number must be stated.
As with any loan, you will be required to provide personal details such as address, DOB, and phone number. Because you are getting a title loan, you will also be asked details about your car such as year, make, model, and mileage driven.
Benefits of Getting a Car Title Loan without Vehicle Inspection
Car title loans are a great solution for those in need of fast cash. Some people choose to get a title loan because the process is simpler and faster than that of traditional loans. Others choose this option because it allows them to get a title loan without a vehicle present.
Here are some of our top reasons to get an online title loan with 5 Star Loans:
We've worked hard to make our process seamless and convenient for you. Thanks to our online application, simple requirements, and many funding disbursement options, you don't need to leave the comfort of your home in order to get the money you need!
Unlike traditional banks, we don't turn away people based solely on their credit score. Instead, we do our best to approve anyone who is in need of extra cash, by examining the ability to repay the loan and the value of the car. Our credit criteria fits a variety of different types of customers, making our title loans ideal for so many.
Our top priority is to provide great loans and even better customer service. We have title loan experts who are happy to answer any question throughout the application and then afterwards during the loan. We take pride in the excellent service we provide and invite you to read what our customers are saying for yourself.
If you want to find out more about how 5 Star Car Title Loans can help you with getting a title loan online without seeing the car, call us today!