5 Star Car Title Loans Google Reviews:
Process car title loans online without any trouble by calling 5 Star Loans. I did and got approved immediately after sending my documents via email.
Sharon Lopez
07:49 20 Jul 21
I couldn't have asked for a better visit. They were very professional and very polite. I'm glad I was able to get a best online payday loans with them.
Bria Brice
14:48 04 Jun 21
I felt so comfortable working with 5 Star Car Title Loans they make it easy and nice for their customers. I went through some terrible companies before so it's nice to find a good one like this finally✌✌
Janice Hicks
15:56 28 May 21
If you need a bad credit loan in Buena Park I really recommend going to 5 star. I was worried at first heard some rough things about these loans but they made me feel much better about them. They answered all my questions promptly and the process was done very easily.
Kevin Booth
11:22 17 Nov 20
5 star is a good place call when you need a little more extra money, the people there are very nice and helpful and they also have nice conversation with you and make you feel better. Never had a bad experience with 5 star car title loans in buena park.
Victoria Hodges
10:53 09 Nov 20
Really it was a great experience dealing with 5 star loans. We were able to quickly and accurately fill out the instant loans application online and they gave us a call right back. Thanks again guys...
Eliza Waren
06:37 05 Oct 20
Thank you for helping me and others get fast car title loans. Recommnded you to all my friends.
Nancy Tuttle
05:55 15 Sep 20
Choosing bad credit loans in Buena Park is not difficult because 5 Star is by far the best choice.
Virginia Stewart
10:46 01 Jun 20
I and my wife discussed whether to take a loan in 5 Star Car Title Loans Buena Park. We agreed to go there and hear out the terms. We are both amenable to the conditions and ended up signing a loan with them on the same day.
Ronald Raymond
06:39 31 Mar 20
Buena Park isn't a huge city, but I still don't like driving in traffic. I do whatever I can from home, such as getting a car equity loan.
Justin Tousignant
13:08 11 Feb 20
You guys should know how great it is to get money using your car's value. I am amazed, and the best thing is that the easiest title loan places are online.
David Henry
12:19 07 Feb 20
Out of cash? Apply for car title loans like I did.
Karolyn Hazel
05:31 23 Jan 20
Getting RV title loans isn't very difficult. My RV has a lot of value and I've always taken good care of it. After checking its value and if I could make the payments, they gave me my money in about 6 hours. Can't beat that!
Deborah James
17:58 21 Sep 19
Jamie Anderson
22:37 21 Sep 18
absolutely helpful and very fast I would recommend this lMontana loans to others. employees very nice.
Cindy Olivas
04:18 21 Sep 18
Kiara, was very professional and pleasant. She explained the process from beginning to end! Thank you Kiara!
Jeaneane Young
00:17 21 Sep 18
About This Location
Valley Car Stereo provides GPS installation and removal services for 5 Star Car Title Loans customers. The store is located at 6011 Orangethorpe Ave Suite A, near the intersection with Valley View St. If you live in Buena Park and in need of installation or removal of GPS device, stop by Valley Car Stereo that works with 5 Star Car Title Loans in Buena Park. Valley Car Stereo provides our clients with unmatched customer service. 5 Star Car Title Loans does not issue loans at this location.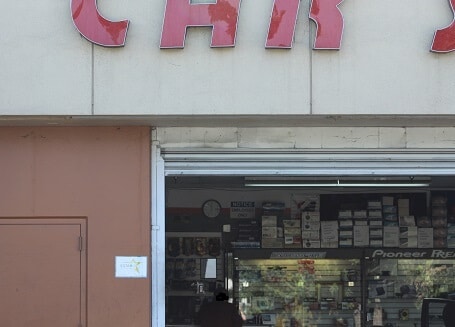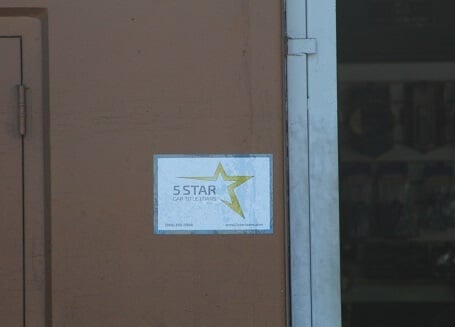 5 Star Car Title Loans in Buena Park
Getting a fast loan in Buena Park can be a real hassle if you have a bad credit rating. However, if you own a private car then you are eligible to apply for auto title loans online from 5 Star Car Title Loans in Buena Park.
Do I Need Good Credit to Get No Credit Check Loans?
No, that's what's so great about no credit check loans from 5 Star Car Title Loans in Buena Park! Anyone can apply no matter what the credit rating is. That's simply because no credit check loans are dependent more on the type of car you own and its value than on your credit rating. Send in your application and if you fit our credit criteria and have a car with adequate value, you can still be approved for no credit check loans!
Why Are Auto Title Loans Better than Payday Loans?
Payday loans tend to be for only two weeks, and when you want to take out another payday loan, they start completely over. This makes it hard, if not impossible, to ever get them paid off, because each time they start over! That's one reason why auto title loans are better. Auto title loans are longer term. As you would expect, you make monthly payments until the loan is entirely paid back, and then you are finished. Your balance is zero and there is nothing left for you to pay. Apply for auto title loans today from 5 Star Car Title Loans in Buena Park.
Are There Any Hidden Fees With Online Loans for Bad Credit?
When you sign a contract for online loans for bad credit, all of the fees will be listed for you to check for yourself. There are no hidden fees from 5 Star Car Title Loans in Buena Park.
Can I Get a Bad Credit Loan if I am Still Financing the Car?
Send your application for bad credit loans to 5 Star Car Title Loans in Buena Park and we will evaluate your situation. If possible, we will approve you for a bad credit loan that will also cover the cost of financing your car. With the money left over you can keep and use for other things. Of course, it depends on how many payments you have left, the value of your car, your ability to pay and our credit criteria.