5 Star Car Title Loans Google Reviews:
Daniel was very helpful very friendly and answered all my questions
Becky Grissom
16:19 30 Jul 18
If you are looking for a a great car title loan this guys are definitely recommended.
Sean Baker
08:07 04 Feb 18
About This Location
Pomona Insurance Agency provides registration services for 5 Star Car Title Loans customers. The store is located at 8731 E Whittier Blvd, near the intersection with Columbia Ave. If you live in Pico Rivera and in need of registration services, stop by Pomona Insurance Agency that works with 5 Star Car Title Loans in Pico Rivera. Pomona Insurance Agency provides our clients with unmatched customer service. 5 Star Car Title Loans does not issue loans at this location.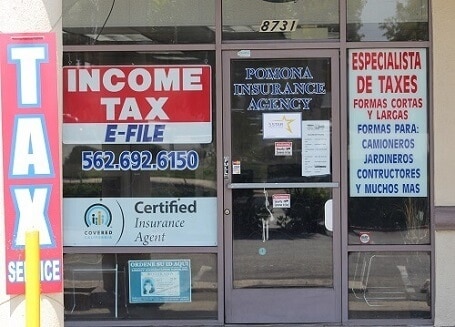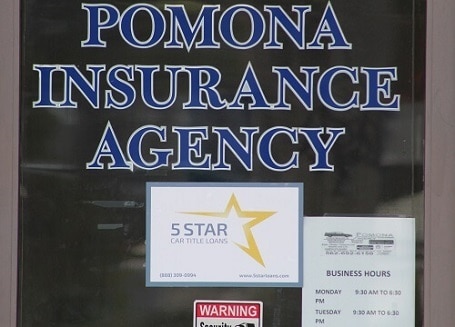 Pico Rivera, California
Two unincorporated communities, Pico and Rivera merged in 1958 to become the city of Pico Rivera. Formerly agricultural in nature, today Pico Rivera is a bedroom community with some significant light industry. There was a Ford assembly plant between 1958 and 1980. Northrup Grumman bought the property from Ford and moved their Advanced Systems Division there in 1982. What was a secret project, the development of the B-2 Spirit bomber, was revealed to have been developed in large part at this Pico Rivera facility. Due to air pollution constraints, the plant was closed in 2001 and today is a mall.
Fast Cash Loans in Pico Rivera
Even if you have a pretty good job, things can happen in life that put you behind financially. Whether you missed a couple of days of work or you got caught up with some expenses that weren't in your budget, you could probably use some extra cash, such as a car title loan, to help you get through this rough spot. You can pay back title loans in convenient monthly payments while you keep your car. Contact us at 5 Star Car Title Loans in Pico Rivera to learn more about how they work.
5 Star Car Title Loans in Pico Rivera - Getting Cash for Your Car
To find out if you qualify for a title loan from 5 Star Car Title Loans in Pico Rivera, go ahead and send us your request. Once we hear from you with the details and model of the car you own we can get to work. The process begins with us finding out how much your car is worth in today's market. If the price is high enough, we'll determine your ability to pay back the title loan and if you meet our credit requirements. Once that is finished, we can contact you to set up a meeting. If you are eligible for a cash loan, you might even be pre-approved before ever meeting us!
All Credit Types Welcome
We are more concerned about meeting our credit criteria, the value of your car and  your ability to pay than we are your past credit history, so don't let that stop you from applying! If you are approved, we will simply put our name, 5 Star Car Title Loans in Pico Rivera, on your car title as a lien holder. You keep the car and make monthly loan payments. At the completion of the contract you will receive a clean title.