5 Star Car Title Loans Google Reviews:
I suggest giving 5Star Car Title Loans a try if you're looking for quick cash without any hassles. They make everything super simple and direct. Appreciate all their efforts for me and my family.
William Sanderson
08:47 15 Mar 21
Don't make a mistake and take a car title loan from a different company. I say this our of experience. Go directly to 5 star they are the number 1 option when taking these types of loans!
Dobby Weikelis
08:49 15 Feb 21
Great team of loan experts that know how to get the job done! They worked with me closely to get me the precise loan I wanted. Couldn't be happier with my choice of lender.
Joannie Simms
12:53 20 Jan 21
It's easy to find company that give out bad credit loans around here but IMO 5 Star Loans is much better and more professional than other places I went to in the past.😊
Gutkowski Margarette
04:50 06 Jan 21
This is one of the friendliest businesses I have ever encountered. The employees are kind and know how to help people get easy online loans with monthly payments that are normal.
Isaac Blake
08:26 26 Dec 20
I was in and out in like one hour which is super fast! And they are professional!! 5 Star Loans is the best option for title loans by far Love them!!
Lisa James
05:48 04 Sep 20
This company I much better than previous companies I had title loans with. 5 star car title loans have better service and they are knowledgeable in title loans.
Lillian Murray
16:26 29 Aug 20
Porterville can be such a big city, and there are always a lot of people in 5 Star Car Title Loans. Despite that, I was able to finish my transaction in a few hours. That's how efficient they are.
Justin Yoder
08:57 05 Apr 20
I belong to a lot of different clubs in Porterville. When they offer courses, I like to join them. If I don't have the money then I get car title loans online and pay a little each month.
Betty G. Daniels
10:35 26 Feb 20
the best when you need quick money to paid bills or extra cash in the pocket!
Adrian Mackenzie
05:43 19 Feb 20
When I was invited to go along on a ride across the state, I got a motorcycle title loan to fund the trip. It wasn't hard to get and I"m glad I didn't have to miss the trip.
Megan Robinson
07:45 14 Feb 20
It was Saturday and needed funds Monday for a new place that I just got approved for. I did not know what the process was and was desperate to get funds in order to secure a lease offer. It was already approaching closing time when I was partnered up with Jonathon. He calmed me down, explained the process, and explained what I needed in order to pull the trigger. The whole process was done over the phone, I signed and exchanged documents on my

smart phone and I had cash the following Monday. We started the process less than an hour before they closed on Saturday! I was able to get the funds I needed to secure our new place. Thanks to Jonathon and the team, they even stayed after hours to take care of me! Highly recommended!!!

read more
Alan Buyayo
23:29 21 Oct 18
About This Location
Lilia Gomez Trucking Services provides registration services for 5 Star Car Title Loans customers. The store is located at 67 West Thurman Avenue, near the intersection with N Hockett St. If you live in Porterville and in need of registration services, stop by Lilia Gomez Trucking Services that works with 5 Star Car Title Loans in Porterville. Lilia Gomez Trucking Services provides our clients with unmatched customer service. 5 Star Car Title Loans does not issue loans at this location.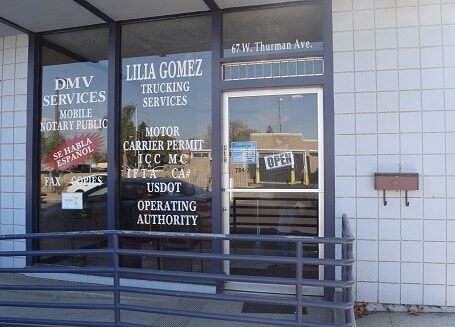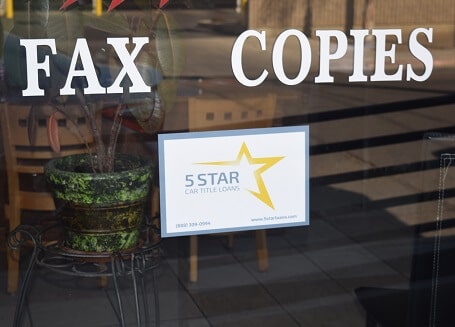 5 Star Car Title Loans in Porterville
Getting enough money to get through the month is not always so easy for people living in Porterville. If you could use a quick loan to help you out, send us your details in an application for car title loans online and we'll see how we can help.
What Specifically Are Auto Title Loans?
In general, title loans are a type of personal loan that use one of your assets as collateral. Auto title loans are a special type of title loan that use a vehicle that you own as collateral. You begin the process of getting auto title loans by filling in an online application. Send it into 5 Star Car Title Loans in Porterville and one of the experienced clerks in our office will go over your details.
What Is Needed to Apply for Auto Title Loans in California?
When applying for auto title loans in California, you'll need a valid ID and registration papers for your car that are up to date and in your name. To confirm that you'll be able to repay the loan payments, we'll also want to see a list that shows how much you earn each month and how much you spend. Sometimes we will also request a copy of your car insurance policy or other documentation. Send us an application for online auto title loans in California today.
When Do I Pay My First Car Title Loan Payment? Will it be Twice a Month or Once a Month?
After you sign your car title loans contract, your first payment will be expected in 30 days. Payments will be due once a month from that time.
Can I Get a Car Title Loan with My Bad Credit Status?
You can apply for bad credit loans even if you have bad credit. We base qualifications for no credit check loans on the value of your car, our credit criteria and your ability to pay, although for some applicants, a credit check may be required. Keep in mind that even if your credit is bad, you can still be approved for no credit check loans at 5 Star Car Title Loans in Porterville.
Are There Prepayment Penalties with Auto Title Loans?
No, don't worry about being charged a penalty for early payment of your auto title loan. If approved, you can get at least a car title loan of $2,600, so go ahead and submit your application to 5 Star Car Title Loans in Porterville without delay.