5 Star Car Title Loans Google Reviews:
I looked for reliable loan companies in Santa Barbara, and heard that 5 Star Car Title Loans accepts loan applications even from those with bad credit scores. So, I grabbed the opportunity immediately. I am so happy right now.
Francisco Baro
11:27 17 Jul 21
Google brought me a loan by the Loan agency, which I online applied for payday loans . The eligibility criteria were minimal . The rates and charges were modest.
Annika Herring
09:28 29 Jun 21
I have pawned my car and thanks to their flexible policies. I can still drive it. I can not thank them enough for their awesome services.
Maggie Bowers
06:09 03 Jun 21
With constant communication and professional knowledge, the loan officer made the title loans process less intimidating for us. I highly recommend this service.
Loma Cline jr.
07:38 01 Jun 21
I had a superb encounter working with these folks. They are responsive, compelling and keeps you refreshed with everything going on. I required best personal loans for bad credit and these folks helped a great deal during the time spent the advance.
Eli S. Robinson
09:12 25 May 21
I have been a long time client of 5Star CTL and my experience has always been positive and nice. They are a great company for a quick loan that you could complete easily and efficiently.
Haylie Burns
23:19 10 Mar 21
I absolutely hate the idea of borrowing money and of course I was afraid to give my car title away but this company is totally fair and legit. They explain everything clearly and make the entire loan bearable. I recommend them.
Minh Guidry
10:43 13 Jan 21
Just applied online and did the process from home for the title loan. It was an easy online loan process especially compared to other places. Really satisfied with this place.
Kutch Loni
05:35 06 Jan 21
Everyone here made me feel very comfortable even though it was my first time borrowing money. I hope to never need another title loan again but if I do I will come back to 5 Star.
Dennis Laurence
07:26 24 Dec 20
Just give them a call if you need pink slip loans in Santa Barbara. They work with you and work hard to make it happen! I am thrilled to have been approved!! Nicest people here too!
Olga J. Pinero
12:33 25 Nov 20
Thank you 5 star loans for the help. It was easy and smooth, I will be letting my friends and family where to go when they need money.
roseanne kelly
05:50 26 Sep 20
The lady I talked to was awesome. Very friendly. Helped me with my needs. She is a great young lady with a great personality. I will come back if I need a pink slip loan again.
Taina brown
18:57 08 Sep 20
I'm short with cash and needed to pay some house bills, so I took a loan from 5 Star Car Title Loans Santa Barbara.
William Garza
09:33 31 Mar 20
I'd rather sit and watch the views in Santa Barbara than go to work. Maybe that's why my paycheck was short last month! I got a car equity loan to make up the difference and this month I'll work harder.
Piers Lyman
07:55 19 Feb 20
There's no need to suffer without money if you own a good car. That's what I found out when I applied for car title loans online. They're so easy.
Richard Tripp
11:52 10 Feb 20
I applied for RV title loans so that I could get enough money to take the family on a trip across California. I got the money really fast and made plans to travel the next day!
Paul Shelton
19:38 27 Nov 19
I'm pretty sure that those guys over at 5 Star Car Title Loans just saved my bacon! I was in a heap of trouble because of bills I couldn't pay. I called them and they were super nice. As nice as could be. They helped me apply for a title loan and walked me through each step. I thought I was going to get money in one hour. It took closer to 6 hours, but at least I got it in time to pay my bills.
Smith John
19:03 07 Oct 19
Aquí vendían discos cds antes.
Yessica Rios
10:13 02 Aug 18
About This Location
Torresanta Insurance provides registration services for 5 Star Car Title Loans customers. The store is located at 429 N Milpas St., near the intersection with E Haley St. If you live in Santa Barbara and in need of registration services, stop by Torresanta Insurance that works with 5 Star Car Title Loans in Santa Barbara. Torresanta Insurance provides our clients with unmatched customer service. 5 Star Car Title Loans does not issue loans at this location.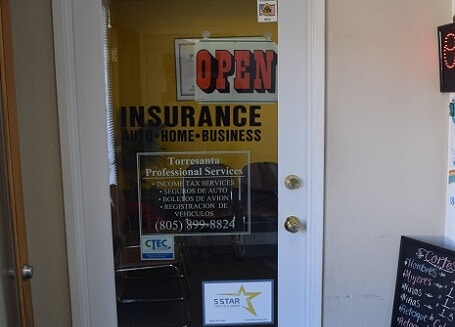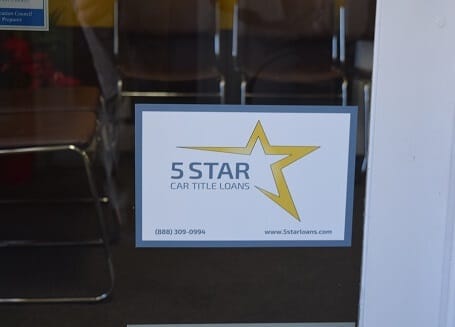 5 Star Car Title Loans in Santa Barbara
If you're looking for a way to get some extra money for bills, expenses or purchases, look no further than 5 Star Car Title Loans in Santa Barbara. We use the value of a car that you own to prepare a fast loan for you.
What Is the Minimum Amount I Can Get from California Online Title Loans?
The amount of money you can get with online title loans in California depends on the car that you own and your personal financial situation. However, the minimum online title loans that we begin with is $2,600. If you have a more valuable car and you can afford to pay back higher loan payments, you can get more. Our maximum online auto title loans amount is $20,000. Get more information from the folks at 5 Star Car Title Loans in Santa Barbara.
How Does an Auto Title Loan Differ from a Payday Loan?About This Location
Auto title loans are meant to be paid back over a longer amount of time. For instance, payday loans are for two weeks, and that's how much time you are given to repay them. What happens if you want to take out another payday loan? It starts over. In the end, it's hard to ever get that pesky loan paid off! On the other hand, payments for auto title loans are on a monthly basis. When you get to the end of the contract, the entire loan has been repaid in full. Speak with our officers at 5 Star Car Title Loans in Santa Barbara about how this works.
What Happens if I'm Still Making Payments on My Car?
If you want to get a car title loan but you are still paying it off, we can try to give you a loan that has a high enough amount that you can go ahead and finish paying of your car with some of it. Feel free to pocket and use any extra as you wish. Contact us at 5 Star Car Title Loans in Santa Barbara anytime for more details.
Are There Prepayment Penalties with Auto Title Loans?
If you want to prepay your auto title loan, that's great. We encourage you to do so, and of course we will not charge a fee for this. Auto title loans are designed to help you, and that's what we do at 5 Star Car Title Loans in Santa Barbara.