Quick and Easy Ways to Make Extra Money with Your Car
Fortunately for many car owners, making money off an auto doesn't require driving extra miles or putting in extra effort. There are creative ways to earn extra money with your car and we will review some of those right here.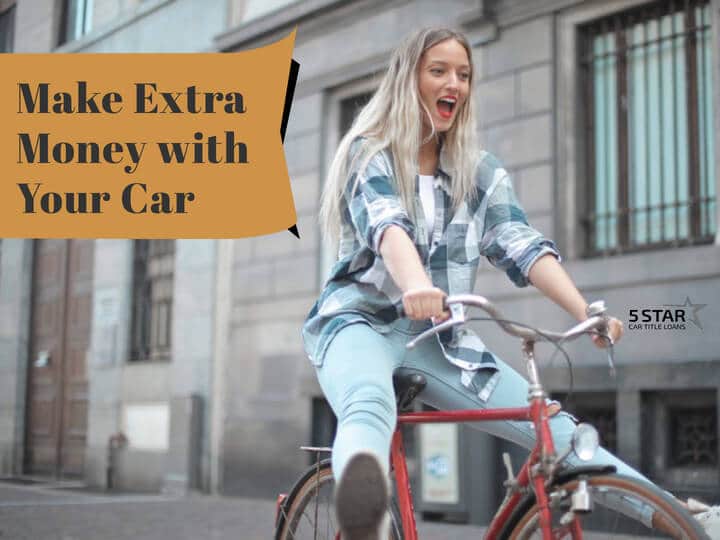 Nowadays there are so many ways you can use your vehicle to make some extra cash. Importantly, you want to make sure that by choosing one of these ways you don't add any unneeded expenses like driving too many extra miles or taking up too much of your free time.
How Can I Make Extra Money with My Car?
Take a look at the following lists which includes some popular options for how to make money with your car. They are easy, legitimate, and popular so whichever you choose could work out great!
This is one of the more common ways to earn extra money with your personal car. Ride sharing apps are as popular as they've ever been and they offer a convenient method for making some extra cash on your free time such as evenings and weekends. There are many apps to choose from like Uber, Lyft, and other local alternatives. They even offer bonuses and special promotions that could lend you some extra cash as well.
Become a Food Delivery Driver
Many local restaurants still hire their own food delivery people to work in positions that are part time and pay well. Today there are also many food delivery apps that you can work for such as Uber Eats or DoorDash. They allow you to deliver for multiple restaurants and manage the deliveries for you. Both options are great ways to earn extra money while working hours that are convenient. For those who prefer to avoid the small talk and human interaction that is required in the ridesharing apps, this is ideal.
Use Your Car for Advertising
Do you sometimes pass a car that has big advertising on it and think how cool it is that the owner is making money simply for that sticker? Turns out it's not that difficult to join the party. There are some car-wrapping companies like Carvertise and Wrapify that match drivers with companies looking to advertise themselves using car stickers. They do require a certain minimum of miles driven in order to join but if you are eligible it can be a simple way to earn some extra pocket money without working hard at all.
Using Title Loans to Make Extra Money with Your Car
While the presented options can provide a simple and quick way to make extra cash using your vehicle, you want to make sure that the benefits outweigh the costs. When you become a driver for an app or use it for advertising, you may end up putting in more miles that you had previously with your car. Naturally this results in a potential loss of resale value of the vehicle. In other words, the extra cash you are making can actually be lower than the loss you accrue in the value of your car. We therefore want to present another simple way to get extra cash using your vehicle where this loss of value is not part of the equation.
Car title loans use your vehicle as collateral in order to get you a quick and easy loan that you can pay back in convenient monthly installments. They are fast and don't require a perfect credit score or tons of paperwork in order to be approved. The amount you will qualify for depends on the value of your car and your ability to repay the loan along with other credit criteria*.
All in all, auto title loans can be the ideal solution for those looking to get extra money without all the hassles.
*Car title loans take multiple factors into consideration for a loan approval: This includes your ability to pay your loan, the equity value of a qualifying vehicle, as well as a source of income to pay monthly on a car title loan.
Advantages of Using Title Loans to Get Extra Money
As we mentioned, car title loans are a very convenient solution for those looking to borrow that extra cash without becoming involved with anything too time consuming. Title loans have many advantages and we have listed the top ones below.
Unlike traditional loans from a bank, title loans are built to be an emergency solution that allows customers to borrow large sums quickly. There are no long paperworks or annoying questions. Instead, there is a streamlined process that is simple to understand and complete.
Keep Driving Your Vehicle
The great thing about title loans is that you get to keep driving your car! While the title is left with the lender, you are free to use your car for whatever needs you have just like before. Unlike working with apps, you don't need to drive any extra unneeded miles, and therefore you are not driving the value of your vehicle down.
Most title loans can be paid back in monthly payments that are fixed. The repayment plan is very straightforward and easy to understand. It allows you to get a large sum of money and pay it back in smaller payments over time. This is wonderful for those who can't use their car for extra work or need more money than what advertising allows for.
Earning Extra Money with Your Car - Easier than You Thought!
As you can clearly see, your car is valuable and can provide a great asset for you in getting that extra money you are looking for. Whether you use it to pick up extra work as a delivery driver, put up an ad to make monthly pocket money, or take out a loan that allows you to get a large amount fast, your car is valuable!
If a title loan sounds like a good option for your situation, 5 Star Car Title Loans can help you! Give us a call or fill out our simple online inquiry to get started. You can have that extra money you are looking for in your hands quickly and avoid any hassles or extra work. Our professional agents are waiting by to help you get started!