Instant Online Title Loan
If you're looking for fast cash then instant car title loans online may be the solution for you!
In today's world most things are done online and more and more people are seeking convenient solutions that can be achieved from their home. Things are no different for those who are in need of financial assistance.
Many customers look for online solutions for their loan needs and use the internet to compare and get approved even for car title loans.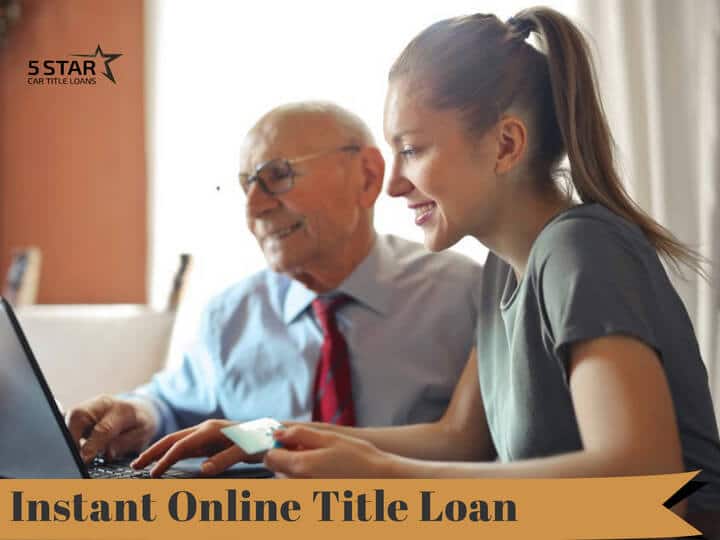 The online application only takes a few minutes to complete and is designed to be user-friendly. If you need help during the process, don't hesitate to contact us!
How to Get Instant Online Title Loans
Getting a car title loan online has never been easier. We've streamlined the process so that you don't have to sit around and wait. Forget the mountains of paperwork, long waiting times, or tough approval. Instead, you can fill out the application online and get the entire loan approved using our site. It's simple, fast, and convenient.
Ready to learn how to apply to our online title loans? Follow our three easy steps:
The first step in your application is deciding how much money you want. We offer loans up to $20,000. Since you accrue interest throughout the loan, we suggest that you apply for the minimal amount needed.
Provide your car details including the year, make, model, and mileage. This allows us to estimate the value of your car which is one of the factors determining the amount you will be approved for.
Providing your personal details
The final step in your application is providing your personal details. After completing this, you will be notified if you are pre-approved for a loan. One of our customer service representatives will contact you shortly after to answer any questions and inform you about the next steps of your loan.
Still have a question?! Our representatives are waiting by to answer any question you have and explain anything which is not understood
Reduce Your Financial Stress with an Instant Title Loan
Many people go through tough times in which financial hardships become an unfortunate reality. Of course, this doesn't mean that these people acted irresponsibly with their money. There are plenty of reasons people might face financial hardships such as unexpected medical needs, loss of income, and even the end of a relationship or divorce.
These are all normal parts of life and can lead to very stressful situations. However, for people who are going through financial stress, not all hope is lost. There are many ways to get back up on your feet. A title loan can be a great option for those who need instant cash and don't want to go through the hassles of a traditional bank loan. If you fall into one of the categories below, title loans online may be a good options for you:
Can't visit a branch office
You don't want or physically can't visit a branch office. Whether it's because you live far away or are too busy at work, online title loans allow you to complete the entire approval process from the comfort of your home.
Turned away from other lenders
You have bad credit and have been turned away from other lenders. Many people get disapproved for loans simply based on their credit score. Because title loans use your vehicle as collateral for the loan, most companies won't turn away simply for having a low credit score.
You need the money fast and can't afford to waste time on paperwork or long applications. Pink slip loans are quick and straightforward and allow customers to avoid unneeded complexities.
Online Title Loans - Do's and Don'ts
There are plenty of loan and lender options out there and you want to make sure you are getting a loan that suits your specific needs. Before starting your online auto title loan process, make sure you're aware of what you should and shouldn't do.
DO check all your options.
There are plenty of lenders out there and each has its own loan process. In order to get the loan that fits your needs, shop around and see what each company is offering you. You'll want to verify that the loan amount covers all your needs and the terms work for you. The important terms to look at are the duration of the loan, monthly interest, and monthly payments.
DO pay the loan back as quickly as possible
Since title loans are relatively high interest loans, you'll want to pay it back as fast as you can. The more time you have the loan, the more interest you accrue, and thus more money you end up paying. Since most title loans don't carry a prepayment penalty, make sure to fully pay it back as soon as you are financially able.
.
DO check the company's website is secure
With online loans, you want to make sure that the company's website is safe and secure before filling out the application or providing any information. If the URL of the website has https and not only http it means the site has an SSL certificate. It is safe to use and your data is secure.
.
DON'T overborrow money you don't need
Often when people come to get a loan they want to borrow more than necessary. This is not advisable at all since you accrue interest on the amount you borrow, meaning you're going to pay back more if you borrow more. Instead, opt to get the minimum amount that will get you back on your feet with the best interest and terms for your situation.
.
DON'T get a loan you don't understand
The most important thing when signing on a loan is understanding what you're getting into. Since most of us don't come from the financial world, many loan-related terms can get thrown around without us truly understanding what they mean. Take your time to ask ANY questions, think deeply, and get the title loan that is personalized for your needs.
.
Examples of 36 Month Loans*:
| | | |
| --- | --- | --- |
| Examples | Example A | Example B |
| Title Loan Amount | $2,600.00 | $2,600.00 |
| Interest Rate (monthly) | 10.01% | 9.21% |
| Term Length | 36 Mo. | 36 Mo. |
| Processing Fee | $75.00 | $75.00 |
| DMV Lien Transfer Fee | $15.00 | $15.00 |
| Monthly Payment Amount | $269.00 | $250.00 |
*Our repayment schedules don't have prepayment penalties or hidden fees.
Disclosure: Not every application is approved. Approval depends on certain underwriting criteria as well as the borrower's ability to repay. There can be additional loan restrictions.
What Our Customers Say
One of the best pieces of advice we can give about instant car title loans online is to check for yourself what people who were in your situation say.
5 Star Car Title Loans has years of experience and thousands of satisfied customers. But don't take our word for it, see for yourself what our customers have to say below.
It was very helpful quick and efficient getting a personal loan for poor credit thru these guys. The application was flawless and they explain everything step by step. Great way to get money!!!
Franco Kylie
12:39 27 Jun 21
Great customer service from this company. The staff was very helpful and fast in getting us quick cash loans.
Conner Morar
13:13 29 May 21
They did such a good job with our loan! Got us a great offer that was totally affordable... It was super quick too, I didn't even have time to call another lender and already got an offer!! AMAZING!✌
Luther A. Baron
07:33 12 Mar 21
An incredible service, loved the simplicity and easiness of their process. Thanks guys, love you!!
Warren Lyman
10:43 12 Feb 21
I would give them more than 5 stars if I could! The service is terrific!!! Really funny and nice loan representatives!!
Bernadette Rampling
00:48 07 Jan 21
They really got me in and out without hassles or any long waiting times. They work with tough cases like mine where I have bad credit. Appreciate how they handle things and their help to get people fast car title loans.
Sydney Ruley
06:35 30 Dec 20
The process was very easy and raltively fast I think. The one thing I was ahppy about is that they gave the money directly to my debit card for the loan. That way I didn't have to cash a check or anything like that.
Eden Edwards
07:35 12 Dec 20
I got car title loan a few times and would recommend to anyone that needs it.
Richard Francis
09:26 20 Nov 20
They provided excellent customer service to help me through the loan process. The staff was courteous & helpful from the moment I called in. Got me a cash loan so I can pay my rent on time.
Dominique Pak
09:17 03 Nov 20
5 Star Loans are the best!! The employees are super nice and attentive. They help you get loan really fast. I'm thrilled I choose them to help me. They deserve 5 stars for sure!
Layan V Dontaye
10:17 22 Sep 20
Thank you 5 star loans for helping me get the money I really needed even though I have bad credit. It was super fast and the customer service was extraordinary.
Vivian Stevenson
06:53 17 Sep 20
My brother helped me look for title loans in my area and came across this company. Very fair and make it quick. thanks to all
William Parker
11:32 08 Sep 20
When I need title loans in Rancho Cucamonga, I just call 5 Star Car Title Loans. Phone processing is practical for me as I now work from home.
Mary Johnson
09:18 02 Sep 20
My husband still has a few more therapy sessions. I took a car title loan to finance that.
Alice Dempsey
04:33 12 Jun 20
I compared the title loan quotations I got from three different loan institutions. They got the best offer!
Octavia Lacy
11:45 12 May 20
After careful researching about title loans in Rancho Cucamonga, I've decided to take one from 5 Star Car Title Loans. Now I understand why it's the most recommended.
Michael Dickerson
05:41 16 Mar 20
Wow, did that ever work out good! I've never done this before, but thanks to a friend, I applied for an online title loan. I did it from my living room - I didn't even leave my house to get approved!
Mark Shriner
12:41 03 Feb 20
I hate it when my paycheck comes in late. I refuse to pay my bills after they're due so I asked for a pink slip loan so I could pay on time.
Angela Bond
22:14 21 Jan 20
I can't thank 5 Star Car Title Loans enough for the great service. I was desperate for money and you got it for me!
Edward Edmunds
05:45 11 Jan 20
I didn't know there was such a thing as a trailer title loan, but now I know! I gave them the title and they gave me money. That works for me.
Donna Powell
07:38 13 Dec 19
Excellence and Human Decency, I will start with the name Daniel Figueroa. It was by far one of the best experiences of my life in terms of a company representative who resembles these words. Above all, was the customer service and human interaction we had with him that literally brought me to tears of joy and put a smile on my face. He's a commendable individual who cares about people and takes care of the customers. Truly an asset to this company. If there's a way they can promote him to a higher position they should, because he is deserving of it and he will continue to make the company grow. He is very knowledgable about his job, approachable, highly intelligent and humble. His customer service skills are impeccable. A good listener, caring and very kind. You can tell that he likes his job and wants everyone to enjoy their experience with the company. Kudos to YOU for your love of man kind and being a decent person! May blessings continue to find you!! I will recommend your company and you to anyone! Thank YOU for everything Mr. Daniel Figueroa!!
Lily Royal Rose
21:04 23 Aug 18
He was so friendly and a pleasure to talk with. Made me smile😄
Eileen Ramirez
19:05 23 Aug 18
Daniel was extremely helpful, very nice guy. Great customer service.
Alyssa Hardin
17:49 23 Aug 18
Daniel was great 👍🏽 he was very professional and has awesome customer service, recommend it to all my friends and family
Manuel Flores
17:18 23 Aug 18
Daniel from capitol Montana was really helpful..so far I'm really satisfied by the help and services I've received. Really great with loans
Pete Mendez
22:37 22 Aug 18
Experience the 5 Star difference today by filling out the online application or giving us a call!