Florida Bad Credit Loans: Everything You Need to Know
Having bad credit, either due to bad luck or bad choices, can be a hindrance when requesting a much-needed loan during financial difficulties. In this article, we'll discuss Florida bad credit loans and everything you need to know about them.
Understanding Bad Credit in Florida
Traditional lenders, such as banks and credit unions, typically perform credit checks, looking at a borrower's credit history to see if the borrower qualifies for a personal loan for bad credit in Florida and the associated fees and costs. If the borrower's FICO score is in good standing, these financial institutions will offer more favorable interest rates and other benefits.
A FICO score typically referred to as a credit score, is a consolidated score that provides insight into how consumers repay credit obligations, including accounts held by other lenders. If your FICO score is 670 or higher, you have a good credit score, and you're likely to get approval on your loan application.
However, borrowers with low credit scores, or bad credit, fail the credit checks, and traditional financial institutions often decline loans or charge higher interest rates as a result.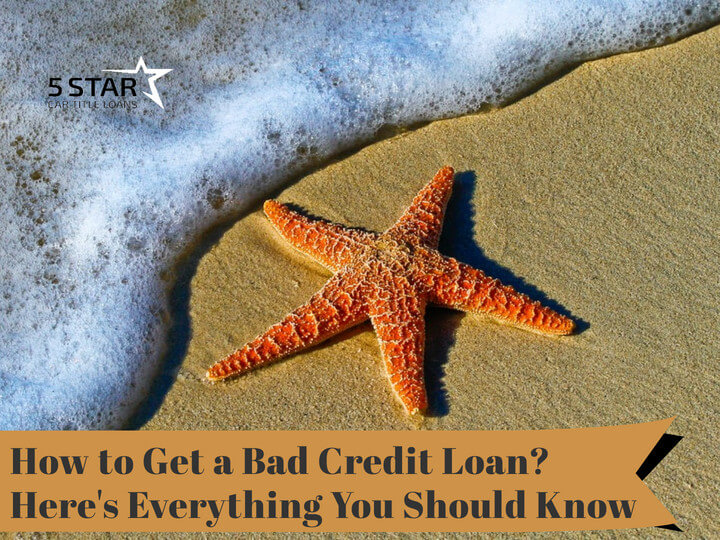 Having a poor credit score shouldn't prevent you from obtaining a title loan! Florida Bad Credit Loans: Everything You Need to Know
What Is Bad Credit?
FICO scale ranges from 300 to 850, with higher numbers corresponding to better credit scores. Typically, lenders consider anything below 670 to be a bad credit score. More specifically, a score between 580 and 669 is still considered fair, but there are still lenders who won't issue loans to individuals with a credit score below 670. A score that's between 300 and 579 is considered poor.
Can I Still Get a Loan With Bad Credit?
There are several different types of loans you may acquire despite your current credit score. There are four different personal loans for bad credit:
A. Secured Loans — To receive a secured loan, borrowers typically provide lenders with collateral1, such as valuable items and assets, as well as real estate or vehicles. Given that collateral is a condition for receiving a secured loan, lenders face virtually little risk with these loans. These loans include auto loans, Florida car title loans, mortgage loans, secured credit cards, and secured lines of credit.However, these loans put consumers and borrowers at more risk, as lenders can seize collateral assets if borrowers default on repayments. Secured loans might also be significant because the lender is required to match the collateral value offered by the borrower.
B. Unsecured Loans — Unsecured loans are personal loans that do not require collateral. Since unsecured loans have no collateral, lenders demand higher interest rates, making them more expensive than secured loans. Regrettably, this also restricts the loan amount you can borrow.
Your ability to borrow a certain amount1 is determined by your lender and your credit history. Unsecured loan providers will pull out your credit report from the credit bureau and determine your eligibility. If you meet the minimum credit score requirements, you're most likely to receive a loan.
C. Credit Cards — There are a variety of credit cards for people with bad credit, and some of them even come with a credit-rebuilding plan. These forms of Florida bad credit loans, on the other hand, are only useful if you have a credit card and can make loan payments each month.
D. Cash Advances — Short-term loan products are available from both traditional financial institutions and alternative online loan lenders. However, they usually have exorbitantly high interest rates, making them prohibitively expensive. Due to the high interest rates, cash advances, often known as payday loans, can be incredibly difficult to repay. It's also easy to become caught up in a cycle of using cash advances, so they're best avoided.
How Can I Get a Bad Credit Loan in Florida?
Getting a personal loan for bad credit in Florida is straightforward2. Here's what you need to do:
1. Call or Apply Online — The first step in playing your loan request is choosing how to submit it. You can fill out an online application or call your loan company. Both application processes take minutes to complete2.
2. Submit the Right Documents — Once your request has been pre-approved, you'll need to submit any documentation requested by the lender.
3. Get Approved — If you're eligible for cash, the lenders will determine the maximum loan amount, as well as the loan terms1.
Get Your Cash — If you accept the loan offer and repayment terms, the lenders may even deposit the funds in your checking account the next business day2.
How to Choose a Bad Credit Loan Provider in Florida
When choosing a bad credit personal loan provider, the most crucial factors to consider are eligibility and pricing. Here are some tips:
A. Credit Score — Check if your lender has a minimum credit score requirement. If so, you'll need to meet that score1 to qualify.
B. Debt-to-income Ratio — DTI refers to how much of your monthly income goes into monthly payments; lenders like to keep it below 40%.
C. Annual Percentage Rate — Many bad-credit online lenders impose an origination fee, which is a percentage of the loan before it is given to you. Most consumer advocates agree that a reasonable loan's APR should not exceed 36%.
Bad Credit Loan FAQs
Here are some of the most frequently asked questions about bad credit loans:
What type of loan can I get on bad credit in Florida?
There are different types of loans for bad credit, and most, if not all, options are available to Florida residents. For example, 5 Star Car Title Loans is a title loan company that will seek a solution for each and every applicant.
Can I get a car title loan on bad credit in Florida?
Yes, 5 Star Car Title Loans offers car title loans for individuals with poor credit scores while allowing them to keep using their vehicle for the duration of the loan.
Can I take out a loan with a 500 credit score in Florida?
You can1, but the chances are that the terms will be less favorable. For example, traditional financial institutions generally won't offer personal loans to people with low credit scores. However, credit unions and bad credit loan lenders are significantly more flexible.
How quickly can I get my money after being approved for a loan?
After you've been approved for a Florida bad credit loan, lenders may take up to a day2 to transfer the funds to your bank account. Keep in mind that the final funding time begins when the request get the final approval, and all the necessary criteria1 for a Florida bad credit loan has been met.
Can I get a better loan with a high credit score?
You can1, and you're likely to get more favorable rates at traditional financial institutions. A higher credit score signal that you're taking your financial obligations seriously, making you a more reliable borrower compared to someone with a lower credit score.
Find Bad Credit Personal Loans in Florida
Having a poor credit score shouldn't prevent you from obtaining a title loan in Florida. If you're in need of a quick loan for bad credit, visit the 5 Star Car Title Loans website, or call (888) 309-0994 for assistance.