How to Get Online Title Loans
Title loans are well-known for their convenience as a way to free up capital quickly.
Is it possible to get title loans online?!
Yes! complete the process completely online without our agents' help.
Our loans depend on many factors including:
# The car's equity
# Your credit profiles
# Your ability to repay the loan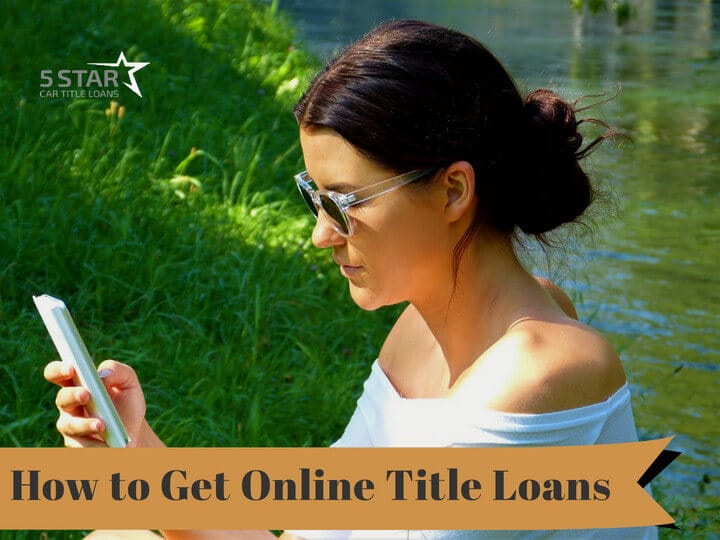 At 5 Star Car Title Loans, when you need title loans online fast, we've got you covered. You can get car title loans completely online!
Car Title Loans Can Be Done Completely Online
The entire process for car title loans can be done completely online!
Discover how title loans can be even more convenient by applying for them online and how fast you can get your money.
What are Online Title Loans?
Online title loans are essentially the same thing as conventional title loans. The only difference is that you don't have to come into an office to apply. One of the major advantages of a title loan is that you won't be held to the same strict standards as you would be when applying for a bank loan. Plus, you can get title loans online fast. You can also apply for car title loans completely online.
As long as you have a clear title to a vehicle, bad credit may not hurt chances of getting approved for an online title loan. It's because these loans are based on equity and your ability to repay the loan
If you do have bad credit, it may not be the end of the road. By showing your ability to repay the loan, we may be able to help.
How Does it Work?
The process of title loans online works much in the same way as title loans that are applied for in-person at the office. Everything you submit in your online application will be used to qualify you.
Decide how much cash you want
If you have all of the right documents and qualifications, you may have your cash within hours. It's one of the fastest loan processing options available. When you take out a loan against car, the duration of the loan isn't very long either.
Tell us some basic details about your car. We'll need to know the make, model, style, and year. We will also need to make sure the title is clear.
Your personal information
Lastly, we'll need some information about you, which includes a government-issued, valid ID.
Once we have reviewed your information, you'll be contacted by one of our team members with your loan offer and terms.
Processed completely online!
If you prefer to complete the process completely online without our agents' help, you can simply continue submitting your address, Date of Birth and SSN. If you were pre-approved, our user-friendly mobile app will allow you to upload photos of your vehicle, as well as your Driver License and your car title.
Contacting you with your Title loan offer and terms
Receipt of the above described items, one of our loan specialists will be contacting you with your loan offer and terms.
Complete the online title loan process
To complete the loan process, all* you'd need to do is stop by any FedEx store and ship the title to us. Our loan agent will print out a FedEx label for your convenience.
Once the title was dropped, we will simply direct deposit the funds into your debit or prepaid card. If you don't own one, or if a certain card isn't eligible for such a transaction, you can stop by any Walmart store and pick up Cash at the MoneyGram kiosk.
*In some case you will be required to stop by one of our GPS Centers so we can install (free of charge) a tracking device onto your vehicle.
Is it Possible to Get Car Title Loans Completely Online?
YES! Is it possible to get car title loans completely online! With 5 Star Car Title Loans you are home-free and can enjoy the convenience of completely online title loans process.
After all, using our user-friendly mobile app and walking out with cash-in-hand beats going to a bank only to have to return at a later date to pick up a check once you've been approved.
With online title loan applications, you can save a ton of time by applying from the convenience of your home
How to Apply for Title Loans Online
Start by filling out an online application. Applying is as easy as filling out multiple forms, supplying a copy of your ID, and the title to the car you wish to borrow money against. Once the paperwork is processed and evaluated, your approval could be minutes away.
Decide how much money you need to borrow.
Provide the details of your vehicle
Fill out some personal details
Once pre-approved, our user-friendly mobile app will allow you to upload:
Photos of your vehicle,
Your Driver License
Car title
Applying online can be faster than going into a loan company, and waiting around for your loan to be approved. Not only could you get approval faster, but getting your money could be faster too.
We may be able to put the money directly into your debit or prepaid card, instead of making you wait for a check in the mail.
Requirements
Qualification requirements for title loans online are about the same as conventional title loans where you apply in-person.
We'll need some basic personal details about you in order to get your application started.
You will also need to supply some details and possibly photos of the vehicle you'll be using as collateral.
A clean car title, in hand, is required in order to process your application. There can be no other owners or lienholders listed.
Be prepared to provide proof of identification with a valid, current, government-issued ID.
We'll need to see that you have the ability to repay this loan before we're able to move forward with processing.
Three personal and two professional references are required to apply for a car title loan.
Benefits of Online Title Loans
Online title loans have many of the same benefits as traditional title loans:
Minimal paperwork
Apply with speed and ease. Fill out the application online and complete it in less than a few minutes. The process can be completed in a matter of days or possibly less. By providing all of the documentation needed, you may be able to access your cash in as little as twenty-four hours.
Fast cash in your hand
Our network of reliable lenders provides quick and on-site pre-approvals for title loans. The online application process is quick and easy. You can receive your instant cash loan ASAP!
Continue driving your vehicle
You may think you'll have to give your car to the lender while the loan is being repaid, but that's not the case. You can keep driving your vehicle while you pay back the loan. You only give up the vehicle title until it's paid off
Cheaper alternative to payday loans
Car title loans offer lower interest rates when compared with other quick loan options. Since the vehicle title provides the lender with additional security, they're able to charge less in interest.
Title loans may be a key to financial freedom. All a bank will do is hold you down, and make you wait for financing. There's nothing more frustrating than waiting for months after applying for a loan through a bank only to hear that you've been rejected.
With title loans, it's different. By simply having a clear title to a vehicle, you're close to pre-approved already.
Another great benefit of applying for a title loan online is that the processing and approval time can be much faster. At 5 Star Car Title Loans, we make applying for car title loans completely online faster and easier.
How Fast Can You Get the Cash with Online Title Loans
Unlike conventional bank loans, you may be able to get approved for a title loan in a few hours or less. The convenience of this simply can't be beaten. Many people don't have time to wait around for weeks or even months that it can take a bank or credit union to approve a loan application. You just can't get turnaround times on approval from banks as quickly as you can from an online title loan.
Most pre-approvals for online title loans are completed within minutes, and the rest of the process is usually no longer than 24-48 hours before you get your money. With the direct deposit option available, this ensures you your money faster as well.
Select the Right Online Title Loan Companies
Not all online loan companies are created equal. When seeking title loans online fast, it's incredibly important to find a firm you can trust. When it comes to online title loan companies, trust can be hard to come by. No one wants to deal with a shark, so if you need title loans online fast, do your research and read the reviews when evaluating an online title loan company.
Be sure to check a lender's license for details like their doing-business-as (DBA) name, their status, and the type of license they hold before you start to apply for car title loans online.
If you are in need of cash fast, then we're here to help you get the best online auto title loan today
Apply Online and Get Cash Fast, with 5 Star Car Title Loans
Now that you know how to get a title loan online, it's time to apply. 5 Star Car Title Loans offers online applications which can make the approval process even faster. It means less time waiting for money and more time enjoying both the cash and your car, with online title loans. The application process to get a title loan online has never been easier.
If you're looking for one of the best online title loan companies out there, look no further.
Call 5 Star Car Title Loans and ask about the convenience of car title loans online!