Title Loans in Daytona Beach, Florida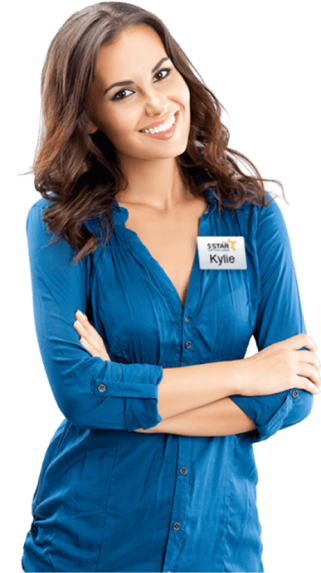 Customer Centered Service

Providing excellent customer service and a positive loan experience is 5 Star Title Loans top goal and we work tirelessly to make this happen for each and every customer.

Loans for Low Credit Score

We don't like turning away customers simply for having a bad credit score. We will work hard to get you a loan regardless of your bad credit.

Easy Application Process

We understand the urgency when getting a loan, so we offer simple options for applying. You can choose to apply either by phone or online.
Products

Car Title Loans

Payday Loans

Bad Credit Loans

Personal Loans

Online Title Loans

RV Title Loans

Process

Apply by phone or online

Complete all necessary requirements

Visit our local if needed

Get your money

Requirements

Car details

Personal details

Car title

Identification

References

Benefits

Keep driving your car

No prepayment penalties

No hidden fees

Quick funding

Personable service
5 Star Car Title Loans in Daytona Beach, FL
In these days where the inflation rate keeps on climbing and salaries have been going stale,managing your expenses is definitely not a walk in the park.
When the pay is limited and expenses are unexpected, it's natural for a person to be in distress and thumb through all the possible options to finance himself.
And  many of them do wonder– Is there a way to get some quick cash without filling out lengthy application forms?
We at 5 Star Car Title Loans have brought an easy and convenient solution to help our customers avail some quick cash 2 and get through the month till their next pay arrives.
Our simple and straightforward auto title loans in Daytona Beach can help with all your financial needs.
Car Title Loans: What Are They?
Auto title loans are collateral-based loans that provide the borrower with required finances in-exchange for equity in his vehicle.1
Also referred to as pink slip loan or vehicle equity loan, these short term financing options include putting a lien on your vehicle's ownership till the time you payback your loan amount.
When you take a car title loan from 5 Star Car Title Loans in Daytona Beach, you can continue to drive your car while paying back your loan.1
Once all the loan amount and interest are paid, the car's title is released.4
How Does The Application Process Work?
One of the main benefits of getting a car title loan with us is that our whole process is very easy and streamlined2 to help customers get the money they need without any complications or hassles.
Easy Steps To Apply for a Auto Title Loan in Daytona Beach
Step 1 : Call Us or Check Your Eligibility Online1
The first step for getting an online pink slip loan is to check your eligibility.You can call our dedicated team at (888) 309 0994 or go to our online portal and simply fill in some basic to check whether you qualify for loan or not!1
Step 2 : Fill Out a Short Application Form
Our title loans agents will ask for basic details such as the make, model of your car, the odometer reading  along with your name and phone number.1
After form submission, you'll soon get a call from our executives confirming your approval2 and giving you an estimate.1
Step 3: Submit The Required Documents
Next, you need to submit a few documents as proof of your vehicle's ownership and ability to repay the loan.You can either email or fax your documents to 5 Star Car Title Loans,no need to visit us.1
Step 4 : Sign The Agreement
Once our team verifies the documents, you'll receive a contract mentioning all the conditions of your loan.
Carefully read them and if you need any help you can contact our support team at (888) 309 0994.
Get Money in Your Account!
Once you sign and send the contract, we'll initiate the loan process and will soon send the money in your bank account, generally within1 business day.2
What Are The Requirements To Get A Title Loan?
When applying for a title loan in Daytona Beach, there are certain loan documents you need to provide to our agents in order to get your loan request approved1 faster.2
List of Documents You Need
Current Vehicle Registration and Vehicle Title
The car title will be used as the collateral.Thus, you need to prove your ownership in the vehicle you are using for the loan.
Government Issued Identification as Proof of Identity
You would need  an official photo ID to prove your identity as a citizen of Florida.Typically, A driver's licence or passport will work as a proof of identity.
Recent Pay Stubs Proving Your Ability To Repay
To get approved for auto title loans in Daytona Beach, a resident should be able to prove his ability to repay the amount and show a reliable source of income.
Employed professionals can submit their pay stubs, bank statements and tax returns etc.
Self-Employed people can provide bank statements, financial documents or income tax returns as proof of their constant income.
Retired citizens who receive pension can submit SSI ,award letters,and retirement account statements to avail a quick online vehicle equity loan.
Latest Photos of Your Vehicle
At 5 Star Car Title Loans,we focus on providing the fastest services to you.Therefore, you can take the benefit of our online portal and skip the in-person inspection to save some time.
Click clear photos of the front, back and side of your vehicle along with VID number and odometer reading to expedite your loan application process.
Utility Bills Or Rental Agreements as Proof of Address
To qualify for a pink slip loan in Daytona Beach, you will also need to provide a documented proof of your permanent address.It can be credit card or other utility bills, property tax receipt and rental agreement.
Can I Get A Title Loan Online?
Yes! At 5 Star Car Title Loans, you can save all the time in travelling to offices and get title loans at your home as quickly as possible.2 Just go to our online loan application portal,and fill out the application .
For better convenience in availing equity loan, you can also skip the in-person inspection by simply clicking photographs of your vehicle from different angles and sending it to our licensed lenders.2
What Are Title Loans Based On?
The reason auto title loans are so famous is because unlike any other lending options, they are based mostly on the value of the customer's vehicle and his ability to repay the loan.1
Factors on which your vehicle's value is decided
Make and Model of the Car
Brand of the Car
Condition of the Car
Equity in the Car
Other than this, your income also decides whether you can get a larger amount of loan or not.1
Generally, you can access up to 75% of the vehicle's value.1
How Do You Get Approved for a Title Loan?
Auto title loans are collateral-based loans and there are certain steps that you can follow to get the higher amounts of loan faster.1
First of all, you will need to satisfy all the required conditions:
Conditions To Qualify For A Vehicle Equity Loan in Daytona Beach, Florida
Candidates must be either 18 years of age or older.
He/She should possess a government-issued ID.
Applicants should have a vehicle with a lien-free title to their name.
They should have a regular and reliable source of income.
Satisfying these basic conditions will make you eligible for a title loan and having proper documents for all can also expedite your loan application process.2
How Do Auto Title Loans Affect My Credit Score?
Unlike other types of loans, auto title loans do not have an impact on your credit score.The because of it's looser credit requirements, it's possible for citizens to get a pink slip loan even if they have a bad credit score.1
Avail Easy Loan With Poor Credit Score
In car equity loans, the credit score is not the top most deciding factor.1 Doesn't matter what your credit history has been, a person can apply and become eligible for a title loan.
Primary factors on which your title loan eligibility depends:1
Amount of equity you have in your car
Ability to repay the amount
At 5 Star Car Title Loans, we use multiple factors to determine your eligibility for the loan.1
We may run a credit check but even if you have a low credit score– our dedicated team will check all other factors such as payment history, proof of income, etc to find the most suitable loan option for you.1
How Much May I Borrow with a Car Title Loan?
The amount you can get depends on various factors like the value of your car, your income and equity you have in the vehicle.1
I.e. if you have a higher income, well-maintained car with sole ownership on the vehicle's title – you can avail larger amounts of loan from 5 Star Car Title Loan.1
How Does Repayment Work?
Our team focuses on keeping the whole loan process simple and easy.Our loan contract includes all the necessary information you will need to repay the instalments.4
Easy ways to payback your loan
Single Payment Loans
Pay all the principal amount along with interest in one go at the end of the repayment period with no hassles.
Instalment Loans
Break down the repayments into smaller amounts  and pay at regular intervals.
Repayment Options Accepted By 5 Star Car Title Loans
Pay using your credit and debit Card
Pay online through personal accounts
Pay at your nearest MoneyGram centres
Mail your instalment check
Use payment applications to pay instantly
Is There A Prepayment Penalty On A Title Loan?
No!4
At 5 Star Car Title Loans, we believe in providing comprehensive and transparent customer services.
We understand that anyone would like and want to pay off their debts as soon as.Thus if any borrower decides to pay off the loan earlier,we help them and charge no prepayment penalties nor levy any hidden fees.4
Generally, the repayment period starts after 30 days but may be extended further depending  on the loan amount, duration and interest rate.1
So, don't take any stress and choose the most suitable repayment period and if you get your money earlier, you can pay back earlier too.4
How Are Title Loan Interest Rates and Fees Calculated?
Generally, there are multiple factors that are taken into consideration when coming up with the total loan amount an individual can avail of.1
These calculations include:
The vehicle with the title that you'll be using for auto title loan.
Market value of the car (not retail value!).
Percent of holdings you have in the car.
Repayment Period.
For example, if you own a 3-year old SUV that was bought at the retail price of $4500 and currently it sells for $2700, then your assessed loan value will be closer to the later figure.
If you are confused and want some assistance to calculate how much you can afford in monthly payments, you can contact our team or use our free car title loan calculator.
Benefits of Choosing 5 Star Car Title Loans in Daytona Beach,FL
5 Star Car loans solely focus on enhancing the customer experience and help them to avail money in the easiest and quickest ways2 possible.
Here are some benefits you'll enjoy when you opt to choose 5 Star Car Title Loans in Spring Hill:
Security of All Your Information
In today's world, when all the third parties prey on customer's information, we focus on protecting our customer's privacy and keeping their crucial information secure.
No Hidden Fees Whatsoever
Our loan process is simple, easy and transparent, any person who chooses 5 Star Car Title Loans for emergency loan needs won't have to pay any hidden charges or fees.4
Flexible Loan Repayment Options
When it comes to paying off debt, our team tries to keep it as easy for you as possible.You can pay in various modes– online or in-person (whatever suits you) and If you want you can also pay early or extend the payment period.1
Loans For Bad Credit
Our loan eligibility conditions don't entirely depend on your credit score.1 Our executives base you loan eligibility on multiple criteria, thus it's possible that a person with poor credit score may also get a cash advance loan for their sudden financial needs.1
Apply For An Instant Auto Title Loan In Daytona Beach Today! 
If you need some quick cash2 but don't want to deal with the long, arduous credit checks, you can contact 5 Star Car Title loans and apply for a pink slip loan today.
Just fill out our online application form to check your eligibility and see how much you can get for your car.1
If you need any help or assistance, you can call our support team at (888) 309 0994 and get the answers of all your car title loan related queries.