Auto Title Loans Los Angeles
Auto title loans can be an ideal solution for those needing some extra cash to get through the month. Anyone over the age of 18 who owns an operating vehicle can apply for this type of loan.
Title loans are so desirable because they allow the borrower to keep their car while repaying back the money.
Unlike bank loans, the approval process is much quicker and available to many people, not just those with perfect credit.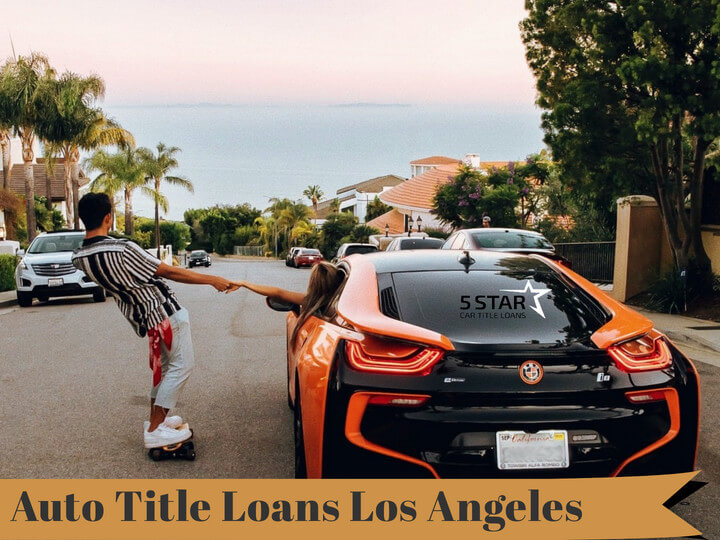 Notably, 5 Star Car Title Loans doesn't require a perfect credit score or a bank account for being approved with us. Instead, we base our decision on your ability to repay the loan and the value of your car
To learn more about the process of getting car title loans in Los Angeles, read below:

How Do Car Title Loans in Los Angeles Work?
The first step in getting your car title loan is completing the easy online application which can be found here. You will be required to provide some basic personal information and details about your vehicle. It only takes a few minutes and once you've completed it, you will know if you are pre-approved for a loan!
Provide Necessary Documents
After you have been pre-approved, one of our professional loan agents will contact you in order to explain more details about the loan and get you the final approval. You will need to send in several documents such as the car title, proof of income, and identification forms. Once we've received all the documents and gave a final approval, you will be able to sign your loan contract.
The final step* in the process of getting pink slip loans in Los Angeles is getting your cash. You will be provided with a shipping label and asked to send in the vehicle title via FedEx. Once this is done, we will transfer you the money via one of our convenient loan fund disbursement options.
That's it! As you can see, getting car title loans in Los Angeles is simple, and by choosing our company you are avoiding the annoying hassles of traditional banks and loan providers.
*Under certain cases, you will be asked to stop by one of our GPS Centers so a tracking device can be installed onto your vehicle, completely free of charge to you.
Advantages of Getting Title Loans in Los Angeles
Every now and then most of us face tough financial situations in which we need to turn outside sources for funds. Luckily if you live in Los Angeles, there are several options for getting money such as traditional bank loans, payday loans, or title loans. We have gathered the most significant advantages of choosing car title loans for your financial needs.
Unlike other types of loans, you don't need a perfect credit score to get a title loan. Rather, these types of loans use your vehicle as a collateral for the loan and examine your ability to repay as the main factors affecting your decision to be approved. All in all, bankruptcies, bad credit, or even no credit at all shouldn't prevent you from applying for an auto title loan.
5 Star provides an easy to use online application so you can find out quickly how much money you can get. The entire loan process is simple, free of hassles, and can be completed within several hours*.
As the famous 1982 song by the band Missing Persons says- "nobody walks in L.A." That's a top reason why people opt for car title loans in Los Angeles. You get to keep your car for the duration of the loan while the lender has the vehicle title. Once the loan is paid off the title gets sent back to you and you become the legal owner once again.
By choosing the right lender you can get a title loan which doesn't have any prepayment penalties, meaning you can pay off your loan anytime without any fee. Title loans can also often provide flexible terms with relatively low monthly payments so you can get back on track easily.
*The online application could take five (5) minutes to complete. Upon completion, a conditional approval may be given pending review of documentation. Funding time is based on the time from final approval following receipt and review of all required documents and signing.
For more suggestions on how title loans work and what to keep in mind for the loan process, visit our page here. As with any big financial decision, always make sure to understand what you're signing on when getting a title loan
Los Angeles Title Loan Locations
Our top goal is to provide fast and easy title loans with exceptional customer service. As part of this goal, we aim to reach any California resident who is in need of a title loan. So we've partnered up with different businesses across the state and city of Angels in order to provide you with quick and exceptional service.
Since our loans are secured by a vehicle title, many customers often need to complete different registration services before they get their funds. Examples of this is transferring the car between owners, paying registration fees, and of course adding the lender as the lienholder on the vehicle. While we aim to help with many of these issues in house, it is often the case that we use the services of businesses who specialize in this. For this reason we've partnered up with the following registration services in Los Angeles who can help you as part of the title loan process:
**The above locations provide only registration services and do not issue loans.
For those who are looking for a 5 Star Car Title Loans branch, we invite you to visit our following offices in Los Angeles where we rent a space. At these locations you will find trained agents who can help you with your auto title loan from start to finish.
Don't Hesitate: Get a Los Angeles Car Title Loan Today
If you are in need of some extra cash, title loans in Los Angeles may be the right solution for you. 5 Star Car Title Loans provides loans for all California residents. We have been in the L.A. area for years and specialize in getting customers approved fast.
The majority of Americans carry some form of debt, and Los Angeles residents are no exception. Don't let your bills and payments pile up. Whether you have bad credit or no credit at all, call us today or fill out our online application form to get back up on your feet with a simple and quick car title loan!
Notably, 5 Star Car Title Loans doesn't require a perfect credit score or a bank account for being approved with us. Instead, we base our decision on your ability to repay the loan and the value of your car
Title Loans Los Angeles, California
With a population of around four million people and covering hundreds of miles, Los Angeles is one of the biggest cities in the world and the largest in California. The city is known for its beautiful mountains and ocean, large entertainment industry, and diverse population. Just as in any other place in the country, residents of Los Angeles often find themselves in a financial bind and when this happens they turn to 5 Star Car Title Loans for help!