When you can't get approved for financing through a bank, don't stress, other options are available.
Discover why a loan against your car might just be the best thing for you.
In many cases, you can borrow against your car to get the cash you need now!
Our loans depend on many factors including:
# The car's equity
# Your credit profiles
# Your ability to repay the loan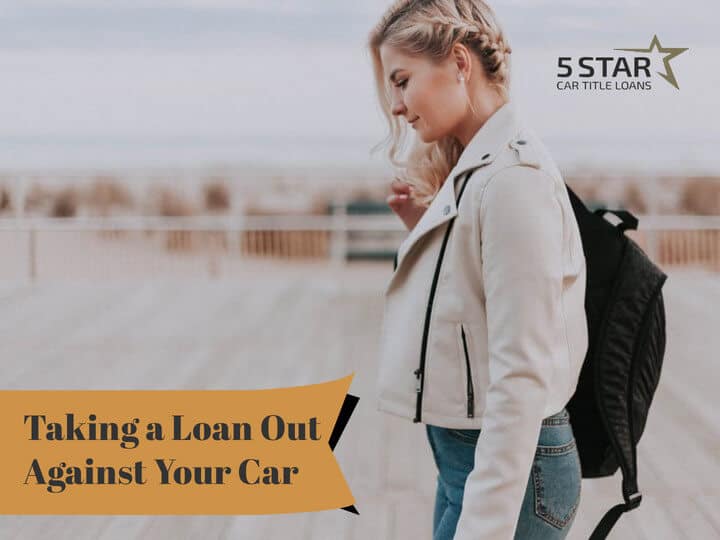 Using the title of your car to qualify for a loan means you're offering something in exchange for the money that can help the lender recoup the money if you fail to repay it
Taking a Loan Out Against Your Car
Unlike with other types of financing, when you borrow against your car or take a loan out against your car you don't have to go through a lengthy and complicated approval process.
Offering a vehicle as collateral means you'll have an easier time applying, even without a high credit score.
You also won't need to explain why you need the money or where you'll be using it. You get to use the money however you want.
How to Get a Loan Against Your Car?
To apply for a title loan against car, you'll need a handful of documents, but not an overwhelming amount of information.
You can apply:
It's possible to be approved within hours as the process is remarkably fast. The incredible rapidness of title loan approval times put bank loans to shame.
Requirements for Loan Against Vehicle
One of the best things about a title loan against a car is that the requirements are extremely relaxed. Unlike banks and credit unions, title loan companies understand that life can be challenging.
Companies like 5 Star Car Title Loans want to make your life better, not worse, which can be done by taking a loan against your car.
These are typically the documents you should have when applying for a title loan:
A valid government-issued ID with proof of address – you must be a resident of the state!
Clear title to a vehicle – you cannot get a title loan on a leased car.
Essentially, that is it. You won't need much else to apply. With these two things, you may get access to as much cash as you can qualify for. The amount of financing you can receive is based on your ability to repay the loan and the value of your car, as title loans use vehicle equity as collateral.
Disclaimer: There is a chance you'll need to show additional documents, according to your situation.
Don't let bad credit score stop you from applying. If you can show the necessary collateral and the ability to repay the loan, you may still be able to get cash same-day even with bad credit
Benefits of Borrowing Against A Car
There are lots of benefits to borrowing against your car. If you need cash fast, a loan against your car might be the best option available.
Lightning-Fast Approval Turnaround Times
If you have all of the right documents and qualifications, you may have your cash within hours. It's one of the fastest loan processing options available. When you take out a loan against car, the duration of the loan isn't very long either.

While a title loan can be dragged out for up to about a year, most of them are paid off in less periods of time. You can get the cash you need without being bogged down in payments for an extended period of time. The relatively short durations of title loans are good for both the financier and the customer, everybody wins.
Spend the Money How You Want
Another key advantage to taking a loan out against your car is that you won't have a bank looking over your shoulder and needing to know what you're using the money for. Whether you're applying for a personal loan, an auto loan, or a mortgage, banks want to know what you're doing with the money.

Title loans work differently. When you're taking a loan out against your car you get cold hard cash in your hand. Once approved and handed the money, you'll be free to spend the cash as you please. No bank account is required.
If you take out a loan against your car, it is vitally important to ensure that you completely understand the terms. Ask about any fees that may need to be paid, and the APR. Lastly, have your payments ready for the loan either before or on the due date
Where to Find a Loan Against Your Car
When looking for the best financier to borrow against the car, look for someone you can trust. Also, look for low-interest rates with as little fluctuation as possible. Keep in mind however that when you have a loan against car, the interest rates will be higher than other types of loans.
You can find details about our products and services, and taking a loan against your vehicle here. These include the average rate range, loan amounts, and loan terms – no extra fees or penalties for prepayment.
When you look at the big picture, however, the higher interest rates don't make much of a difference because with poor credit you won't qualify for most other types of financing and if you do, the rates would be just as high if not higher.
Partner with One of the Best Names in the Business, 5 Star Car Title Loans
At 5 Star Car Title Loans, we serve residents with superior financing options for a loan against their car. When you take a loan against a vehicle, you want to work with someone who will have your back. No one else in the business will look out for you like 5 Star Car Title Loans.
Have a chat with the car experts at 5 Star Car Title Loans and ask about how you can turn things around when you borrow against a car.