5 Star Car Title Loans in Anaheim
Start your loan process at this Registration Services Center – How it works
5 Star Car Title Loans Google Reviews:
In need of money to cover payments, so I applied for a loan through them. Never thought the loan could be completed so quickly . Thanks!
Bethany Garrett
13:10 28 Oct 21
I recommend 5 Star Loans because the staff is Awesome.
Kevin C. Smith
09:32 17 Jul 21
I am a have taken loans before and I would not use anyone else to do my personal auto title loans loan. I refer my family, friends to 5 Star Car title loans. They are the best...
lilia makenzie
04:17 28 May 21
It was an absolute pleasure doing business with 5Star CTL! I was looking for a car title loan for days and couldn't find any company that fit my needs and these guys were a great help with that!! Great people!
Mercedes Stella
14:25 16 Mar 21
A truly awesome company! These guys know who to treat people with kindness and respect. Thanks so much you guys for everything!
Brekke Lashaun
12:33 14 Feb 21
No need to wait long queues in 5 Star Loans. They have enough representatives that are all knowledgeable about the process.
Keith Hughes
06:31 01 Feb 21
Thank you for helping my family get back on track and pay our bills! We had a great experience here and truly appreciate everyone for helping us!
Bailey Elyse
08:22 13 Jan 21
Not going anywhere else for a loan- these guys are the #1 company in the Anaheim area!! Had my fair share of loans and first time it's done so quickly...
Heath Bill
10:12 29 Dec 20
I had an awesome experience with 5 Star Loans. I really appreciated the time they spent making sure I received my loan and approved even though I have bad credit. I will most definitely refer my friends to 5 Star Loans in the future.
Gerhold Romano
07:15 29 Dec 20
This crazy situation made me lose my job recently so I looked for emergency loans in Anaheim. I'm happy I found this amazing company I'm so thankful for all the help they gave me. Thank you guys!
Paul Adler
10:39 27 Nov 20
They have the best title loans around here and it's not even close! I have been to other places don't waste your time with them!
Kenneth Miller
17:51 06 Sep 20
I was looking for bad credit loans after losing my job recently. Glad I could find a good company to work with in such a tough time.
Katherine Penny
05:23 26 Aug 20
Title loans are my savior after having a bad credit score in the bank. I'm happy and contented with 5 Star Car Title Loans.
Liam Ferguson
11:58 13 Jul 20
I'm looking for car title loans in Anaheim because I'm already behind rent for two months. I'm glad I found 5 Star Car Title Loans.
Ellis Wilson
08:12 01 Jul 20
The signature bag I've always wanted was 50% off. I didn't want to let the chance pass by, so I took an auto title loan from 5 Star Car Title Loans.
William Theodore
07:44 12 Mar 20
I wanted to buy a special ring for my girlfriend because I want my proposal to be memorable. I went to several title loan places and decided to sign with 5 Star Loans.
Richard Hart
06:31 17 Feb 20
To get extra cash in one day, I applied for a title loan online. This isn't the first time that I've used my car to get quick cash.
Brian McAnulty
11:44 28 Jan 20
It's been a long time since I needed help with money. I'm usually ok but when my paycheck was missing hours I had to do something fast. I applied for an online title loan and that settled everything.
Mabel Jones
00:38 08 Jan 20
I needed money and got it quickly. No hassles, no problems. I'd do it again!!!!
Christina R. Shelton
07:49 29 Aug 19
I needed money and got it quickly. No hassles, no problems. I'd do it again!!!!
Aurelio Cremin
07:07 24 Aug 19
I receive the most professional and respectful service from Kiel. He is extremely bright and understanding. He speaks clearly and thoughtfully, leaving no room for confusion or misunderstanding ..he truly understands the concepts of outstanding customer service. I can honestly say he takes some of the pain put of making monthly payments lol. Thank you, Kiel!!!John Hawkins
John Hawkins
18:21 11 May 18
About This Location
Anguiano/Anda Insurance Agency provides registration services for 5 Star Car Title Loans customers. The store is located at 891 S Euclid St, near the intersection with W Beacon Ave. If you live in Anaheim and in need of registration services, stop by Anguiano/Anda Insurance Agency that works with 5 Star Car Title Loans in Anaheim. Anguiano/Anda Insurance Agency provides our clients with unmatched customer service. 5 Star Car Title Loans does not issue loans at this location.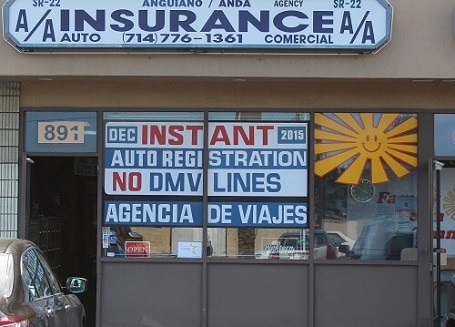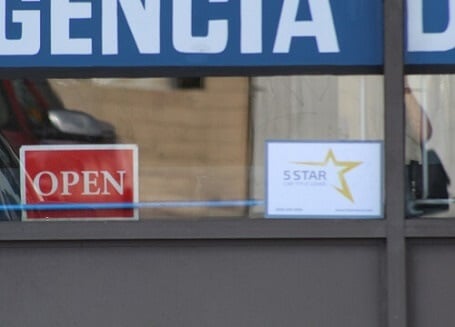 Anaheim, Part of the Los Angeles Metropolitan Area
Disneyland is in Anaheim. But there is so much more to Anaheim, including three historical districts. German immigrants came to the area in the 1850s looking for a suitable place to grow grapes. The name "Anaheim" is put together from two words, Ana (shortened from Anna) referring to the Santa Anna River, and "heim" meaning "home" in German. For nearly a century agriculture was the primary concern for the locals. Then along came a young artist from Kansas City, Walt Disney, and after revolutionizing the movie business with his animated cartoons and full-length films, he forever changed the local landscape by building Disneyland.
Getting Extra Cash in Anaheim
The residents of Anaheim have a lot going for them. They get to live in a fabulous city with many things to do, including entertainment, concerts, restaurants and beaches nearby. That's all really great if you have money to enjoy those things, but if you're wondering how you're even going to get through until your next paycheck comes in, then it's not so great. Until you get your next salary slip, you still have bills to pay and expenses to cover. Anyone can face these financial woes even with a salary. Once you get behind on your bills it can be hard to recover unless you can find a way to get some quick cash.
Cash for Cars
That's where 5 Star Car Title Loans in Anaheim might be able to help you. If you own a car, then you can send us an online car title loan application. We will check your car's value and if it's adequate, we'll go on to find out if you have the ability to pay a loan and if you meet our credit requirements. If all of those items check out, we'll contact you about processing a title loan of at least $2,600.
Bad Credit Applicants
If your credit history is bad, don't let that stop you from applying. We will check your information and it is still possible that you can be approved for title loan from 5 Star Car Title Loans in Anaheim. If you're approved, we will become a lien holder on your car, but you can still keep your car. By putting our name on your car title, we can use only the value of your car to secure your quick cash loan.