5 Star Car Title Loans Google Reviews:
Thank you and keep up the great work! Title are very expensive (be aware!)
Kiara Galvin
06:49 19 Dec 19
Remember when it used to be really complicated and like a HUGE deal to get a loan? I'm so glad that it's easy to apply for quick cash now. Thanks to the internet!
Colin Davidson
06:10 11 Dec 19
I had my bills all paid up but you know what it's like to not have a cent in your pocket. I couldn't even buy my kids an ice cream. I thought this is crazy, so I got a car title loan. I didn't have to give up my car to get some quick cash in my pocket.
Edward Ball
05:16 30 Sep 19
Too many bills came in at once for me. And wouldn't ya know, but it was winter and my water pipes froze over and the pipes burst. I was about ready to give up. I couldn't pay my bills and now the broken pipes had ruined everything. I still had my car and I good job, so I tried out car title loans. Boy did that fast cash save me! It wasn't easy,

but I got out of that mess and things are going ok now.

read more
Edward Gray
10:30 27 Sep 19
Thank you for all your help Kiara. Very helpful & friendly.
Danielle Laugheed
16:12 30 Oct 18
About This Location
Super Latinos Registration and Insurance provides registration services for 5 Star Car Title Loans customers. The store is located at 21300 Sherman Way #8, near the intersection with Eton Ave. If you live in Canoga Park and in need of registration services, stop by Super Latinos Registration and Insurance that works with 5 Star Car Title Loans in Canoga Park. Super Latinos Registration and Insurance provides our clients with unmatched customer service. 5 Star Car Title Loans does not issue loans at this location.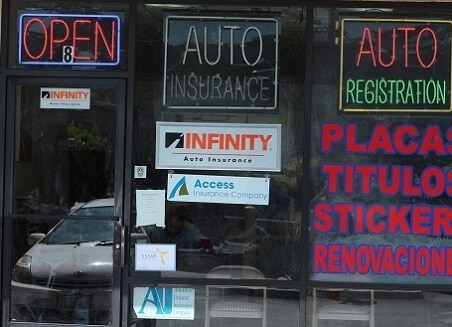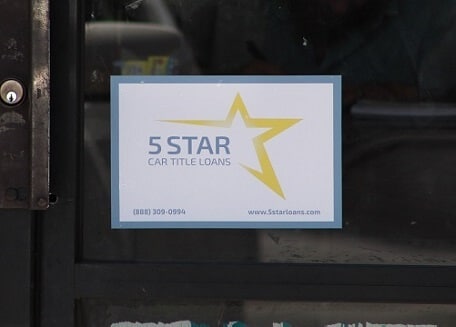 Canoga Park, California
Founded in 1912 and named Owensmouth after the Owens River, Canoga Park received the its name in 1931 after joining with Los Angeles. Back in those early days it was zoned as rural/agricultural. In addition to the small farms that produced melons, fruits, vegetables, and had livestock and horses, the area was used for movies and television filming and for shooting stunts. From the 1950s the aerospace industry replaced the farms. Companies like Atomics International, Hughes Aircraft, Boeing, Rockwell International and Boeing were the economic centerpieces. But since the '50s, Aerojet Rocketdyne is the only aerospace company remaining in the city.
Cash Woes in Canoga Park
It's tough getting by in today's economy, no matter where you live, but it can be really difficult to find a way to get quick cash if you live in Canoga Park. Especially if you've ever had credit problems, because banks will often turn you away. If you find that you're low on cash, if you're wondering how you'll pay your past due bills while waiting for your check in the mail, consider applying for cash loans from 5 Star Car Title Loans in Canoga Park. If you own a car, then we might be able to give you some cash based on the value of your car, but without taking your car!
Car Title Loans in Canoga Park
Here's how it all works. First, you send in your online request form for title loans to 5 Star Car Title Loans in Canoga Park. On the form, you'll be asked questions about your car and a few personal questions. It's not much, but it's enough to get us started! We'll look over your car details and evaluate its worth. If the car has a high enough value, if you can fulfil our credit standards and can pay back the loan, we will contact you to continue the process. In some cases, we can pre-qualify applicants right in their own home!
Keep Your Vehicle
Once we determine your loan approval at 5 Star Car Title Loans in Canoga Park, we will process a cash loan that uses the value of your car as security. You can keep your car but we will need to put our name on your car title until it's repaid. Enjoy driving your car with the money to pay your bills!