5 Star Car Title Loans Google Reviews:
I live in San Bernardino and I was looking for car title loans in Chino cause that's where I work. They helped me out since I needed money to fix my other car. I was able to get cash and not a check which was good since I did not want to wait for a

check to clear. Overall, good service.

read more
Leyla Liana
05:36 17 Jul 21
5 Star CTL were always on top of things and very thorough with everything! Great job!!
elbert stone
19:17 03 Jun 21
The staff was so wonderful. They got me the low credit score loans I needed very quickly and professionally. Also, they have always been so understanding of how I felt when my mother passed away.
Bonnie Estradaa Jr.
11:16 31 May 21
It was a bit scary to be getting a auto title loan but they helped me understand everything and it made it so much easier. Thanks for the wonderful service.
Harry Churchill
09:34 29 Apr 21
Everything was handled in an extremely professional manner and I got everything I looked for- good loan amount, reasonable interest, amazing service...
Thanks for all your help! I recommend them for car title loans in Chino!
Eliza Zahel
08:00 05 Jan 21
I know it's expensive to get a car title loan if you don't pay back quickly but it's a good option as a last resort imo. Especially for people with bad credit!
Best in the industry always provide helpful information and really personal service I appreciate these guys so much.👍
Carolyn Tinsley
05:02 25 Dec 20
Honestly I just need a quick loan in Chino area. There's a few companies around here and I think from what I saw 5 star is the best.
William Kepley
06:59 01 Dec 20
After looking online for a couple of days I found 5 star loans in Chino. I gave it a shot because I really needed the money. These times are a little crazy. My experience was positive with them. I applied onled and they walked me through the rest of

the process. Really hope I never have to do this again but it is what it is.

read more
Labadie Eddie
12:48 20 Oct 20
If you are looking for auto title loans in California then I recommend to call 5 Star Loans. Very nice people and service at this place.
Thomas Yockey
09:29 12 Sep 20
I am a Citizen of Northridge and was looking for efficient loan providers. I researched a bit and found these guys who offer car loans. Plus, they offer many facilities for repaying the loan. I would recommend their car loan services to my friends!!
Caroline Pullman
15:08 15 Aug 20
Being able to take a bad credit loan in 5 Star Car Title Loans Chino is such a big relief. I've been stressed about where to borrow money after having a bad record in the bank.
Garrett Rodgers
05:21 12 Jun 20
Taking title loans has never been this effortless! Great staff and fast process! It was such an ease.
Ilene Noelq
07:31 02 May 20
I get by ok on what I earn, but it doesn't take much to push me over the edge. But at least I found a good way to get money quickly. I can take out a loan against my car.
Ralph Beard
05:11 21 Feb 20
My wife and I went to online for a title loan. We saw this website. My wife is happy because the reps helped us understand everything.
Benton Burger
11:23 19 Feb 20
I had heard of truck title loans but this is the first time I ever tried getting one. It was an interesting experience. I had to send more documents than I thought was necessary but they wanted to make sure that I had paid for the truck and that it

belonged to me. Anyway they were nice about it and I got the money.

read more
Leroy White
08:32 31 Jan 20
Justin Ewing
22:42 14 Aug 18
Vivian Quevedo
20:08 14 Aug 18
About This Location
Claudia's Insurance Services provides registration services for 5 Star Car Title Loans customers. The store is located at 12150 Ramona Ave #8, near the intersection with Philadelphia St. If you live in Chino and in need of registration services, stop by Claudia's Insurance Services that works with 5 Star Car Title Loans in Chino. Claudia's Insurance Services provides our clients with unmatched customer service. 5 Star Car Title Loans does not issue loans at this location.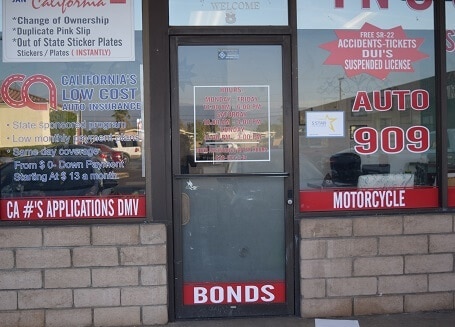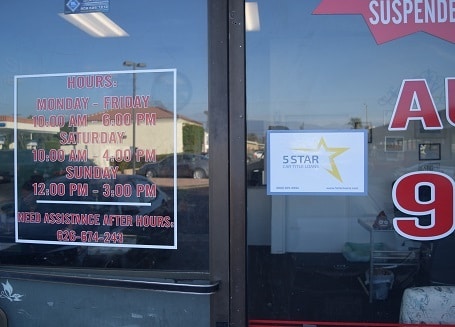 5 Star Car Title Loans in Chino
Borrowing money to use for any purpose is a cinch for anyone living in Chino. Just by using the value in a car that you own, 5 Star Car Title Loans in Chino helps people with fast loans beginning from $2,600.
What Are the Requirements for California Title Loans?
To be approved for California title loans, the process is a simple one that follows these guidelines. First you must have a car title and identification. You'll also need to prove to us that you will be able to repay the loan by issuing us a statement of income and expenses. In some cases, we may ask for additional paperwork, such as your car insurance policy. To find out how you can get started with California title loans, send in your application to 5 Star Car Title Loans in Chino.
Are There any Hidden Fees with Auto Title Loans?
We do not add on any hidden fees to auto title loans. At 5 Star Car Title Loans in Chino, we make it a habit to make sure all fees are clearly visible to our clients, before they sign on the contract. It's better for you and safer for both of us if we are up front with all costs involved with auto title loans. Contact one of our clerks today to find out more about auto title loans.
When Is the First Payment Due on No Credit Check Loans?
When you sign a contract with 5 Star Car Title Loans in Chino for no credit check loans, your first payment will be due 30 days later. After that first one, the following payments will be due each month. However, don't forget that if you want to pay back your auto title loan early, it is possible. You will not be charged a prepayment penalty for early payback.
Do I Need Good Credit to Get Car Title Loans Online?
One of the best reasons to apply for car title loans online is that you can still get approved even with bad credit. At 5 Star Car Title Loans in Chino, our first concern is the value of a car that you own. So if you can prove ownership of a valuable vehicle and you meet the other requirements, you can get quick loans with car title loans online.