5 Star Car Title Loans Google Reviews:
It is always so awesome doing business with 5 Star Car Title Loans. Friendly team, quick process, easy way to get money. They came through for me a few times already! Thanks for the personal loans for people with bad credit!!!
Ritter Ayden
23:52 28 Jun 21
I contacted 5 Star Car Title Loans after my previous lender decided my loan was no longer approved (only to later approve it again). They approved me fast and with no issues at all.
wilma crawforfrd
08:20 04 Jun 21
Don't waste your time with other companies, 5Star Car Title Loans are the best around!!! They are honest, upfront, and extremely quick!! Love this company thank you guys!!!
Ella Kianna
17:54 16 Mar 21
Hopefully I will never be in another situation like this ever again, But I will for sure go to 5 star once more if I need another great deal car title loan like theirs..✌✌✌
Missile K. Rise
10:04 14 Feb 21
The person who helped me with the loan knew to answer all my questions and was able to get me a great loan offer. It was a good experience for a title loan!
Martindale Thorn
09:53 13 Jan 21
I love installment loans from 5 star simply because I can complete them online without having to go to the store!
Michael Houston
07:00 24 Dec 20
I preferred getting my installment loan here rather than at the big lenders because you get treated better. They always remember me when I call and are very flexible in their service..
Jamil Erdman
13:56 17 Nov 20
I just finished my process for online loans in Daly City. I was super convenient and fast. Could not be more satisfied with the customer service!
Adrian Anderson
12:32 30 Oct 20
Don't go for payday loans! Title loans are a better alternative usually IMO and 5 star loans have good people working there.
Richard Hebb
07:48 21 Oct 20
Great service and very helpful with the application. Helped me out to determine the best option for me and recommended an installment loan which was good. Satisfied customer!
Michael Lantz
06:51 14 Sep 20
This company is no doubt the best place to get a title loan I have ever seen. It's not even close to the other companies I had loans with before. The gentlemen I spoke to was sincere and honest about how the process works. It's rare to find such an honest company in title loans. Thank you!
Mark Vincent
16:04 11 Sep 20
You can ask around people here in Daly City about loans, and I'm sure they will recommend 5 Star Car Title Loans.
Timothy Michael
14:47 09 Jun 20
The only company I trust when it comes to car title loans in Daly City is 5 Star Car Title Loans. Try it to believe it.
I finally figured out that it would be cheaper for me to get a pay off loan rather than paying my bills late every month. Either way I need to pay interest, but at least there are no late fees now that I just have one payment a month.
Oliver Hill
07:59 12 Mar 20
Thank you! Great Company! I have had 2 good experiences out of the 2 times I have used 5 Star Loans service.
Danielle Smith
08:26 17 Feb 20
I never knew this before, but I found out that the best car title loans are through the internet. Someone told me that so I tried it and they are right! It's really easy too.
Roscoe Morales
13:01 10 Feb 20
Personal loans are one type of emergency loan that can be very useful.
Rudy George
05:46 01 Feb 20
It was entirely a different yet amazing experience for me to get a loan approved under '5 Star Car Title Loan'. The process was quick, effortless, and hassle-free. Plus, the executives at their brand are extremely polite to talk with. Super easy means to take a loan!!
Warren Mackenzie
05:12 31 Dec 19
One think that I didn't know is that paying in full and on time may also help you to establish positive credit!
Jill Jones
05:26 20 Dec 19
My bike is my most prized possession. Nobody messes with my bike! But then I learned that I could use it to get a fast loan without giving it up. What an easy way to get instant cash!
Gary Beard
05:29 13 Dec 19
I just wanted to let y'all know how I got my money. Well, I hadn't been paid yet but I had bills do, so they gave me a big rig title loan. It took longer than I thought it would - my title hadn't been switched over to California yet. They helped me with that and then gave me the money.
Anthony Kohl
05:40 15 Nov 19
Dave Green
17:28 03 Nov 18
About This Location
Insmall Insurance provides registration services for 5 Star Car Title Loans customers. The store is located at 1080 Sullivan Avenue, near the intersection with 88th St. If you live in Daly City and in need of registration services, stop by Insmall Insurance that works with 5 Star Car Title Loans in Daly City. Insmall Insurance provides our clients with unmatched customer service. 5 Star Car Title Loans does not issue loans at this location.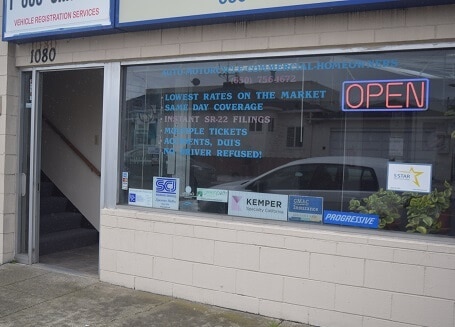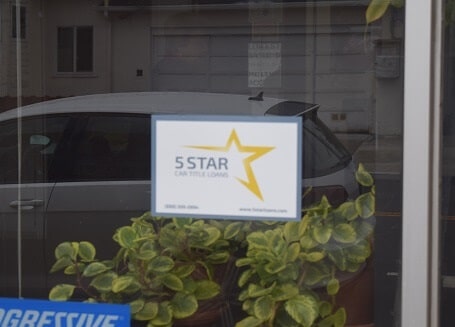 5 Star Car Title Loans in Daly City
Needing extra money is a problem that many people in Daly City share. But not everyone realizes how easy it is to apply for fast personal loans online. You can send in an online application to 5 Star Car Title Loans in Daly City anytime you want to.
How Much Money Can I Get with Car Title Loans?
We can't really determine the exact amount until we get your car title loan application, but the minimum is $2,600. The amount can vary according to the vehicle that you own and your financial situation, but car loans from 5 Star Car Title Loans in Daly City won't be less than $2,600. Send us your application today.
My Credit Score Isn't Great, but Can I Get Auto Title Loans?
No matter what your credit score is, you can still qualify for auto title loans from 5 Star Car Title Loans in Daly City. When you send us your application, we'll check out the value of your auto in today's market. We'll also confirm that you meet our credit requirements and that you'll be able to pay us back if your request is approved. If all of this is in your favor, then we will not have a problem approving your auto title loan even if your credit is bad. It's possible that we can even approve your application for an auto title loan today!
Can Anyone Apply for Bad Credit Loans?
Anyone who owns a car can apply for bad credit loans from 5 Star Car Title Loans in Daly City. That's because we are more interested in the value of your car than your credit. Of course you will need to meet our credit specifications, prove you'll be able to make the payments and possibly a credit check will be required. Go ahead and apply for no credit check loans today! Call us now: (650) 334-1722.
When Do I Pay the First Payment on My Auto Title Loan?
Don't worry! You have time. Your first payment won't be due until 30 days after you sign the auto title loan contract. After you make the first payment, you can continue paying on your personal loan each month until it's paid off.
How Can I Find Out the California Title Loans Locations?
Just call our office and one of the clerks can lead you to the California location near you. There are many offices where you can apply for title loans in California, so let us help you find the nearest title loan location. Call us and we'll help you!