5 Star Car Title Loans Google Reviews:
Excellent loan company. I am happy that I listened to my son.
Bella Hess
10:49 16 Jul 21
This has been a great experience way easier than I thought it was going to be. I loved getting online pay day loans!! Thank you 5 Star Car Title Loans!
vicky ramsy
08:44 04 Jun 21
They did a really good job with me and I came in with lots of issues so it wasn't easy... so happy to have the money and look forward to getting back up on my feet...✌✌
Ezequiel Giada
23:55 26 May 21
GOOD CUSTOMER SERVICE AND HELPFUL!! ALSO SUPER FAST IN RESPONDING NOT LETTING YOU WAIT FOR DAYS JUST TO HEAR A NO!! GIVE THEM A TRY!! 😃
Thomas Collins
05:53 15 Mar 21
Me and my wife are so thankful to have found 5star they really helped us out with our needs. Thanks guys!!!
Ruth G. Lovelace
04:52 12 Feb 21
Highly recommended. Fast, friendly, professional. Thank you guys!
My friend recommended them and I called in hoping they approve me for the title loan. I'm glad the were so welcoming they really are there to help people out. Highly recommend them for pink slip loans in Dinuba.
Thomas Adrian
12:45 17 Nov 20
Thanks you 5 star loans for picking me up when I was done. The financial help was much needed.
Nicholas Burgess
09:46 07 Nov 20
These are rough times for everyone I know with the coronavirus around. I had to get a loan for a week or so and didn't want to go to the bank because it takes a while to get approved. I found these guys online and did the process on the website. It was easy enough and good service now jsut waiting to payoff in the next few days.
Raymond Mack
06:39 20 Oct 20
I kept looking for a good company that could help me get a car title loan. Heard about 5 Star Car Title Loans from a friend, they really helped me out a lot. Thanks!!
Donna Robichaud
11:53 09 Oct 20
I don't own a car but i read online you could get motorcycle title loans. So I called in, got a quote on my bike and a day later I had the money in my hand! Awesome service I would recommend
Donald Langer
07:45 03 Oct 20
They were friendly, supportive, and they didn't judge me for my awful financing management lol. Just very understanding. The auto title loan got me back on track with my mortgage and even a little bit ahead.
Jade Estrada
07:24 14 Sep 20
Excellent loan company. I am happy that I listened to my son.
Breyten Elza
10:00 02 Sep 20
We always have this annual client's appreciation party. I want to look my best, but don't have the cash right now. Going to 5 Star Car Title Loans Dinuba, and receiving the money on the same day is very convenient.
Shirley Brown
05:29 17 Jun 20
My sister was borrowing money from me because she can't leave her husband in the hospital in Dinuba. I took a loan from 5 Star Car Title Loans and sent the money to her.
Mark Walker
09:33 05 Apr 20
Car title loans online are the way to go! Fast, easy and no hassles!
Bryan Salinas
10:31 02 Mar 20
The online application is really simple and user friendly. all you need to do after that is to gather the documentation and send it to 5 Star Loans office. Great customer service!
Isaac Watson
08:21 19 Feb 20
I am so pleased that I figured out how to get cash title loans. Well, the customer service fellas helped me, but next time I can do it by myself. It was fast and super simple.
Sarah Gomez
07:57 14 Feb 20
A pay off title loan is how I got out of deep debt. I had so many bills and I was paying interest each month on every one of them. How stupid is that??? I did the smart thing by taking out one loan to pay them all off.
Liam Walsh
05:27 02 Jan 20
Car title loans are one of those things that people with bad credit got, but never me. Until last week when I needed money desperately and didn't know where to get it. My bank turned me down and I didn't know anyone who could loan me the cash. It suddenly dawned on me that I could use my car for collateral and get quick money! The way it worked was just beautiful. I'd happily do it

again if I ever get in a money pinch again.

read more
Stephen Carty
08:19 07 Dec 19
I had some expenses I hadn't planned on and after getting them paid off, I was down to my last penny. I still had the rest of the month to get through! I didn't want to give up my car or get a car title pawn shop deal, so I checked into getting some fast money using my title for collateral. In the end, that's what really saved me, because while I was paying back that loan I could still

keep my car. I'd recommend car title loans to anybody who asks.

read more
Ralf Wirth
06:24 03 Oct 19
Kiara was the one who'd help and assisted me in getting my car title loan. She was a thorough professional and yet was personal enough in helping me obtain my loan. If and when there's a next time I will call Kiara most definitely.
Carina Suaza
21:26 31 Oct 18
My experience with Montana capital was excellent! I knew I wantd to obtain this type of loan at this particular time but had many questions and my rep at Montana was professional, helpful, & went above and beyond to help me. If u are in a position that a title loan makes sense for u at some point in time.. I would highly recommend Montana capital & their great staff!
MANYIKA Patrick
23:41 24 Oct 18
Ana Alvarez
19:59 24 Oct 18
About This Location
New Evolution Insurance Agency provides registration services for 5 Star Car Title Loans customers. The store is located at 820 N Alta Ave Suite E, near the intersection with W Saginaw Ave. If you live in Dinuba and in need of registration services, stop by New Evolution Insurance Agency that works with 5 Star Car Title Loans in Dinuba. New Evolution Insurance Agency provides our clients with unmatched customer service. 5 Star Car Title Loans does not issue loans at this location.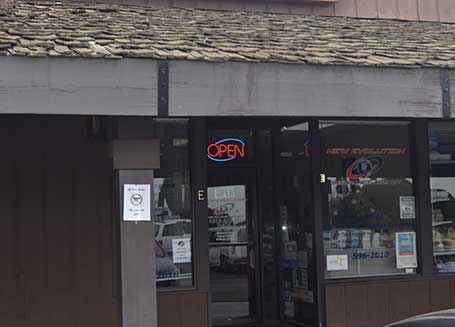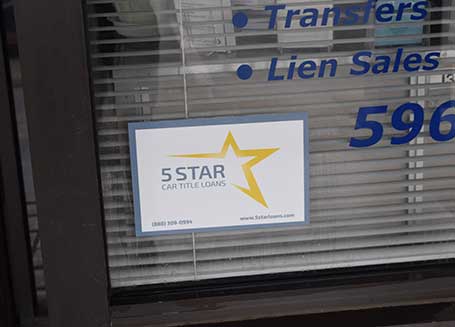 5 Star Car Title Loans in Dinuba
Do you need some quick money in Dinuba for an unexpected expense, to pay some bills that are due or just to have extra cash in your wallet? If you own a car, then you are encouraged to send an application for car title loans online to us at 5 Star Car Title Loans in Dinuba.
Are Auto Title Loans So Much Better than Payday Loans? Why?
Auto title loans are better than payday loans in a few different ways. The first obvious difference is that payday loans are only given for very short periods of time, like two weeks! Of course, a two-week loan cannot be very much money, since it must be paid back quickly. If you want to take out another two-week loan, the entire term starts over, so you end up always trying to get the thing paid off! That's why auto title loans are better. They are larger amounts for longer periods of time. You make the payments every 30 days and when you get to the end of the term, you're finished with the loan. Contact us at 5 Star Car Title Loans in Dinuba for more details.
If My Car Is Still Being Financed, Can I Apply for an Auto Title Loan?
Yes, you can go ahead and send your car title loans online application to us at 5 Star Car Title Loans in Dinuba. After evaluating your vehicle, we might be able to prepare a title loan high enough for you to pay off your car and still have money for extra expenses. Call or come into one of the auto title loans in California near you and let's talk!
What's the Highest Amount I Can Get with California Title Loans?
The absolute maximum amount that we give is $20,000. But that amount would be using your very valuable auto as security. The minimum amount of title loans at 5 Star Car Title Loans in Dinuba begins with $2,600. There are variations in the amount that consider the value of your car, your ability to pay the loan back and meeting our basic credit requirements.
Will There Be Hidden Fees?
When you get no credit check loans from 5 Star Car Title Loans in Dinuba, there are no hidden fees. We also don't charge you if you want to prepay your title loan.