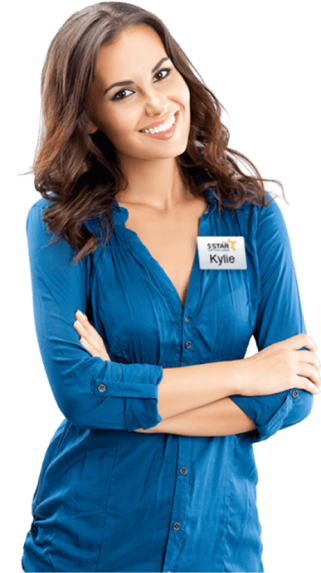 Customer Centered Service

Providing excellent customer service and a positive loan experience is 5 Star Title Loans top goal and we work tirelessly to make this happen for each and every customer.

Loans for Low Credit Score

We don't like turning away customers simply for having a bad credit score. We will work hard to get you a loan regardless of your bad credit.

Easy Application Process

We understand the urgency when getting a loan, so we offer simple options for applying. You can choose to apply either by phone or online.
Products

Car Title Loans

Payday Loans

Bad Credit Loans

Personal Loans

Online Title Loans

RV Title Loans

Process

Apply by phone or online

Complete all necessary requirements

Visit our local if needed

Get your money

Requirements

Car details

Personal details

Car title

Identification

References

Benefits

Keep driving your car

No prepayment penalties

No hidden fees

Quick funding

Personable service
5 Star Car Title Loans in Florence, KY
The era we are living in is so uncertain; anything can happen anytime. There is always a chance of something unanticipated coming up–most of the time they are unforeseen bills! Although we all know that having emergency funds stocked up has become necessary, most Americans lack this.
So, just like everyone we try to get hold of traditional bank loans. However, the tiring and lengthy process of bank loans makes them a mediocre option. Hence, choosing fast and short-term options such as payday loans or title loans become better choices.
The thing about payday loans is that they come with high-interest rates and low value. Also, they are not very flexible. But the story with title loans is different and not much complex. Therefore, people think of title loans as ideal options.1
5 Star Car Title Loans extends title loans for Florence residents who seek quick, affordable, and uncomplicated loan options! Let's find out what they are and how you can get one.1
What are Auto Title Loans?
An auto title loan, which can sometimes be called a vehicle title loan or a title loan, is a short-term loan that is secured against collateral. As the name implies, a car title loan is given against the title of the car.1
So, How Do Title Loans Work?
The very first thing that is required to get a title loan is a car title in your name. If you are the sole vehicle owner, you can put your vehicle's title as collateral and apply for a car title loan.1
The lender will get an estimate of your repaying ability and your car's value and if you qualify, he will lend money in exchange and put a lien on the title which will give him legal rights over the vehicle.1
The title will have the lender's name till the complete loan amount is repaid. As your title will be used to get loans, title loans are sometimes also referred to as title pawns.1
Online Title Loans in Florence, KY in Just Three Easy Steps!
Title loans work in an easy and secure manner. 5 Star Car Title Loans have even simplified the loan process by segmenting it into three short steps. In fact, online title loans also allow you to stay at your home and complete the process!1
Have a look at those three steps!
Apply Online & Initiate the Process!
Start by visiting our official website and clicking the apply online button. You will see an online application opening up where you will be requested to share a few personal details such as your name, address, and your earnings. And you will also be asked to fill in the details of your vehicle.1
The completion of the form will take 5 minutes and it will help you know if you qualify for the loan. In place of the online form, you can simply call us and a loan agent will let you know your eligibility status.1
Submit Your Documents
The completion of the form will be followed by an assessment after which our loan agent will contact you to share a list of required documents. You can either mail those documents or upload the scanned copies. After receiving all the documents, our team will further verify them and give you the loan approval.1
Collect Funds
After the final approval, you will get details of the minimum loan amounts, actual loan amount, interest rate, APR (title loan interest rates may vary according to the state), and repayment terms.1
You will have the opportunity to thoroughly read it and ask questions about it. Make sure you take the full benefit of this chance and read the complete loan terms & conditions carefully.
After you have checked and confirmed the information, sign the loan contract. You can expect to receive the money in as short as a business day.2
How Can I Receive Florence Title Loans?
The providers of title loan services usually give priority to the comfort of their customers and we try to walk in their footsteps.
Now, the customers do not have to wait in long and endless queues to collect their money; they can do it in much easier ways. So, if you wish to receive your title loans in Florence KY, you can get them via:
Cash at the nearest MoneyGram location

Mailed Check

Direct deposit to your bank account
Can I Get a Car Title Loan Even with Bad Credit?
Yes, you may get a title loan with bad credit. Although big financial institutions such as banks and credit unions need a perfect credit rating, the story is different with title loans.1
While it is not always the case, sometimes routine credit checks are performed to get the customer's credit information. But that does not imply that your credit score will be taken into consideration while assessing your qualification.1
You can get a title loan even if you have a low credit score as long as you can demonstrate a strong ability to repay, and have adequate equity left in your car. Since these three are the major deciding factors for title loans, your qualification revolves around these three.1
Hence, all credit types are acceptable for title loans! This is how a title loan differs from a traditional bank loan or a personal loan!1
Complete List of all the Required Documents for Auto Title Loans KY
Kentucky, just like other states in the nation, has its own set of rules and regulations when it comes to title loans. There are various title loan services and various service providers, but all of them need to follow the state rules for lending title loans.1
Even if there are no long lists of requirements, there are some essential documents and requirements that are integral to getting an auto title loan in Florence. These include:1
A clear vehicle title in your name: Make sure you are the sole owner of your vehicle's title. The title must not have any other name or lien.

A valid photo ID issued by the government: This can include government-issued ID's with your photo on them such as a driver's license, or passport.

VIN: VIN stands for Vehicle Identification Number which becomes an important part of the vehicle itself.

Proof of income: Proof of income can include your pay stubs, bank statements, or any other documents that can show a steady source of income.

Proof of residence: A residence proof can range from your utility bills to your rental or mortgage agreements.

Four references

Photos of the car: You will be required to share the latest photos of your car from all angles in order to help the lender understand the condition of the vehicle.
The aforementioned documents are primary requirements, however, you can be asked to share additional information for the completion of the process.1
How Much Cash Can I Get With A Title Loan in Florence Kentucky?
The maximum loan amounts are decided by three primary factors which are also vital while knowing the eligibility of an applicant. The process of money calculation is simple and hassle-free as it will only be based on the following three things:1
Your ability to repay the loan: Your income as well as your expenses will be examined to see how much money will be left behind. This will further let the lender know if you can afford to pay the loan amount and if so, how much can you pay.
Your vehicle's equity value: Another important factor is the equity left in your car. The value of it will decide how much cash you can borrow from the lenders.
Your vehicle's market value: The market value will take the vehicle's year of manufacturing, brand, color, model, repairs, et cetera into account to know its current value.
So, based on all three factors your title loan money will be decided. However, with 5 Star Car Title Loans, you can get loans up to 75% of your car's value.
Are There Any Prepayment Penalties?
There is no scope for you to get charged with hidden fees or a prepayment penalty. We believe that the customers must know everything about title loans even before signing the contract.4
Therefore, we would like you to know that even if you ever decide to pay your loan amount earlier than the decided-upon period, you can do that without worrying about prepayment penalties.4
What Will Title Loan Repayment in Kentucky Look Like?
Repayment of title loans is as easy as ABC. All you need is funds in hand or in an account! There are no long and tedious processes of repayment. You can simply make your monthly payments:
With a check through the mail

Over the phone

Through the website

In-person at a MoneyGram near you

Online via credit or debit card
Advantages of Getting Title Loans with 5 Star Car Title Loans
Being our customer, you can expect to experience a diverse range of advantages that will work for your benefit. While you will witness these benefits yourself along the way, we would like you to know some of the top advantages:
Get cash the same day

2

Completely online title loans

1

Simple eligibility criteria

1

May get a title loan even with a bad credit

1

No pre-payment penalties

4

Flexible payment plan

4

Competitive rates