Title Loans in Fort Wayne, 46805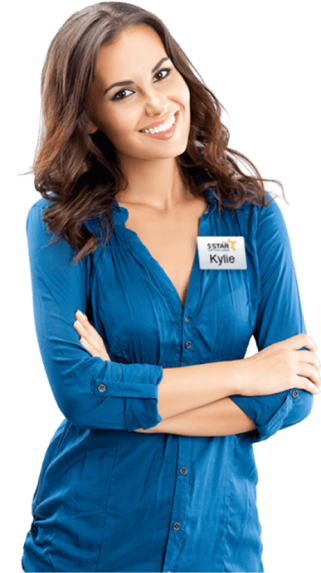 Customer Centered Service

Providing excellent customer service and a positive loan experience is 5 Star Title Loans top goal and we work tirelessly to make this happen for each and every customer.

Loans for Low Credit Score

We don't like turning away customers simply for having a bad credit score. We will work hard to get you a loan regardless of your bad credit.

Easy Application Process

We understand the urgency when getting a loan, so we offer simple options for applying. You can choose to apply either by phone or online.
Products

Car Title Loans

Payday Loans

Bad Credit Loans

Personal Loans

Online Title Loans

RV Title Loans

Process

Apply by phone or online

Complete all necessary requirements

Visit our local GPS Installation Center if needed

Get your money

Requirements

Car details

Personal details

Car title

Identification

References

Benefits

Keep driving your car

No prepayment penalties

No hidden fees

Quick funding

Personable service
Nearest Locations
5 Star Car Title Loans In Fort Wayne, Indiana
Everyone of us loves to go away and enjoy a short vacation,but it's not always that we can afford the weekend outing.
But planning a vacation while managing all the bills,pet expenses and medical costs is quite a struggle and a big burden on one's pocket.
Luckily, 5 Star Car Title Loans are here for you to help with all your unexpected expenses and help you get some quick cash with minimum hassles and paperwork.
If you are in a cash crunch or need some fast money for an upcoming occasion, you can call on our toll free number (888) 309 0994 and get yourself an auto title loan.
What is a Car Title Loan?
Also known as pink slip loan or vehicle equity loan,title loans are collateral based short term cash loans offered by dedicated financial institutions to help people get instant money using their vehicle's title.1
In this type of personal loan, the car title loan lenders place a lien on your car's title and in exchange for the equity you'll can borrow money fast and use it for your personal and household purposes.1
These loans can be approved within 24 hours and people may also get access to the loan proceeds in their bank account within the same day.2
How Does The Title Lending Process Work?
There are 2 great reasons why pink slip loans from 5 Star Car Title Loans are better than other financing options such as bank loans, payday loans ,service student loans etc.
Why Title Loans are Better?
The loan application process is very easy and streamlined allowing you to get quick money in your bank account as compared to other loans(sometimes within the same day).2
You don't have to submit the collateral while paying back the loan.1
Title loans have one of the simplest, convenient and straightforward processes with easy payment terms1 where you don't have to fill lengthy application forms, go through financial credit checks and wait for days to finance yourself.2
You can even apply online and get a title loan in Fort Wayne, Indiana!
Here's how the whole title loan lending process works.
Process Of Applying Online Title Loans In Fort Wayne
Finding Your Loan Eligibility
Anyone who wants to get a title loan first needs to check his eligibility.1
With 5 Star Car Title Loans, you'll be able to easily know your loan eligibility either by calling our team at (888) 309 0994 and filling out a simple online form  at our website.
The loan applications require you to fill in some basic details about your car, income and yourself and whole process won't take more than 5 minutes.2
Applying For A Title Loan By Submitting Your Documents
Once you get pre-approved for the title loan, you will be required to submit a few documents proving your income, car ownership and identity.1
During the application procedure, we will discuss all the loan conditions and terms such as the vehicle value,minimum loan amount you can get, loan interest rate and repayment process etc.1
Our team focuses on keeping the application process as smooth as it can be thus allowing you to submit all your documents online without having to visit any offices.
Signing the Contract And Final Approval
Once we verify the documents and finalise on all terms, our executives will send a detailed loan agreement mentioning all the terms and conditions of the car title loan.1
Make sure you read everything carefully before signing the documents.
If you have any doubts, you can always contact us at (888) 309 0994.
Receiving Funds into Your Account
At 5 Star Car Title Loans, you can choose from multiple payment options and receive your funding as soon as possible.
Here is the list of options you can choose from:
Direct Deposit into The Account.
Receiving a Check By Mail
Request a Money Transfer from MoneyGram
Collect Your Cash at The Nearest Participating Store
Where I Can Use My Title Loan Amount?
Auto title loans are one of the best short term financing options especially for people who have low credit scores or poor credit history.1
These collateral loans are intended primarily for personal needs such as monthly bills, seasonal expenses,or sudden cash crunch but can also be used to cover your emergency funds and medical expenses.1
The actual loan amount and annual percentage rate depends on the value of your vehicle and your ability to repay the amount.1 The loan amount can be paid in one lump sum or by regular monthly payments too.4
Here are some of most common uses of auto title loans:1
Rent payment
Home Repairs
Pet Expenses
Special Occasions
Legal Expenses
Car maintenance
Mortgage Expenses
What's Required To Be Approved For A Title Loans in Fort Wayne, Indiana?
If you are looking to get an auto title loan in Fort Wayne, Indiana. You will need to present a clean and lien free car title along with other documents.
Your direct lender will ask these documents to confirm your identity, permanent residence and income1 to get you approved for a loan faster and send you the loan proceeds.1
Requested Documents For Title Loans in Fort Wayne
Car Title
In title loans, the car title is used as the collateral.You will be needed to provide a lien free title of your to proof your car ownership.
Proof Of Identity
To be approved for the pink slip loan,you'll also need to confirm your identity.A driver's licence issued by the state of Indiana or a passport can be presented to get qualified.
Proof Of Residence
To enjoy the benefits of Indiana title loans, the citizen must have a residence in the city.Utility bills, rental agreements or property tax receipt will work as proof of address for getting you a quick vehicle equity loan in Fort Wayne.
Proof of Employment or Income
Your income defines your ability to pay back the title loan1 and your repaying ability is one of the major deciding factors of how much cash you can get in a car equity loan.1
You can submit bank statements,pay stubs or compensation letters as proof of income and avail yourself of some quick cash.
Can I Get A Title Loan Online?
For sure!
As public places these days have become dangerous, 5 Star Car Title Loans have started to provide online loan services where you can check your eligibility1, submit documents, get the vehicle inspected and receive the funds1 without having to visit anywhere.
Just go to our portal and start by filling your details in our simple online form and get a loan today.2
Can I Keep My Car if I Get an Auto Equity Loan in Fort Wayne?
You can keep driving your car freely wherever you want.
The auto title loan is secured against the title of your vehicle and a lien is placed claiming equity and giving you the fast cash you need.1
With 5 Star Car Title Loans,you'll be easily able to access funds of up to 50 % of your car's market value.1And while you pay back the loan, your car will be with you.4
Can You Avail a Title Loan on a Financed Car?
Yes!1
Car title loans are generally based on the vehicle's equity and ability to pay back the amount.1
Even if you are financing a car, you'll be having a good amount of equity in that vehicle and against that equity you might get an auto equity loan.1
What If I Have Bad Credit?Can I Still Get Title loans in Fort Wayne, Indiana?
You may still be able to get a title loan even if you have a poor or bad credit.1
The car title loans are collateral loans and the deciding factor is your vehicle's value and repaying ability.1
Even though there will be a routine