5 Star Car Title Loans Google Reviews:
5Star CTL were amazing my entire loan low credit process! The communication was superb and all questions I had were answered the same day, even on the weekend!
Kyla Jayvon
12:56 27 Jun 21
I would recommend this company to anyone needing a little extra cash, as I'm sure I'll use their services again in the future. I'd like to thank staff and management for the professional, respectful and courteous service that I received. The best payday advance near me👍👍👍
Maxwell Klein
13:42 29 May 21
Great to work with them it's actually fun they are very understanding and considerate
Dennis May
12:26 28 May 21
I want to sincerely thank everyone at 5Star Car Title Loans for being so awesome and helping people during their toughest times. Your hard work and dedication to getting people what they need is seen and appreciated 🙏
Dayton Tyshawn
00:15 11 Mar 21
My husband and I are so grateful to have come to you guys for the loan we needed. We really hope easier and better times await us but anyways thanks for the loan.
Annie Sauls
09:43 09 Feb 21
I felt very taken care of here at 5 Star Car Title Loans in Inglewood.. The guys are awesome really funny and know everything about title loans and how to help you get one..
Cranford Chance
06:07 08 Jan 21
Excellent service! They are such a big help for people who need money! I definitely recommend 5 star car title loans in Inglewood!
Thomas Griffin
09:42 18 Nov 20
Great service!! Got into an emergency with money and needed an instant loan. Thank you to the people at 5 Star Car Title Loans for assisting me during this time.Thanks again.
Big thanks to the representatives from 5 star car title loans who assisted me with the loan. I will tell everyone I know in Inglewood about you guys.
Cooper Vincent
05:51 06 Nov 20
I appreciate 5 Star Loans for helping me out with a fast instant loan yesterday! The process was really excellent they walked me through the whole time! 5 Star for the service!
Benjamin Jackson
09:43 29 Oct 20
Are you looking for the best loan options in Inglewood, CA? Even with my bad credit history, I was able to get an auto title loan from 5 Star. On top of that, they processed my loan application within the day.
John Ander
17:26 20 Sep 20
Instant loans can really help to pay some urgent bills. I usually take them out and then pay back a couple of weeks later. It's fast and simple honestly.
susan hopes
06:33 10 Sep 20
Finally able to get a loan even with my bad credit score! Thanks!
Andrea Smith
12:33 02 Sep 20
I was looking for title loans near me, and I was happy. I chose them. The payment terms are flexible, and they granted my request for a more extended payment period.
James I. Hall
10:56 21 Apr 20
Auto title loans are a real lifesaver for anyone who needs money quickly. All you need is a car that you can use as collateral and a high enough income to be able to pay back the loan.
Laura Sofía Berrocal
05:41 02 Mar 20
They really helped me with everything I needed. It's a great and simple way to get emergency cash if you don't have other option.
Aanal Likas
11:26 18 Feb 20
Apply for an emergency auto title loan from 5 Star Car Title Loans and if approved, get money in as little as 2 business day.
Diana Walsh
18:43 04 Feb 20
Money doesn't grow on trees, right? But I love it that I can get an auto equity loan quickly just by applying online. It's really a good deal for me.
When I looked around for a loan company in Inglewood, the ones that seemed the best to me were all online. That was fine with me because I got to apply from home.
William Black
23:07 15 Jan 20
I received EXCELLENT customer service from 5 Star Title Loans.
Daniel Price
06:37 23 Dec 19
Auto title loans are a real lifesaver for anyone who needs money quickly. All you need is a car that you can use as collateral and a high enough income to be able to pay back the loan.
Brad Sampson
05:18 17 Dec 19
I went around looking for someone to give me a loan, but that didn't go too well. But then I walked into a title loan company and they were real helpful. They understood my present financial situation and said they'd help me. And they really did what they said they would do. They didn't ask too

many personal questions and there weren't a lot of papers to fill out. After I gave them everything they needed, it wasn't but 6 hours later till I got the money in my pocket.

read more
Andrew Palmer
13:18 28 Nov 19
I rely on my government checks coming each month to cover all my bills and living expenses. I have had some physical problems and can't always work, so I depend on those checks. Last month, there was some problem with my account - I never did figure out what happened. But my money was late. If I

didn't pay my bills on time, I could get a bad reputation. I have a good car, so I used its title to get loans with car title. It worked out smoothly, and those guys over at 5 Star Car Title Loans helped me so much. I already started paying back the loan.

read more
Augustine Miracle
18:58 10 Oct 19
Ivan was amazing very helpful and patient.
Jackie Gamez
00:52 14 Aug 18
About This Location
Stickers and Placas Auto Registrations- Inglewood provides registration services for 5 Star Car Title Loans customers. The store is located at 3530 W Century Blvd Suite 103, near the intersection with Yukon Ave S. If you live in Inglewood and in need of registration services, stop by Stickers and Placas Auto Registrations- Inglewood that works with 5 Star Car Title Loans in Inglewood. Stickers and Placas Auto Registrations- Inglewood provides our clients with unmatched customer service. 5 Star Car Title Loans does not issue loans at this location.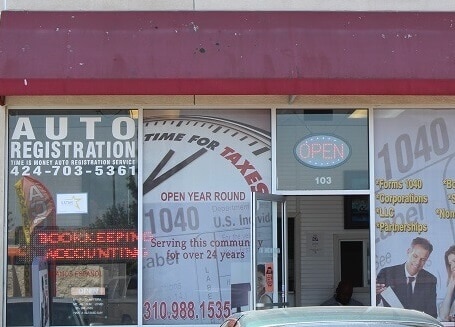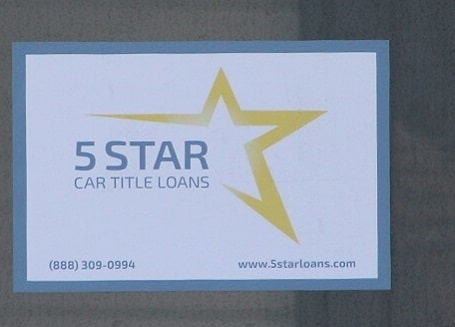 Inglewood, California
Inglewood, California is slated to be the location of the Los Angeles Stadium at Hollywood Park. Scheduled for completion in 2020, it will be the home for two NFL teams; the Los Angeles Rams as well as the Los Angeles Chargers. Not to be left out, the Los Angeles Clippers Basketball team will play in a new arena in the area. But while sports are good for the economy, there are other cultural landmarks in Inglewood. The Southeast Symphony, for example, founded nearly 70 years ago, is devoted to the creation of a symphony orchestra that warmly welcomes African-American musicians.
Cash to Spend in Inglewood
Won't that be grand when Inglewood finally has a stadium housing two NFL teams? But it won't be all that much fun if you can't afford tickets to the games. If you've been facing financial setbacks, you could be in the situation of just wishing you could attend a game. So get got up on your bills now and get some money in your pocket! Contact us at 5 Star Car Title Loans in Inglewood to see how we can use your car's value to prepare a loan for you. Our car title loans begin at $2,600 and can go higher, depending on your circumstances.
Getting Cash in Your Account
We would be happy to receive your online application for a title loan. Send it to us today and we will check the current worth of your auto. If it's enough, and if you can pay us back and meet our credit specifications, we might be able to help you with a fast loan. Think what you could do with that money! You can actually spend it however you want to.
Securing a Title Loan
We'll use your car as security so that we can give you cash. Keep your car in your own driveway – we don't need to take possession of it. Instead, we'll be a lien holder on your car's title. Make all of your payments on time, complete the contract and we'll remove our name. At 5 Star Car Title Loans in Inglewood, we want to help you, so even if your credit score is bad we might still be able to help you. Send us your car's details and if your application is approved, we will contact you to meet with us to finalize the loan terms.