5 Star Car Title Loans Google Reviews:
The officer was very helpful and professional! He helped me fast payday loans. They made sure I understood my new terms and payments, and they were awesome.👍👍
Jaycee Harris
13:23 29 May 21
They do really have better service than other loan places. They are fast and efficient. I'm happy with their service and will gladly recommend them to friends and family.
Ryan White
07:14 27 May 21
I work as a consultant in a marketing firm in Fresno. I discovered 5 Star Loans when I needed financial help. Since then, I stayed with them.
Megan Henderson
11:15 22 Feb 21
My brother suggested to me that I check them out. I am so glad he did. They were awsome to him and in the recent months they were incredible to me. Thanks 5 star you guys rule!!
Skye Catharine
12:32 06 Feb 21
I'm very appreciative of the lending officer who accommodated me. He made sure I understood every part of the process.
Nathan Terry
07:29 29 Jan 21
I was pleased with the service I received here for my car title loan. The application is easy and doesn't take too long... There isn't too much paperwork either.. Great people
Edwin Joseph
06:43 18 Jan 21
The loan agent that was in charge of my account was so nice and assisted me in the most professional way possible. He asked the right questions and got everything done really quickly.
Howard Howlett
12:07 23 Dec 20
I have used their online loan services for help in financial matters for several years. I never had a problem with them. Flexible payment options, especially if you're you are a trusted customer.
Verlie Manley
10:10 04 Dec 20
I will definitely recommend 5 star car title loans and keep this company in mind! Called two other places for information and was so disappointed with the customer service.
Harry Thomas
10:22 18 Nov 20
Very good online loans in La Puente from the guys at 5 Star Loans. I used to go to their branch but now I do the process from home and it's really convenient.
Wendel Traver
06:29 03 Nov 20
Looked for a company that'll help me get a good loan fast. Found 5 Star when I searched google and they truly are the best option! Nice people who really want to help you. Got my money in no time.
Stephen Chandler
10:27 22 Sep 20
I've been with this company for years now. And this past year I had alot of issues but they helped me each time with a car title loan. Thank you!!
Lyette Darby
06:16 09 Sep 20
If you are looking for an auto title loan around La Puente, go to 5 Star Car Title Loans. I have been there, and they are fantastic.
Kevin Mathis
09:30 02 Sep 20
Just want to give a shout out for being the best auto title loans in California! You are always nice when I call to make payments or ask a question
Wayne Aguilar
13:26 28 Aug 20
I thought I was doomed because of a poor credit score. When I heard about 5 Star Car Title Loans, I tried it with them, and they approved my loan despite my poor credit score. I feel rescued when they approved my application.
Ethan Elyard
11:25 27 May 20
I'm halfway through the payment of my pink slip loan. I'm glad everything has gone smoothly so far!
Christian Block
07:18 30 Apr 20
Getting a title loan in La Puente is made easy with their professional staff, fast processing, and easy approval process!
Lanny Sparks
10:14 14 Mar 20
There are a few ways you might be able to get quick cash, but the way I like best is to apply for bad credit loans that use my car's value as collateral. That makes them go really fast.
Gabrielle Buckland
05:41 21 Feb 20
I googled car title loans online and I saw this company. I checked the rates and it was pretty good for me. I signed up and I got the loan after the process.
Walter Hickmon
11:04 19 Feb 20
Those people at 5 Star Car Title Loans made it so easy for me to get motorcycle loans. They were super nice and told me everything I needed to know.
Maribel Benton
08:28 31 Jan 20
We only take our boat out a few times in the summer, so I didn't have a problem giving up the title to take out a loan. Boat title loans are quick and easy.
Sharon Rolf
22:09 17 Jan 20
I had a little business problem a while back. I thought I'd share it with everyone, because it worked out pretty good. I had to pay for some stuff I'd ordered but it came at a bad time for me. I didn't have money to pay, but I needed the goods. I would have plenty of money after I sold it all, but

for the meantime I was in a bit of a bind. What happened is that I got loans with the car title. I used my personal car, because they wouldn't let me use my company car. But ok, anyway, I got the money in time to pay for my order and with the money I got from selling it, I was able to make my monthly payments.

read more
Rawley Niven
20:24 16 Oct 19
Love the service here. Jorge helped me out with mines, great attitude, the best customer service.
Cosmo Fiber
21:11 22 May 19
Very polite and explains everything well
Erika Zaragoza
00:35 12 Sep 18
Jonathan was great he was patient he made my loan super secure and ready and I got my money really quick and he was just a big help address for anyone looking for a loan into this place that's for sure
Xavier Diaz
19:31 11 Sep 18
Jarom Vahai
01:39 11 Sep 18
Jonathan was awesome stayed after just to help me would recommend to anyone who needs a loan
Karmen Gomez
00:40 09 Sep 18
About This Location
CAL EZ Registration & Insurance provides registration services for 5 Star Car Title Loans customers. The store is located at 13851 Amar Rd, near the intersection with Puente Ave. If you live in La Puente and in need of registration services, stop by CAL EZ Registration & Insurance that works with 5 Star Car Title Loans in La Puente. CAL EZ Registration & Insurance provides our clients with unmatched customer service. 5 Star Car Title Loans does not issue loans at this location.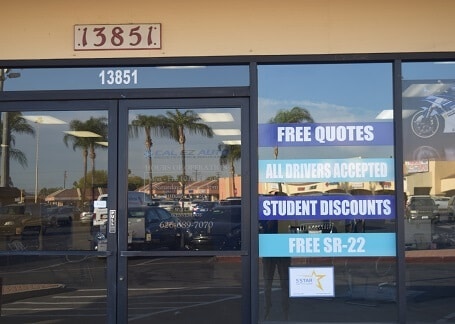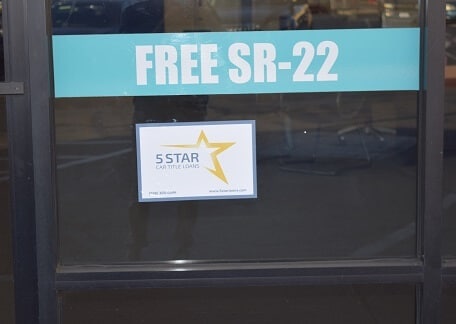 5 Star Car Title Loans in La Puente
If you live in La Puente and are looking for someone to give you a fast loan, look no further! At 5 Star Car Title Loans in La Puente, we process loans for people who own cars. Contact us for more details!
What Is the Minimum Amount I Can Borrow with Auto Title Loans in California?
The minimum amount that we start out with is $2,600. That amount can be higher if your car is valuable or if you can prove that you can handle higher payments. Call now to 5 Star Car Title Loans in La Puente to see how we can help you.
What Is the Maximum Amount for Auto Title Loans?
Again depending on your situation and the value of your car, you might be able to be approved for an auto title loan up to $20,000. Think about how much you need and contact us at 5 Star Car Title Loans in La Puente or apply online on our website.
Can I Get No Credit Check Loans if I'm Still Financing the Car?
If your car is not yet paid off, we might be able to loan you enough money to finish the financing and then have extra money left over for your urgent needs. We'll check that you meet our credit standards, run a credit check (only in some cases) and then lead you through the process step by step. Speak to us about your options.
Can My Spouse Co-Sign at most California Title Loans Locations?
If your spouse meets our basic credit requirements, then this might be possible. Let us find the best title loan for you today. Go ahead and call one of our agents at 5 Star Car Title Loans in La Puente.
Do I Have to Go to the DMV to Apply for Car Title Loans Online?
You don't usually need to make a trip to the DMV when you apply for car title loans online. We have experience with the DMV and can usually take care of this for you. We can get the process started when you bring us your car title. While you are making the loan payments, we'll keep the title. When the loan is paid in full, we'll return it to you.
Can You Transfer the Title Into My Name?
We will be happy to help you get your car registered. Give us a call and we'll tell you the steps required.