5 Star Car Title Loans Google Reviews:
There's only two loan places that do title loan in Lodi. I think five star is much better than the other ones from experience so if you need a title loan I recommend calling 5 star. Thank you to all the people working there they made my life easier.
Christina J. Paul
10:23 17 Jul 21
My experience was comfortable, they got me the online payday loans for bad credit quickly, and they are referred to people who need financial support during a hard time.
Carley Ishaan
14:40 04 Jun 21
Good company, amazing staff, really quick and painless loan process. Given all this, of course I recommend 5 Star Car Title Loans!!!
Mae Harper
17:17 28 May 21
For obtaining a car title loan, this business is excellent. They are courteous, and I am grateful that I used their services to better my financial situation. Their staff is very professional and knowledgeable in their work. Thank you for providing your great services.
Magnolia Katie
11:36 29 Apr 21
Title loans are strict. Good thing that 5 Star Loans is here.
Dixie Jones
11:28 16 Feb 21
I cannot stress this enough. TAKE A CAR TITLE LOAN ONLY FROM THEM!!! I love these guys they are just the best!!
John J. King
10:04 04 Feb 21
The lady I spoke with was nice and courteous. She explained everything clearly. Appreciate her going above and beyond to help me get a loan.
I was impressed that you can get most of the loan done online and I called in a couple of times I needed help and was treated very respectfully.
Amelia Lyman
09:53 31 Dec 20
The simplicity of the online loans really surprised me. I got a loan on my bike on the online portal and honestly it's soo simple.
Fadel Elmira
05:54 28 Dec 20
Thanks for all the help on my pink slip loan, wouldn't go anywhere else besides here! Great service!
Scott Daigle
09:37 21 Dec 20
There are many options for title loans but I went with 5 star after reading some good reviews online. I promised them I would leave a good one as well so here I am. The service is fast and I found the reps very patient and knowledgeable. I will come back and recommend them in the future.
Jeanice Rickman
08:33 22 Oct 20
Thanks a lot for the great, stress-free experience! I was really not expecting that you guys would approve my car title loan so promptly and without any paper works. 5 stars without any doubt!
Jeff Gerlach
09:01 19 Oct 20
This company is a no brainer. Especially when you compare them to the other car title loans companies out there that make your life hell. Call 5 star!!
Frederick Gregory
06:57 14 Sep 20
I took a loan from 5 Star Car Title Loans Lodi after my sister asked for some financial help. Good thing I can rely on them.
Jeffrey Kennedy
10:30 17 Aug 20
My co-worker has been taking title loans in Lodi when I asked him where he immediately recommended 5 Star Car Title Loans.
Mark Walker
06:34 06 Apr 20
I didn't know how simple getting a loan could be until I got one online. The customer service department was friendly and the money came through without a hitch.
Magdalena Stephens
07:17 05 Mar 20
Best solution when you are in need of some extra cash and you have bad credit score…
David Gray
10:51 19 Feb 20
I have never had such an easy time getting someone to loan me money. It only took a few hours from start to finish.
Michael Persinger
11:43 17 Feb 20
I got money I needed urgently with motorcycle title loans. Fast and simple.
Donald Vaughan
05:34 07 Jan 20
Benigno Alcaraz
03:49 03 Nov 18
About This Location
Alma Rosa Income Tax provides registration services for 5 Star Car Title Loans customers. The store is located at 508 East Lodi Avenue, near the intersection with S Garfield St. If you live in Lodi and in need of registration services, stop by Alma Rosa Income Tax that works with 5 Star Car Title Loans in Lodi. Alma Rosa Income Tax provides our clients with unmatched customer service. 5 Star Car Title Loans does not issue loans at this location.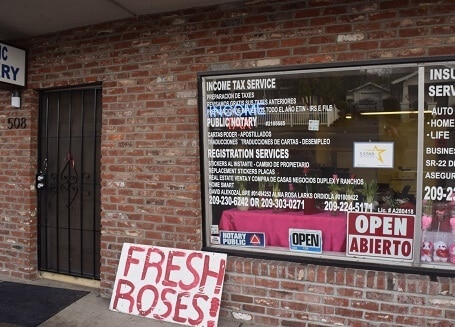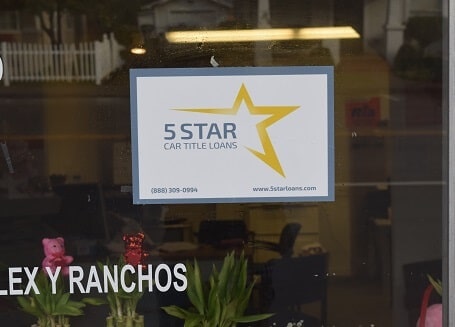 5 Star Car Title Loans in Lodi
Needing some extra cash in Lodi? Not a problem if you own a car. Send in an online car loans application to us at 5 Star Car Title Loans in Lodi. It's the simplest and easiest way to get the extra money you need for unexpected expenses, bills or pleasure!
What Are Online Auto Title Loans?
If you need extra cash for any need and you own your own car, then you can get a personal loan by using your automobile as security. Auto title loans are simply title loans that use your car as collateral. You do not have to give up your car if you are approved for online auto title loans. Keep driving it and enjoying the extra money in your pocket! Call one of our California title loans locations for more information: (209) 439-8080.
Can You Give Auto Title Loans to People with Bad Credit?
To get approval for auto title loans from 5 Star Car Title Loans in Lodi, all you need is a car with value, the ability to pay the loan off and to fit into our credit criteria. That means that even if you have a bad credit history, you can still be eligible for auto title loans. As a matter of fact, you could even be approved today! Anyone who owns a car, no matter what their credit history is, is welcome to send in an online auto title loans application.
Is it Mandatory to Go to the DMV for Auto Title Loans?
There is paperwork to be done at the DMV, but we can normally take care of all those details for you. When you come into our California location near you, just be sure to bring your car title with you. That way, we will go to the DMV with it. Call us today for more information or to find the nearest title loan location.
Can I Even Get a Car Title Loan if I Am Financing My Car?
The good news for you is that when you apply for an online car title loan, you might even be able to get a high enough amount to cover the cost of financing your car. Pay off your car and still have some money in your pocket for other purchases. Send your online title loans application to 5 Star Car Title Loans in Lodi.