5 Star Car Title Loans in Los Angeles 90011
Start your loan process at this Registration Services Center – How it works
5 Star Car Title Loans Google Reviews:
5 Star Car Title Loans - was a great lender. They helped me get to the lowest rate, take advantage of discounts, and was there to answer my questions through the whole process.
Matilda Erick
13:03 27 Jun 21
They have been very nice to me and have treated me well and respectfully. I was wondering if I can get some more money on my loan and they provide fast loans online.
Isla Jovan
11:36 04 Jun 21
I would recommend 5Star Car title loans any day of the week. So easy to do business with them when you need a title loan
They made sure everything was done on time to make sure the process went smoothly. And also very friendly to work with. We loved both our experiences with 5 Star Car Title Loans!
sally jackson
14:54 26 May 21
Hands down the best company for a title loan! Super friendly and helpful! I definitely recommend them and thank them for everything!!!
Kaycee reedy
06:26 04 Mar 21
I did not understand why there are a lot of positive reviews left by people. Now I understand. For a car title loan company they sure have a high standared. So lucky to have come to you guys so thanks!
Analyssa Shermaine
21:50 12 Feb 21
This is honestly such a good place to get a bad credit loan in Los Angeles. They make it stress free and they are all down to earth and kind.
Pescott Scarlett
09:27 09 Jan 21
Thank you everyone here for the awesome service and for answering all my question even though there were so many LOL I will recommend you guys to my friends for sure.
Mildred Buena
05:39 25 Dec 20
It's not the funniest thing to take out a loan even if it is for a short term. I have used 5 Star Loans in various places around California over the years ad never had any complaints. Good service!
Roscoe Morales
07:55 23 Dec 20
Took out this loan for a short time just until my next payday in week. Everything so far is good I had no problems at all.
Lance pellot
07:46 04 Nov 20
I decided to take a loan from 5 Star Car Title Loans to add to our marketing budget. Competition has been tough lately, so that it can give my business an additional boost.
Maryellen C Cave
12:46 03 Nov 20
Genuinely shocked I can be approved to get a car title loan online! In the past I used to walk into the store and waste like hours of my time over there. 5 Star had me fill out the info online and I did everything from home which was so convenient. Never going back to a title loans store again.
Thomas Bryce
08:55 23 Sep 20
This is my second loan with 5 Star Loans and I gotta say it has been a blast working with them so far.!!
Priscilla Loyd
06:56 29 Aug 20
I always want to experience what it's like to live in a five-star hotel in Los Angeles. On my 35th birthday, I rewarded myself with one. Thank you, 5 Star Car Title Loans, for approving my loan.
Judy Carter
05:24 23 Jun 20
I really wanted to buy an iPhone11 but have a low credit score in the bank. While searching for options, I've read about 5 Star Car Title Loans Los Angeles. Good thing, their office is just a 5-minute drive from my place!
Nadya Suleman
10:50 18 Jun 20
I only sign title loans in Los Angeles at 5 Star Car Title Loans because their service is amazingly fast! You should try it for yourself.
Ronald Smith
14:21 11 Mar 20
I take auto title loans from a company that is legit and trusted.
lauren gearldine
05:22 27 Feb 20
The bank said my collateral is not enough for the amount I want to loan. I went to 5 Star Car Title Loans, and my car equity loan was approved.
Todd Douglas
14:46 16 Feb 20
I'm trying to get a degree so I can get a better job. But when the tuition came due I didn't have the money. I got an online title loan instead of giving up school.
David Kimbrough
11:32 28 Jan 20
Life in LA is more expensive than I ever dreamed it would be! Good thing I found out how to get personal loans from 5 Star Car Title Company.
Kevin Dyer
19:42 06 Jan 20
It was great because I got my money very quickly with very little trouble on my part. THANKS for All!
Geraldine Stephenson
07:29 23 Aug 19
Auzure Moore
01:33 25 May 18
About This Location
LA Auto Registration Services provides registration services for 5 Star Car Title Loans customers. The store is located at 2504 S San Pedro St, near the intersection with E 25th Street. If you live in Los Angeles and in need of registration services, stop by LA Auto Registration Services that works with 5 Star Car Title Loans in Los Angeles. LA Auto Registration Services provides our clients with unmatched customer service. 5 Star Car Title Loans does not issue loans at this location.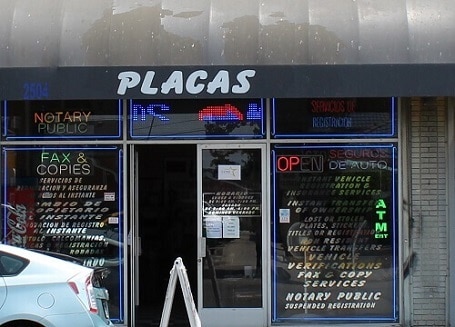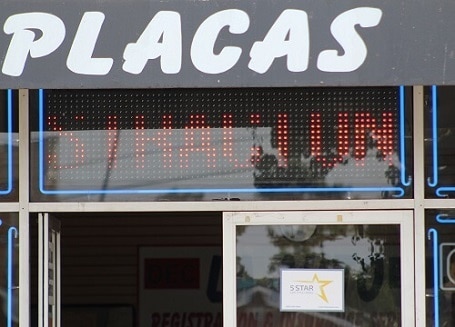 Los Angeles – like any other city, but more so!
People come to LA for the weather and they stay because as Steve Martin might have said, "it's a wild and crazy kind of a town!" Well, sometimes it's wild and crazy, but mostly it's just FUN; like any other city but more so! More museums, more beaches, more restaurants, more fun things to do. There are over 100 museums in LA. Oh, did I mention more job opportunities? Hi-tech is booming in LA and the fashion industry has upwards of 87,000 positions, more than NYC! And because LA is the world capital of the entertainment industry, among other reasons, LA is a major tourist mecca with an economic impact of upwards of 33 BILLION dollars a year (2016).
Living in Los Angeles
It's true that there are many fun things to do in Los Angeles, but unfortunately, many of the residents cannot afford to buy tickets to musical events, go out to fancy restaurants or visit museums. If this story sounds all too familiar to you or someone you know, we might have a solution. 5 Star Car Title Loans in Los Angeles is experienced in helping people who own a car get quick cash loans.
Cars for Cash in Los Angeles
If you own a car and it has your name on the car title, then you can skip down to the bottom of this page and fill in the information to request pre-approval from 5 Star Car Title Loans in Los Angeles. We might be able to use the value you have built up in your car as security on a quick loan. Car title loans only mean that we put our name on your car title as its lien holder. We use your car as collateral, but we don't take your car. You keep driving it as you are used to doing. When you finish paying back the loan, the DMC will issue you a clean and clear car title.
Qualifying for a Car Title Loan
To get cash from 5 Star Car Title Loans in Los Angeles, you must be able to prove that you can repay the loan and that your car has unused value. We will evaluate your car and if you meet our credit requirements, we will contact you to go on to the next step towards getting your 5 Star Car Title Loans in Los Angeles.