5 Star Car Title Loans Google Reviews:
I was very delighted with the service and assistance received, which made the best title loans application process as easy as possible. The team was very helpful, guiding me through every step.
The best option for getting auto title loans fast.😀
Jamiya Rhianna
04:21 17 Jul 21
I was greeted with smiles and received excellent service. I was all smiles and received my loan on same day. I would recommend this to anyone needing money during a hard time.
Kylan Carey
13:01 04 Jun 21
The team at 5 Star Car Title Loans make you feel like you are their most important client. The personal touch and around the clock availability made our experience a good one. Highly recommended.👍👍
Lucia Lawrence
19:12 28 May 21
More than ever do we need companies like 5 star they try to help you in every way possible!
Randy E. Gray
01:39 13 Feb 21
Loved that there wasn't too much paperwork and everything went very smoothly. I recommend them also because you can get a lot of the application done online.
Chris Dodgen
11:56 20 Jan 21
I would definitely recommend coming here for all your car title loan needs. No hassles, no fuss. Great service and really funny customer service representatives.
April Tobin
12:10 23 Dec 20
Staff was very friendly over the phone and helped me get a loan quickly. They walked me through the process and how it works. 10/10 would recommend to anyone.
Walter Mitchell
11:27 17 Nov 20
When I get into an emergency with cash I call 5 star loans. They are cheaper and better than other loan places here in moreno valley.
Zacharie Paimboeuf
10:46 09 Nov 20
I went in to get a loan and they went above and beyond to helped in my situation! Made it as quick and easy as possible to get a loan even though I have a pretty bad credit score. I will be back THANK U!
Tabor Harvey
08:33 03 Nov 20
Got laid off during the corona and I was tight on money. Honestly I wasn't sure what company to choose but a friend recommended this one. They did a good job I was very satisfied with the service.
George Villalobos
06:08 19 Oct 20
These guys are in the business of helping people get fair and easy title loans in CA. I got a quote in minutes and the phone representatives were really helpful
Camelia Peterson
05:40 09 Oct 20
5 Star Loans helped us out with everything. When there was something on the application that we misunderstood, they explained it to us in detail. Very good service and customer service response.
Tony Roden
06:30 17 Sep 20
Trust me, get your car title loans at 5 Star Car Title Loans. Thank me afterward.
Jesse Cleghorn
08:06 31 Mar 20
Get a personal loan with a low fixed rate through a simple and convenient process.
Boris Graham
18:30 07 Feb 20
I really hate borrowing money from anyone, but getting an instant online title loan wasn't too bad. They didn't ask me anything about why I needed the money and they made it easy for me.
Robert Elliott
11:23 06 Feb 20
These people work best to provide easy loans using the car's title. As soon as I contacted their team, they started working on my response. Thanks for making loan approval an effortless process. Would consider your team whenever the need arises. Great job!!
Avenall Simard
05:41 31 Dec 19
Joey has great customer service skills. You should be a manager of this place😊
Prince Lindgren
07:23 23 Dec 19
I wanted to get personal loans using my car's value, but I was stuck because the registration wasn't up to date. That's the bad thing about using your car as collateral - the registration has to be up to date. And then the company keeps your car title. That made me super nervous, but in the end all was good. I paid back the money and they gave me back my title. The first time signing over my

title was scary. Next time I'll trust them.

read more
Andrew Hicks
04:59 19 Dec 19
I really love my boat and would never want to sell it, but I did use the title to get some money last month. My boat stays down at the lake all year long, but that didn't matter. For boat title loans, you only need to fill in some papers and then after they agree to give you the money, you have to give over the title. They knew I owned the boat, because it said so on the title.
Michelle Coletti
08:26 04 Dec 19
I wanted to change apartments, but I needed to do some repair work before I could give it back to the landlord. If not, he would keep my deposit and I wouldn't have enough money to move. So I was stuck. Fix the walls and get my deposit back or don't fix anything and lose my money. I found such a great solution! I took out what's called money loans with car title. I'd never done such a thing

before, but it was the perfect solution. I got the money, fixed the walls and other repairs and got all my money back. It's not a problem to make the payment each month now that I moved. I'm closer to my job, so I'm saving money on transportation. It all worked out for the best.

read more
Karolyn Hazel
17:59 10 Oct 19
Really very punctual ,faster, cooperative and smoother to pay .
Mohammad Khan
03:53 25 Sep 18
Maynor Chapman
23:59 22 Sep 18
About This Location
Your Family Insurance Services provides registration services for 5 Star Car Title Loans customers. The store is located at 12593 Heacock St., near the intersection with Webster Ave. If you live in Moreno Valley and in need of registration services, stop by Your Family Insurance Services that works with 5 Star Car Title Loans in Moreno Valley. Your Family Insurance Services provides our clients with unmatched customer service. 5 Star Car Title Loans does not issue loans at this location.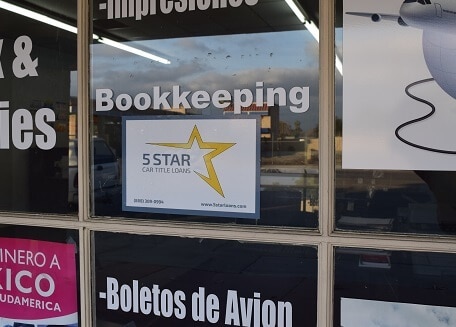 5 Star Car Title Loans in Moreno Valley
If you own a car in Moreno Valley, you are welcome to apply for a fast loan that uses the value of your auto as collateral. At 5 Star Car Title Loans in Moreno Valley, we help people out who need a little extra money.
What Are Auto Title Loans?
Auto title loans are quick loans that use the value of a car that you own for security. During the period of the loan, we will keep your car title in our possession. After the loan has been repaid in full, we return the car title to you. During that period of time where you are making monthly payments, your car stays with you. Anyone who owns a car can apply for auto title loans. We will help you fill in your application at 5 Star Car Title Loans.
Do You Accept Salvaged Titles With Applications for Bad Credit Loans?
We are able to accept salvaged titles, so call our offices at 5 Star Car Title Loans in Moreno Valley for more information and available options. Call us for the California location near you.
What Are the Requirements for California Title Loans?
When you apply for California title loans, you'll need to be able to provide your car title, your ID documents, proof that you can pay the loan and a list of income and expenses. In some cases that is all that is required, although other documents such as your car insurance papers might be requested. We will evaluate your application at 5 Star Car Title Loans in Moreno Valley and contact you if we can approve your request for California title loans.
What Is the Minimum Amount I Can Borrow with Online Loans for Bad Credit?
Send in your application to 5 Star Car Title Loans in Moreno Valley for an accurate amount, but the minimum amount we begin with is $2,600. The maximum amount is $20,000, so depending on your situation, you might fall somewhere in between those two amounts. Send in your application for online loans for bad credit.
Do I Have to Go to the DMV?
Paperwork as the DMV is usually something we can take care of for you. Just bring your car title to us and we'll do the work for you. We will return the title when the loan is paid.