5 Star Car Title Loans Google Reviews:
For the last few years I've been living in my RV out of convenience since I like to travel a lot. Anyway, I got into some financial difficulties earlier this year and I looked for an RV title loan. 5 Star Loans has been really good with me so far I

thank them for the great service they provide.

read more
Maybelle Westerman
10:37 20 Jul 21
They are friendly, quick, and really want to help you with the loan process. Definitely go see them!
elmer gardner
05:06 04 Jun 21
It is a professional, helpful with installment loans online for bad credit, and the staff responds quickly to questions. Thanks, team!!
Claudie Roberts
19:18 29 May 21
I was able to get a great loan offer after working with 5Star CTL. It was very simple and I am glad that I ended up doing business with them instead of other horrible companies out there.
Joyce Higgins
10:30 08 Mar 21
This was my third time taking a car title loan from 5 star. Once gain they prove to be amazing and very understanding. I have only positive things to say about them truly!
Shonda Vannesa
11:26 11 Feb 21
If you're looking for auto title loans in San Dimas look no further and call 5 Star Loans!!!
Stacey Bennett
04:31 23 Dec 20
Always fast and helpful. Thanks to the great staff I will keep going to 5 star to get auto title loans.
Yenny Turner
11:36 12 Nov 20
Great customer service! Very fast process for the auto title loan!
Betsy Corzine
04:37 11 Nov 20
I always call right to away to 5 Star when I look for auto title loans. I really like how you can complete the process from the website and not have to drive there to do it.
For the last few years I've been living in my RV out of convenience since I like to travel a lot. Anyway, I got into some financial difficulties earlier this year and I looked for an RV title loan. 5 Star Loans has been really good with me so far I

thank them for the great service they provide.

read more
John Innes
17:20 16 Sep 20
I signed a loan in 5 Star Car Title Loans San Dimas after the bank just made me wait for nothing.
Christian Riggs
08:33 04 Jun 20
I've been taking my car tile loans with them because they've impressed me with the way they handle their clients.
Gunner Ville
07:57 07 May 20
When I was in bad need of quick cash, I did the easiest thing possible. I know it's a good solution for fast cash because I've done it before. I applied for car title loans. Just by using my car's value, I could get plenty of money very quickly. All

you need to turn in, if accepted, is your car title. Pay it all back and you can take out another loan whenever it's needed.

read more
Shear Westbury
12:19 03 Feb 20
I've always enjoyed my life-style while living in San Dimas, but last month I didn't have enough customers in my shop. I was really in trouble this month so I took out a title loan online to get financial help.
Dominic Vaughan
22:00 20 Jan 20
I used to hate thinking about going to the bank to apply for a loan. That's before I learned about car title loans. Now I know how to get through all the red tape and hassles of getting money when I need it fast.
Martin Stanley
05:03 23 Dec 19
I'm so happy with what just happened - I want to tell everyone about it! My kid needed some stuff for school so she could participate in one of those programs. I couldn't tell her no because Daddy didn't have enough money. So I called up 5 Star Car

Title Loans and listened while they told me the ins and outs of title loans without income. I figured I could handle the monthly payments so I went ahead with it. I gave them the title to my car and they gave me enough money to handle my kid's school payments. Whew! I didn't have to tell her no!

read more
Rudy George
10:12 04 Dec 19
I was thinking about taking out a payday loan to have money until my paycheck came, but my friend told me about money loans per car title. That seemed like a better deal to me, so that's the route I took. I got more money and when I finish paying, I

won't owe anything else. I'm pretty happy with the way that worked out.

read more
Bennie Walker
23:42 11 Oct 19
Great service provided by David( hope I got that right) but very attentive and made sure everything was taken care of quickly and effectively thank you!
Sean Hamilton
22:55 17 Aug 18
Tanya Ustrell
18:22 17 Aug 18
About This Location
Equator Insurance Agency provides registration services for 5 Star Car Title Loans customers. The store is located at 1411 W Arrow Hwy, near the intersection with N Valley Center Ave. If you live in San Dimas and in need of registration services, stop by Equator Insurance Agency that works with 5 Star Car Title Loans in San Dimas. Equator Insurance Agency provides our clients with unmatched customer service. 5 Star Car Title Loans does not issue loans at this location.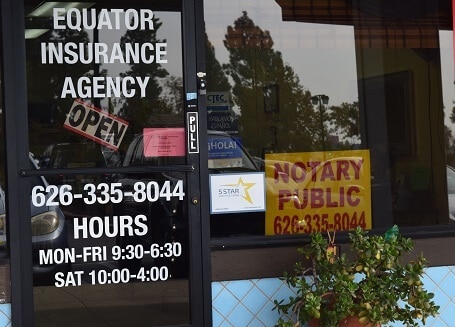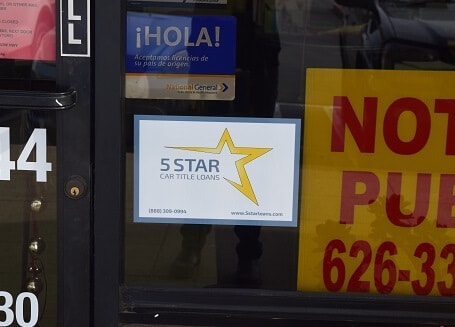 San Dimas, California
Named after Saint Dismas, the city is located in the San Gabriel Valley, in Los Angeles County. For thousands of years, the Tongva Native Americans and others populated the area that is not called San Dimas. In 1774 the first European explorers arrived in the area. In 1837 the region was developed using a Mexican land grant. Later it was referred to as La Cienega Mud Springs, in reference to the springs that was used as a healing place. After a severed drought in the 1860s, Louis Phillips bought land in the area. In 1887 the railroad came through, which resulted in a land boom.
Cash Woes in San Dimas
It's been a long time since the San Jose Ranch Company laid out the streets and formed the area into a lively city. San Dimas is still a nice place to live but if you need money urgently it can be hard to find. If you have a bad credit record due to a brief period of unemployment or because you got behind in your bills and couldn't get caught up, you can feel like you're stuck between a rock and a hard place. Just when you need some quick cash the most, the bank doesn't want to see you because of your credit score! We have some good news for you! If you own a car, it doesn't matter what your credit score is. You can still get a quick cash loan just by using your car as security! Send in your application to 5 Star Car Title Loans in San Dimas and let's see how we can work together to get your some fast cash!
Cash Loans in San Dimas
5 Star Car Title Loans in San Dimas would love to help you with a loan beginning at $2,600. All we need to know to begin the process is what type of car you own and a few details about yourself. If we can determine that your vehicle has enough value to use as security, that you will be able to pay a loan off and that you meet the credit standards we have set, then we will contact you.
Your Car Title
All we need to do to use your car's value as collateral is put our name on your title. Then you can keep your car, drive it and enjoy the extra cash in your account for any need. Contact us at 5 Star Car Title Loans in San Dimas today!