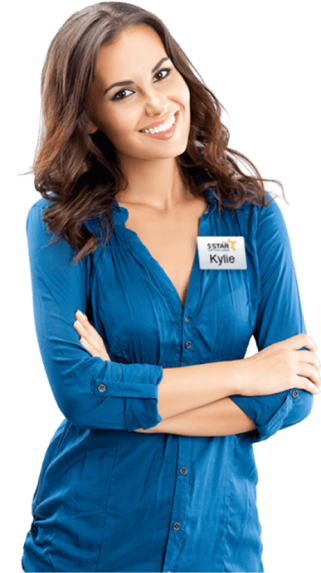 Customer Centered Service

Providing excellent customer service and a positive loan experience is 5 Star Title Loans top goal and we work tirelessly to make this happen for each and every customer.

Loans for Low Credit Score

We don't like turning away customers simply for having a bad credit score. We will work hard to get you a loan regardless of your bad credit.

Easy Application Process

We understand the urgency when getting a loan, so we offer simple options for applying. You can choose to apply either by phone or online.
Products

Car Title Loans

Payday Loans

Bad Credit Loans

Personal Loans

Online Title Loans

RV Title Loans

Process

Apply by phone or online

Complete all necessary requirements

Visit our local if needed

Get your money

Requirements

Car details

Personal details

Car title

Identification

References

Benefits

Keep driving your car

No prepayment penalties

No hidden fees

Quick funding

Personable service
5 Star Car Title Loans in San Jose, CA 
Many times we get stuck in a financial crisis where we have to look for external help. One thing that comes to mind while dealing with such scenarios is getting a loan.
But different financial institutions have long and tiring processes that can take days, weeks and even months to complete and receive money.
For all those spiralling in a cash crunch, 5 Star Car Title Loans present easy, viable and convenient title loans. Get an auto title loan in San Jose for your immediate cash needs!
What is a Car Title Loan?
A car title loan is a short term loan secured against the applicant's car title. Car title means the ownership of the vehicle.
So, when an applicant applies for a car title loan in San Jose (and qualifies for getting a loan), the lender puts a lien on the title until the loan is repaid.1
Another thing about car title loans is that the borrower can get money in a short period and can keep driving his car.2
So, in such instances, car title loans in San Jose can be an instant solution.2 Auto title loans in San Jose are easy to apply and the applicant can get money the same day.2
Apply Today For A Car Title Loan in San Jose, in 3 Easy Steps
5 Star Car Title Loans has made the loan process a simple, easy and convenient process.
Getting car title loans in San Jose California has become an extremely easy and secure process which brings same day cash for the applicant!2
Just follow these three steps:
Apply online
To initiate your loan application process, you need to visit the official website of 5 Star Car Title Loans and apply online.
You will be asked to fill out a title loan application where you will be required to give personal details such as your name, address, income, and some details of your vehicle (like make & model, odometer readings, photos, etc).1
In this step–if your documents seem fine and your car qualifies–you will get a pre-approval and will proceed to the next step.1
Eligibility Check
Once you are pre approved for a car title loan, you will be asked to submit some more required documents.
After a complete assessment of the submitted document, a loan agent from 5 Star Car Title Loans will get in touch with you and share the minimum loan amount, interest rate, monthly payments, car value, and additional documents for completing the title loan process.1
Get your money!
After our team has thoroughly reviewed the application and the documents, we will prepare a loan contract that will incorporate details such as loan amount, interest rates, instalments, payment plan, payment options, Annual Percentage Rate, etc.1
We encourage the applicants to carefully read the contract before signing it. In case a query arises, feel free to contact us and we will help you.
Upon signing the contract, you will get your money in one or two business days.2
If you feel that the online process is a bit tedious, you can call us. You will get our immediate assistance.
Online Title Loans in San Jose
5 Star Car Title Loans extend online services where the applicants can complete the loan application at their convenience.
You can visit the official site and fill in the required details with scanned copies of the necessary documents. After receiving your application, our team will soon get in touch and explain the further procedure.
Once all the formalities are met, the applicants can get the money they wish to receive.1
What Documents Do I Need for a Title Loan in San Jose California?
There are several different documents you'll need for a title loan in California, such as:1
Qualifying title for the car/motorcycle in your name
Proof of residence
Proof of income
Photos of the car or motorcycle
Government-issued photo ID (driver's license, US passport, or state ID)
Please note that you may need to submit some extra documents (if needed) to get car title loans in San Jose.1
If needed, the loan agent may get in touch with you to ask for additional information.1
How Much Money Can I Get with a Title Loan in San Jose CA?
Vehicle title loans depend on two important factors. The minimum loan amounts vary from applicant to applicant depending on those two factors.1
So, the amount of money that any applicant receives will be decided by:
Ability to Repay and a Proof of Income
Consumers must prove their ability to pay the loan back. We must know that you are eligible to make the monthly payments. This is one of the most important factors that determines if you are qualified to receive a title loan.1
While applying for a car title loan, you must demonstrate your ability to repay along with your proof of income.1 To show proof of income, you must have a qualifying form of income (can be a steady job, annuity, trust, etc) which can be used as an evidence that you will be able to hold up your end of the bargain.1
Vehicle's Equity
Another important factor is the equity left in your vehicle (car value). Once you apply for a loan in San Jose, you will be asked to submit documents regarding your vehicle (such as your car's make and model, odometer readings, photos, etc)1 which will be verified. The equity left on the vehicle will be calculated.1
The amount you get will depend on the value of the vehicle, ability to repay the loan and any state applicable laws within the loan limits.1
What's Considered as a Proof of Income for a Title Loan in San Jose California?
Contrary to the general belief, your recent pay stub is not the only document that can be considered as a proof of your income.1
There are other documents that can be considered as proof of income for car title loans.1
These include1:
Social Security statements
Bank statements
Workers' compensation letter
Tax returns
Disability payments
Can I Keep My Car while Repaying a Title Loan in San Jose California?
Auto title loans are simpler than other types of loans and they are quite helpful in getting quick cash.2 We are not sure about other lenders but at 5 Star Car Title Loans, we allow you to take the money and let you keep driving your vehicle.
Even if you have placed your car title as collateral, you will be allowed to use the car. A simple explanation behind this is that when you apply for an auto title loan in San Jose, the money is given against the title, not the car itself.
So, the lenders will only put a lien on your title and the keys will remain with you as long as you punctually pay your monthly instalments. Yes, you heard it right, you can keep your car and still get funds for your car title loan!1
For What Purposes Can I Use Title Loans in San Jose?
Car title loans come as a big help when you are dealing with a cash crunch. However, there are certain purposes for which you may get a title loan.1 Title loans are usually given out for personal reasons.1
Some of the things for which title loans can be used include1:
Medical Bills
House repair/renovation
Funeral Costs
Can I Get a Title Loan with a Bad Credit?
Yes, applicants may get car title loans with bad credit.
Whether you have good credit or bad credit won't be given much importance while applying for a title loan in San Jose. There are some instances where a credit check might be needed, but not always.
In San Jose, auto title loans are determined by two major factors that have been discussed above.1
These two factors include1:
Ability to repay
Car's equity value
The applicants get car title loans based on these important factors and a credit check may not be needed.1
Please note that these two may not be the only requirements in the criteria.1
Is My Personal Information Safe with 5 Star Car Title Loans?
5 Star Car Title Loans has been a trusted company for quite a few years now. We offer car title loans to help people get instant cash.2
We only ask for the necessary information that is required for the loan application process. Your information is safe with us and we do not disclose your information to any other party without your consent.
We offer complete transparency and encourage our applicants to read all the guidelines related to title loans in San Jose, California.
This will ensure trust, honesty and mutual understanding between both parties.
How Can I Get My Auto Title Loan Money in San Jose?
There are different ways in which applicants can get money for title loans in San Jose.
Some of these ways include:
Bank account
MoneyGram
Mailed Check
Direct Deposit
Pick Up at Participating store
Receive by check
At 5 Star Car Title Loans, we have tried to keep every process simple and short, so that the applicants can easily meet their cash needs in times of distress.
How Can I Repay My Car Title Loan in San Jose CA?
Payment of title loans is as easy as getting them. There are numerous methods by which the repayment of auto title loans in San Jose can be done.1
The borrower can pick the payment option and repay using the mediums mentioned hereafter.
Ways to repay a title loan:
Via phone
Debit/credit card
Cash
Online payment
The first instalment of the title loan has to be made after thirty days of signing the contract. While the minimum time to pay the loan back is one year, it may extend up to three years.4
Is There A Prepayment Penalty on Auto Title Loans?
5 Star Car Title Loans does not have any hidden fee or prepayment penalty when it comes to title loans.
We understand that the sooner one clears off his debt, the better it gets.4
Therefore, for those wishing to repay these loans early in San Jose, we do not have any prepayment penalties or hidden fees on auto title loans.
The applicants can pay their loan amount back earlier than the dedicated time without any doubt or worry.4
Advantages of a Title Loan
Title loans have a lot of advantages over other types of loans such as payday loans, loans from banks, etc.
While dealing with a long list of expenses, you can always use some extra cash from title loans that might help you in settling the payments. But the advantages of title loans are not limited.
Additional benefits of title loans:
Get money the same day2
Online process
Easy and simple
flexible payment options
May get a title loan with a bad credit1
Instant cash
Title loans save applicants from heavy instalment and payday loans which might
What Is The Closing Process of Title Loans in San Jose, California?
The complete process of title loans in San Jose is secure and easy. The same goes for the closing process.
If the title loans have been fully repaid, the lien on the vehicle title will be removed.
The clean title will be returned to the applicant.
Why Choose 5 Star Car Title Loans in San Jose California?
Are you looking for companies offering bay area title loans? If yes, we can be your choice.
5 Star Car Title Loans is committed to providing full assistance to the applicants in getting title loans. From the initiation of the process till the time one gets money, we provide full customer support. Even before the consumer qualifies for a title loan, we help him in understanding the whole process.1
So, why should you choose us?
Continuous assistance
Same day cash2
easy and simple process1
simple payment methods
no prepayment penalties4
no hidden fees
Keep driving your vehicle
Transparenc