5 Star Car Title Loans in San Leandro
Start your loan process at this Registration Services Center – How it works
5 Star Car Title Loans Google Reviews:
Excellent customer service! Thank you for arranging our loan so quickly after we made a last-minute decision to switch to them. They provide very professional and friendly services in San Leandro!!!!
Alicia C. Roy
11:50 25 Oct 21
5 Star Car Title Loans approved my application for a title loan fast! I needed the money asap, and they made it possible.
Camden Lia
11:21 16 Jul 21
Best thing is I didn't have to wait long for an answer regarding the application. I got a loan from my bank last time and it took like a week. Appreciate 5 star car title loans for the speed and urgency.
Jonathan Mackenzie
09:52 21 Jun 21
The staff provided excellent customer service. I could not ask for a better experience. The staff truly made a difference. Best place to get quick payday loans.
Mira Blanchard
15:44 04 Jun 21
This is the best company for getting a personal loan. They offer great service and I'm happy with them. Try it for yourself you won't be disappointed!
Jerold Hayes
08:08 27 May 21
They explain everything and answer all you want to know with patience. Employees are eager to help
Josef H. Martinez
05:44 06 Apr 21
The people at 5Star CTL are terrific! They know how to get stuff done and get you the cash you need! I am absolutely happy with all they did for me!!
ausydg uasygd
20:55 09 Mar 21
I will forever be grateful for the way you guys helped me in my tough time. You guys set an example for how a car title company should be like..
Michael S.
12:40 14 Feb 21
I want to say that they have a very informative website that I love with tons of information on title loans. Really helped me understand what I was getting into.
Vince Goodfellow
09:28 12 Jan 21
Best service I experienced in the title loans industry. Fast and easy with no extra surprises. I was surprised how easy it is to get approved. Thank you 5 star loans.
Mullis Cromer
12:35 16 Nov 20
Had a good experience overall with 5 star car title loans in san leandro. I hope to pay them back sooner than later to save money.
Macklin Snoopy
10:41 10 Nov 20
If you have low credit I would advise to call 5 Star Loans. They really work with you to get everything done even though some other places won't. I received excellent service from them!
Warren Moreland
12:14 30 Oct 20
Very comfortable process for auto equity loans which I knew nothing about before today. They explain everything and answer all you want to know with patience. Employees are eager to help
Rebecca G Valenti
13:25 19 Oct 20
instant loans are my best option to get money if I'm behined on bills. I pay them back very fast only in like a few weeks that way I don't owe a lot on it. Very convenient overall.
Sharon Ouellette
10:57 15 Sep 20
5 Star Car Title Loans approved my application for a title loan fast! I needed the money asap, and they made it possible.
Amber Hill
15:51 11 Sep 20
After browsing through car title loans in San Leandro, I'm quite sure 5 Star Car Title Loans is the best choice. I needed money for my wardrobe upgrade.
Darlene Falconer
05:39 19 Jun 20
I went to 5 Star Car Title Loans San Leandro and finished my transaction in less than an hour. Beat that!
I had heard of car title loans before but never understood how they work. They are brilliant! In got money the same day for my car but I got to keep my car. Does that many any sense? I'm glad about how it worked out.
Hannah Walker
07:14 19 Mar 20
Gerat service! Thanks for all your efforts 5 Star Loans!
Saylor V Patric
12:16 17 Feb 20
I have a bad credit score, but 5 Star Car Title Loans were nice about giving me a loan.
Sebastián Dávalos
05:18 24 Jan 20
I've had this same job for nearly 10 years and I've never missed a day of work. But then, out of the blue, my boss said our paychecks would be late this month. Maybe he can wait, but my bills couldn't. I got a pink slip loan so I could keep my bills paid up until my check arrived.
David Allan
10:49 17 Dec 19
Fast Friendly service. I really needed this to be up front and honest and I was pleasantly pleased when Brian took the time to walk me thru the process. I Had the loan I needed in my hand in less.tham 2 hours. I Would recomend Montana to my friends n family
luwanna alvedres
07:50 16 Nov 18
Enrique Cano
03:10 15 Nov 18
I would like to give much deserved props to Bryan for being exceptional at his job. Being I had originally started the loan process with Bryan over the telephone yesterday afternoon he was not overly pushy when I told him I would not be able to complete all the requirements needed from me until the next morning. Today I received a follow up phone call from Bryan personally and with his help have

been able to navigate through the rest of the steps with ease and feel very reassured if I have any issues or concerns regarding my loan in the future I would be able to contact him directly. Two thumbs up for his great customer service!

read more
Elizabeth Duong
23:46 14 Nov 18
Esther Barron
17:16 14 Nov 18
About This Location
Padilla Auto Registration provides registration services for 5 Star Car Title Loans customers. The store is located at 2145 Marina Blvd. Ste A, near the intersection with Doolittle Dr. If you live in San Leandro and in need of registration services, stop by Padilla Auto Registration that works with 5 Star Car Title Loans in San Leandro. Padilla Auto Registration provides our clients with unmatched customer service. 5 Star Car Title Loans does not issue loans at this location.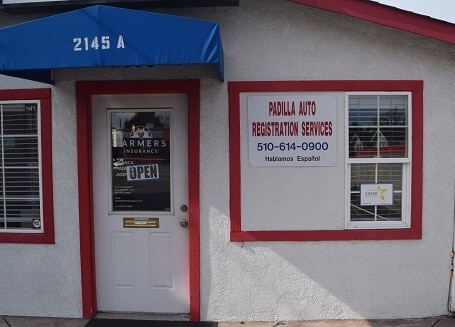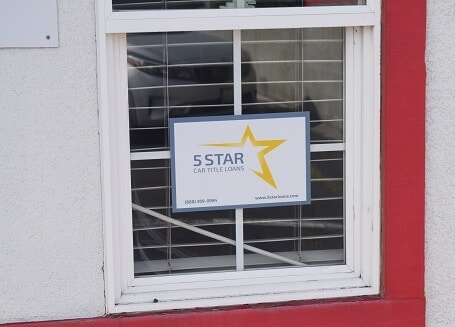 5 Star Car Title Loans in San Leandro
Do you wish that you could lay your hands on a little extra money? You could use it to pay bills on time, buy things you need or for anything else you want! Send in your online request for car title loans and let's work together!
What Are the Requirements for Online Auto Title Loans?
The standard requirements for approval of auto title loans are pretty standard. Since they are based on your car's value, that is the first thing we'll look at. Besides the value of your car, we'll also ask to see your ID, some sort of proof that you can pay back the loan (such as a list of income and monthly expenses) and your car's insurance policy. If more documents are needed, we'll let you know after we receive your online application. Send it to our office at 5 Star Car Title Loans in San Leandro.
Will My Spouse Be Able to Cosign on a Car Title Loan?
Many times a spouse is allowed to cosign on car title loans. The main prerequisite is that the spouse also meets the basic credit requirements. For more information on qualifying for car title loans, contact us at 5 Star Car Title Loans in San Leandro.
Can I Use a Salvaged Title for Auto Title Loans?
Sometimes we are able to accept salvaged titles. Send in your application to 5 Star Car Title Loans in San Leandro and contact our experienced agents to learn more about using salvaged titles for auto title loans.
How Can You Help Me Transfer the Car Title to My Name?
We know all the steps to registering car titles and can certainly help you. We'll help you get your registration updated. We can help you with the complete car title loans process. Besides help you with title transfers, we can also help you with the paperwork involved at the DMV. Get in touch with us for more information at 5 Star Car Title Loans in San Leandro.
When Are the First Payments on Auto Title Loans Due?
Payments on auto title loans in California are due on a monthly basis. After you have signed your contract, your first auto title loan payment will be due in another 30 days. From then on, you will need to make a monthly payment until your online loan for bad credit is finished.