5 Star Car Title Loans Google Reviews:
This company helped me when I desperately needed funding. I got a loan with bad credit within a day.
Doris Little
12:41 04 Feb 22
It was a pleasure working with them and I would recommend them to friends and family. Thank you for getting me the loan. This is one of the best personal loan companies.
Monceau Charlotte
12:39 04 Jan 22
It has been a pleasure dealing with them in the past for my loan. The title loan lenders have been polite and helpful every time.
Andrea Vasquez
07:42 30 Dec 21
As promised, the loan was processed and the paycheck disbursed promptly. Thank you so much!
Jackie Henry
10:51 21 Dec 21
Great customer service and staff are very professional. It's always a pleasure doing business with this loan agency. I would definitely recommend family and friends if ever in need of an online loan. Thank you!
I saw the ad online for commercial title loans where I live. I called 5 Star they answered right away and explained what I need to do. I gave them my info and they took care of the rest. Could not be happier with the service they gave me I give them 5 stars!!!
September R. D.
10:33 17 Jul 21
Anyone can get a loan when working with 5 Star Car Title Loans. They make it so accessible and easy, they don't care that you have bad credit or anything like that...
jose montgomery
19:56 03 Jun 21
Very fast and easy, things were explained so clearly to me. I think they are great and would recommend them to anyone.
Celia Daniels
16:27 28 May 21
Kudos for the amazing experience you make sure your clients have! I would love to come again If I need a car title loan❤
Olivia Wilson
00:04 16 Feb 21
Great company to work with on a title loan. They have a very efficient loan process that allows customers to get the money fast. No hassles and no long paperworks.
senna gomes
05:14 20 Jan 21
A simple personal loan process that can be conveniently completed from your house on a computer or smartphone. The agents are attentive and kind too
Betty Bernstein
07:09 12 Jan 21
It's always a fast, flawless title loans process. The staff is always professional and they answer my question with patience and integrity. You guys ROCK.
Abigail Patel
10:05 24 Dec 20
I was worried about getting a title loan but it ended up being the easiest thing ever!!! So quick and you can get a really large sum of money which is useful.
Susanna Pulliam
12:21 22 Dec 20
I was able to buy the latest DSLR camera after I got my cash from 5 Star in San Ysidro. I really needed it for my job. Great offer! Great service!! Great experience!!! 5STAR
Ronald Kilian
13:16 05 Nov 20
5 star employees always take care of me when I'm in a bind. I really appreciate them for helping me with the auto title loans.
Hursey Bobo
09:52 21 Oct 20
They sure made my first experience with this company positive! I was kinda unsure at first about title loans but they really explained well how it works.
I had travelled all night to get to San Diego but when I went to check into my hotel my money was gone! I quickly applied for a cash for title loan online and got cash quickly.
Debra Matter
10:26 24 Feb 20
My favorite part about getting bike title loans in San Ysidro is that I can send in my request in the morning and have cash ready for me in the afternoon.
Connie Laughter
10:15 24 Feb 20
These guys are great, they work with you if you can't pay on time and they got 5 Star from me
Sammie J. Smith
05:52 19 Feb 20
I'm just sharing my experience with you. I was busted, flat broke but I was still able to get a car title loan without a million questions to answer. It's because I own a car, so you can do it too.
Jason Horace
11:42 13 Feb 20
I needed a loan quickly for an unexpected expense so I contacted Montana title loan because of the great rating on Google. My credit is less than great so I was happily surprised when I received the exact amount needed. Thanks to Jonathan for being so amazing for helping me get approved for the loan and for making everything happen so quickly and smoothly.
Teleasa McGlother
00:50 10 Oct 18
Frederick Martinez
21:31 09 Oct 18
About This Location
Car's Registration Services provides registration services for 5 Star Car Title Loans customers. The store is located at 159 W. San Ysidro Blvd STE 1, near the intersection with Cottonwood Rd. If you live in San Ysidro and in need of registration services, stop by Car's Registration Services that works with 5 Star Car Title Loans in San Ysidro. Car's Registration Services provides our clients with unmatched customer service. 5 Star Car Title Loans does not issue loans at this location.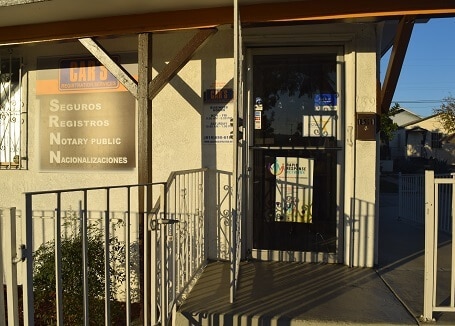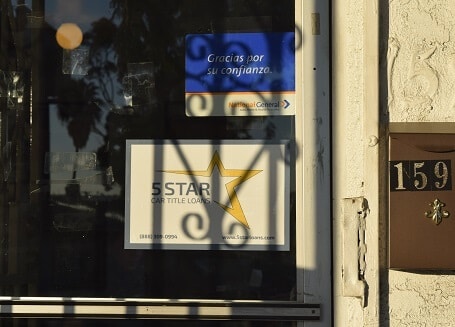 5 Star Car Title Loans in San Ysidro
If you're running low on cash in San Ysidro and could use a quick loan, send in your online application to us at 5 Star Car Title Loans in San Ysidro. Let's see how we can work together to use your car's value to secure your fast loan!
What Are Auto Title Loans in California?
Auto title loans in California are fast loans that are determined according to your vehicle's value, your ability to pay the loan back and meeting our credit specifications. We will evaluate your situation when you send us your online loans for bad credit application. If you're not sure where to go for car title loans in California, we can help you find the California location near you. We are eager to get to know you and answer all of your questions, so don't hesitate to contact us at 5 Star Car Title Loans in San Ysidro.
Are There Requirements for Auto Title Loans?
The basic information we need from you is your identification and your car title. Also send us a summary of the money you bring in each month and how you spend it, so we can confirm that you'll be able to send us the monthly payments. If we need any other supporting documents, such as an insurance policy on your car, we'll contact you. Send these items into us at 5 Star Car Title Loans in San Ysidro.
When Will I Need to Make the First Title Loan Payment?
From the date that you sign a contract for online loans for bad credit, your payments will begin 30 days later.
Are There Penalties for Prepaying Auto Title Loans?
No, there are no penalties, so go ahead and pay it off anytime that is good for you. If you can pay it early and you want to, we will not charge you a prepayment fee.
Is it Possible for My Spouse to Cosign on Bad Credit Loans?
Yes, it is possible for your spouse to sign. First, of course, we'll need to check out the financial details of your spouse. Just like you, your spouse will need to meet our credit criteria. Call one of our agents at 5 Star Car Title Loans in San Ysidro today to hear the many options we have available for you to get car title loans near you.