5 Star Car Title Loans Google Reviews:
A wonderful experience! They were great and made us feel right at home. I would not hesitate to recommend them for installment loans for bad credit.
Gayle T. Reid
09:11 31 May 21
5 Star Car Title Loans made the car title loans process so easy! They walked us through the process and always made sure we understood what was happening, what we were signing & why I fully recommend them!✌👍
Alice Myers
19:18 28 May 21
Terrific service, they are able to help people with even the most difficult situations! I've never witnessed such professionalism and kindness from a loan company. Thanks times a million!
Wishart Gautier
11:58 03 Mar 21
5 Star Car Title Loans understands that not all those who have bad credit scores cannot pay a loan. I always sign for a bad credit loan with them.
Carrie Carroll
07:09 28 Jan 21
5 Star Car Title Loans in Stockton were able to help me when I was in a very tight spot. They worked quickly and efficiently to get me the money I needed. Thank you!
John Casares
07:24 15 Jan 21
This loan with 5 star really helped me out during a money crises. It's nice to know there's a company I trust where I can take out a loan in an emergency.
Nicola Sutherland
07:35 24 Dec 20
I would rate them higher than five stars if I could! They turned an anxious time into a much better one by helping me get an online bad credit loan without any issues. AMAZING!!!
John Oliveira
14:00 17 Nov 20
I called 5 Star and they gave me the option of online loans in Stockton. It went very smooth and I got the process done in a couple of hours. It was a pleasant experience all in all.
Lily Clarkson
13:16 30 Oct 20
Great customer service , highly recommend this place. everyone is so welcoming and they really walked me through the whole only bad credit loans process on their website. Super easy.
Dorothy Clark
08:05 21 Oct 20
I am very satisfied with the customer service. I got to them through their ad that stated they do online bad credit loans. It was perfect for me since my bank denied my application. Thank you guys!!
Conley Johnson
05:34 14 Sep 20
Do you have bad credit? try 5 Star loans - great experience!
Yandell Knights
11:02 02 Sep 20
My mom has some knee problems, so she opted to take an online title loan. A representative called her on the same day, and she got her loan too.
Robert Flores
06:19 06 Apr 20
I never thought about doing this before, but when I needed fast money in Stockton someone suggested bike title loans to me. I did it and you know they were right! It was a perfect solution for me.
Grace Bass
12:15 03 Mar 20
Auto title loans are really handy when you need to get your hands on some quick cash. And they're easy - the people on the phone helped me with everything.
Alexandra Parsons
19:59 25 Feb 20
Why would I bother driving into town for money when I can sit at home and apply for an instant title loan online? Everyone should know about them.
Diane Robertson
08:30 14 Feb 20
When I need money quickly, I check what 5 Star Car Title Loans has to offer. They're so helpful.
Tyler johan
05:28 27 Jan 20
I am so happy that I was approved for a loan even though I don't have a job right now. Title loans without income are the best!
Sharon Holly
05:24 18 Dec 19
Auto title loans are really handy when you need to get your hands on some quick cash. And they're easy - the people on the phone helped me with everything.
Kenneth Follis
05:26 07 Dec 19
Just when I thought things couldn't get worse, they did. I was really down in the dumps cuz my paycheck wasn't due for another 10 days but my bills were piling up. I didn't know what to do with myself. I couldn't sleep, I was too worried to get anything done. I sent in an application for a big rig

title loan. I really was hoping to get the money within an hour or two, but it really took more like 7 hours. Well, anyway, I got the money and got those bills paid.

read more
Abigail Payne
07:47 05 Nov 19
Kiara was very helpful every step of the way! We would definitely work with them again.
Whitman Family Vlogs
22:35 24 Oct 18
About This Location
Diana's Modern Insurance Services provides registration services for 5 Star Car Title Loans customers. The store is located at 425 East Miner Avenue, near the intersection with N Sutter St. If you live in Stockton and in need of registration services, stop by Diana's Modern Insurance Services that works with 5 Star Car Title Loans in Stockton. Diana's Modern Insurance Services provides our clients with unmatched customer service. 5 Star Car Title Loans does not issue loans at this location.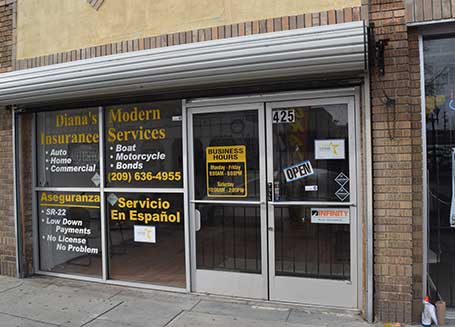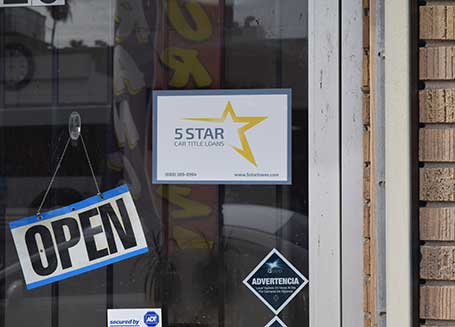 5 Star Car Title Loans in Stockton
If you're facing a cash crisis in Stockton and don't know how you'll ever manage to get through to the next payday, you could apply for a fast personal loan from 5 Star Car Title Loans in Stockton, using your car as security.
How Do Auto Title Loans Work?
First off, you must own a car in order to get a car title loan from 5 Star Car Title Loans in Stockton. Auto title loans are based on how much a car that you own is worth. There are other criteria that go into the application approval, but the main point is the value of your car. Then, you need to meet the basic credit specifications and we'll make sure you can repay the loan. These factors all influence the amount of the loan you can get. But during the entire process, you get to keep your car. Send in an online car title loan application and we'll review your request!
Will My Spouse Be Allowed to Cosign a Title Loan?
Sure, so long as the spouse can also meet the credit specifications for title loans. Just give one of our agents at 5 Star Car Title Loans in Stockton a call and let's see how we can begin to work together. If you're not sure where the California title loan locations are near you, we can help you find them.
Can I Get No Credit Check Loans with Bad Credit?
Yes, you definitely can get approval for no credit check loans even if your credit is bad. Sometimes we can approve applications for bad credit loans the same day! Meeting our credit criteria is most important. We'll need your ID, proof that you can repay and a vehicle with good value. We will let you know if a credit check is required. Submit your online title loan application with the details of the car that you own and let's be in touch.
Will I Have to Go to the DMV?
With all our experience handling auto title loans, we can usually take care of the trip to the DMV for our clients. Send your application to 5 Star Car Title Loans in Stockton with your details and your title. Once we have your title, we will take it to the DMV for you.
Will I Have to Pay Prepayment Fees on a Car Title Loan?
If you want to go ahead and pay back your auto title loan early, that's fine with us. We will not penalize you or charge you a fee for early payment. There are no hidden fees with California title loans, so there are no extra charges that you need to worry about.