5 Star Car Title Loans in Victorville
Start your loan process at this Registration Services Center – How it works
5 Star Car Title Loans Google Reviews:
There is no other company that can offer the same level of service as us. The staff is excellent, the company itself is ethical and credible, and I got my personal loan with them.
Russell H. Newsom
13:59 21 Oct 21
I applied for a car title loan earlier this month but got rejected because I am struggling with my credit score. I needed the cash, and I am running out of options. So, glad that my officemate told me about 5 Star Car Title Loans. Now, I have money to pay for rent.
They were professional, prompt, and very helpful. Thanks for helping me get loan with poor credit score. I can not thank you enough.
reagan athena
03:59 03 Jun 21
I worked SCTL last week on a small car title loans. Reps were exceptional and provided great service. I would absolutely use them again or recommend them to anyone looking for a car title loan.
jereld ruiz
18:16 26 May 21
When in need of an emergency loan this is a great option. It was easy and fast for me and I felt that they were able to help me throughout.
christian patrick
18:12 26 May 21
Take car title loans only when you can repay them. Be sure you can handle it.
Ann Searles
11:33 25 Feb 21
Thank you very much guys.
Jones Cecille
11:09 12 Feb 21
I spoke to a lady that helped me with my application and she was extremely thorough and willing to answer any questions I had. She also gave me information I didn't realize I needed as well and helped me with extra cash. So great customer service overall from this company!
Amelia Pullman
07:17 21 Jan 21
I was so confused about how title loans work but the lady I spoke with explained everything so clearly that I am now confident I chose the right loan and lender. Thank you!
Simonis Miquel
12:06 06 Jan 21
You will notice the amazing service from the very first moment you call them! They treat customers right and really care about getting you what you need.
Kuvalis Davis
10:29 21 Dec 20
From the start I knew I reached a good company when the reps were so nice and patient. Just finished my instant loan and had no issues at all. Great service!!
Sandy Warren
11:31 25 Sep 20
I've always been afraid of taking car title loans, but after completing my first loan with 5 Star Car Title Loans without any problems, I'll surely go back to them when the need arises.
Sadie Wallace
07:08 12 Sep 20
Thank you 5 Star loans! You guys are the best no doubt!! You guys get 5 stars from me lol!! I will recommend to anyone for instant loans.
Camren Cornish
18:06 06 Sep 20
I know they're called 5 Star, but they deserve 10 stars for their online title loans - fast and reliable!
Robert Hawk
08:59 31 Mar 20
I'm not one to complain and I don't know whose fault it is, but I thought I would get my money in one hour and it took nearly 4! I needed the money in Victorville quickly and was hoping I would get it faster. Anyway, I did finally get it and took care of my debts.
JAVIER LUNA
12:37 18 Feb 20
Without good credit, I didn't know what to do when I needed money. Then I found out I could get a bad credit loan that used my car as collateral.
Michael Blackwelder
11:42 10 Feb 20
I'd never even heard of money loans with car title before, but when I was desperate for quick cash, my best friend mentioned that option to me. I'm tellin ya - I was pretty nervous, but I was in such a hard place that I had to do something. Instead of sending in my application online, I went into the 5 Star Car Title Loans office close to my house. I met the people there and really began to feel

OK about my decision. They were so professional and nice. I felt like I was in good hands.

read more
Linda Louis
23:59 22 Oct 19
Martha Guadalupe Rocha Hernandez
12:18 11 Jun 18
About This Location
Maria Tapia Insurance Agency provides registration services for 5 Star Car Title Loans customers. The store is located at 14477 Amargosa Rd Unit #6, near the intersection with Seneca RD. If you live in Victorville and in need of registration services, stop by Maria Tapia Insurance Agency that works with 5 Star Car Title Loans in Victorville. Maria Tapia Insurance Agency provides our clients with unmatched customer service. 5 Star Car Title Loans does not issue loans at this location.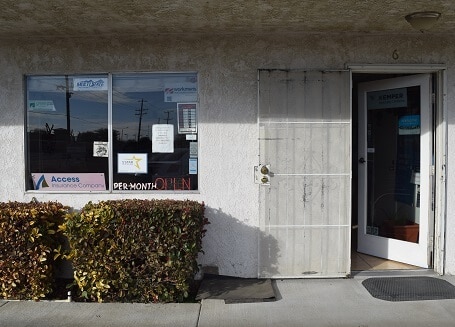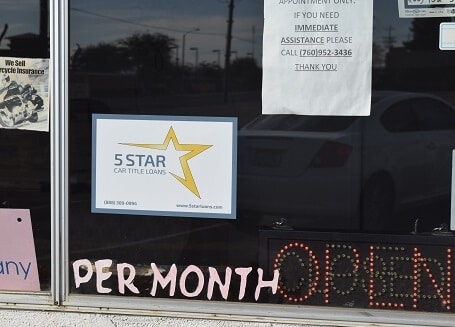 5 Star Car Title Loans in Victorville
If you live in Victorville and need some extra money, auto title loans may be a great solution for you. To apply for a fast loan today, feel free to contact one of our agents at 5 Star Car Title Loans in Victorville for more information.
What Are the Requirements for Getting No Credit Check Loans?
The requirements for being approved for no credit check loans are pretty straight forward. Besides meeting our credit requirements, we'll need your car title, some identification and a list of your income and expenses that proves your ability to pay. We may need your car insurance policy or other supporting documents as well, and in some cases we need a credit status report. When your car title loan online application is approved, we will keep your car title with us until the bad credit loan has been repaid. We're here to answer all of your questions so contact us at 5 Star Car Title Loans in Victorville.
What if My Registration is Past Due? Can I Still Apply for California Title Loans?
If your car registration needs to be renewed, we might be able to update it for you. The first thing we'll need to do, however, is to verify that you own the vehicle. After that is confirmed, we can help you get all of your papers sorted out and in your name. We have experience helping our customers prepare their documents to get auto title loans in California.
Can I Get a Title Loan if I'm Still Financing the Car?
Yes, you can still get auto title loans even if you haven't finished paying off your car. In fact, we might be able to give you a title loan that will be high enough to make your final car payments and still have money to put into your pocket. Even when the financing is paid off, you can still keep driving your car while making payments on your auto title loan. Get all the details on how car title loans work at 5 Star Car Title Loans in Victorville.
Where Are the California Title Loan Locations?
We are here to help you find the nearest title loan location that is convenient for you. Just call the offices of 5 Star Car Title Loans in Victorville so we can help you with title loans in California. You will be happy you did!