5 Star Car Title Loans Google Reviews:
This company is my first option for any financial needs. Always super responsive and helpful, I couldn't have asked for better service . Thanks a lot .✌🏻
Anderson Jaiden
07:36 29 Jun 21
I received genuine guidance from the team which helped me clear all my doubts regarding the instant online title loan application process. They helped me to understand the process and assisted me with the paperwork, saving me from many hassles.
Kolton Hannah
11:50 04 Jun 21
Great company, professional, informative about installment loans for bad credit, and extremely helpful staff. Thank you, team!👍👍👍
I applied for online pay day loans and was nervous about whether I would qualify for this small loan. People are were very helpful and understanding and the customer service was great.
I was hoping to avoid getting a loan but ended up in a situation where this was my best option. Well at least I found 5Star Car Title Loans who made it the smoothest process possible and helped me a lot. They are AWESOME!
Donald Roby
10:15 12 Mar 21
They helped me in a time of great need. For that I say thank you and that you guys deserve a 10/10 rating from me!
Melanie Edmunds
20:15 15 Feb 21
Enjoyed doing business at with 5 star title loans. Check out the online instant loans!
Dinmohamod Ali
13:15 02 Feb 21
I've been a customer here for a while and have no complaints they are kind people and always help me if I need it🤗
Cordova Gooden
12:49 11 Jan 21
Best in CA!!! These guys know their job when it comes to title loans. I am extremely satisfied I went with them and not one of those big lenders that don't care about you...
Randall L. Barringer
09:45 30 Nov 20
Looking for title loans in Whittier, CA, has always been challenging for me. But with 5 Star Car Title Loans, I am done with loan processing within a matter of minutes.
Dianna Penn
17:09 16 Sep 20
My first time using 5 star car title loans in whittier. So far so good the service was very fast and the customer service people are patient.
Zoey Noelle
18:08 04 Sep 20
Fully satisfied with my experience at 5 Star Car Title Loans!!!! The team members were very professional and went above and beyond to assist me & provide great service. Thumbs up!
Cheryl Grant
17:25 10 Jul 20
I wanted a spa party for my bridal shower in Whittier. My fiancée took a loan from 5 Star Loans to have it covered.
Helen Dobbins
07:31 07 Jul 20
I took a loan as an emergency fund for my upcoming wedding.
Richard P. Allen
04:42 11 Mar 20
The best title loan company will never disappoint its customers. 5 Star Loans never disappointed me.
Ulysses Garrick
05:57 18 Feb 20
Since I've never had a bank account before, I was stuck when I needed urgent cash. I got a no bank account loan by going online to get the cash I needed.
Bryant Evins
12:23 30 Jan 20
Hey I really like my boat, but now you could say I love it! I was able to get a boat title loan just by turning in the title.
George Rios
21:05 10 Jan 20
Good easy service to receive the loan. Good helpful customer service. Jonathan was in particular very helpful in making an uncertain situation easier.
Flo Galvez
04:41 08 Jun 18
About This Location
Royal Fox Insurance provides registration services for 5 Star Car Title Loans customers. The store is located at 11611 E Hadley St, near the intersection with Whittier Blvd. If you live in Whittier and in need of registration services, stop by Royal Fox Insurance that works with 5 Star Car Title Loans in Whittier. Royal Fox Insurance provides our clients with unmatched customer service. 5 Star Car Title Loans does not issue loans at this location.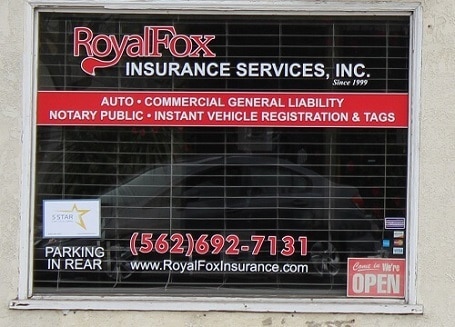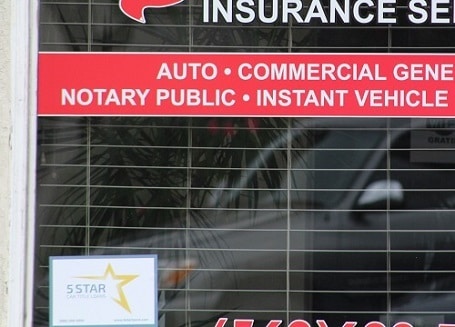 "Quaker Brand" Fruit - Across the Entire United States
Whittier is part of the region in southeastern Los Angeles County known as the Gateway Cities, which is located between the City of Los Angeles and the Pacific Ocean. Whittier was founded by a group of Quakers who came from back east intending to start a Quaker community in the west. Before they came, the land was owned by an immigrant from Germany, Jacob F. Gerkens who paid the United States government $230 for 160 acres under the Homestead Act. Later Gerkens would become the first Police Chief of the nascent Los Angeles Police Department. Farming was what the Quakers did best and "Quaker Brand" fruit was marketed across the entire United States.
Extra Cash for Car Title Loans in Whittier, CA
Many people who live in Whittier are stuck with bills they can't pay or expenses they can't meet. That's a shame, because they're good people who might have gone through a tough financial period. Maybe they needed to change jobs but lost a paycheck in the process or they could be people who just have too many bills to pay all at once. Whatever the reason, 5 Star Car Title Loans in Whittier might be able to help. If you're a car owner with your name on the title, you might be able to get a car title loan.
Benefits of Car Title Loans
Loans from 5 Star Car Title Loans in Whittier are not like bank loans because they use the equity in your car as security for a loan. So even if you have a poor credit rating, it's still possible to get a car title loan if you have a car with value. The secret is that even though they use your car for collateral, you don't have to get up your car! We only use your car by becoming a lien holder on your car's title. You get cash in your pocket and you still get to keep your car!
Applying for Auto Title Loans
Send us the online form and we'll check your eligibility. If you can met our credit specifications, if the current value of your car is high enough and if we can confirm your ability, then we'll contact you to set up a meeting. Remember – it doesn't cost anything to apply and you might get some quick cash! Send in your application to 5 Star Car Title Loans in Whittier today!