Title Loan without Vehicle Inspection
Title loans have really advanced in recent years and the great thing about not needing to do a car inspection is that you can usually also avoid a store visit. This saves you time, money, and of course lots of energy.
Wondering how to get started on these online title loans with no car inspection? Read below!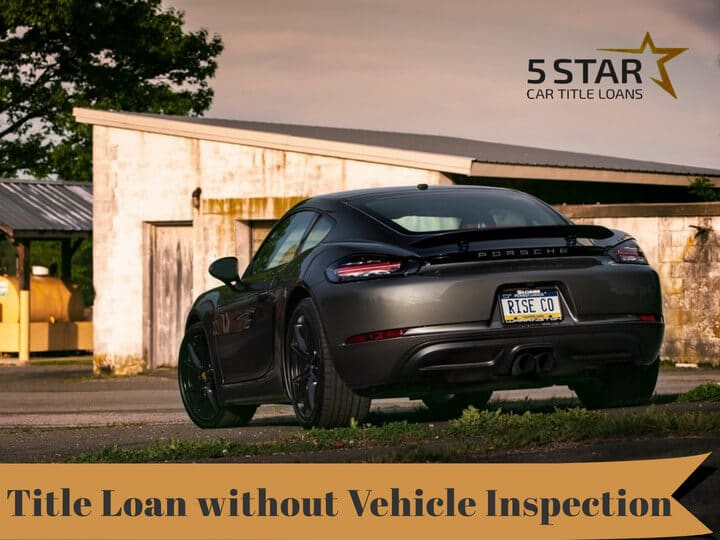 When a customer is trying to get approved for an auto title loan, the lender often demands that the vehicle be inspected. This is the case because title loan amounts are determined, at least partially, based on the value of the vehicle. An inspection allows us to make sure the estimation of value is accurate.
How to Get a Title Loan without Vehicle Inspection?
In order to make the online title loan process more convenient, many lenders including 5 Star Car Title Loans, allow for a vehicle inspection that is a little different. Instead of making an appointment with someone who will inspect your car, you will be required to send several pictures of the vehicle from different angles and of the odometer inside in order to verify the miles. This will allow the lender to see the condition of the car and check that the mileage you provided was accurate. These pieces of information are important when determining qualification for a loan.
The Process of a Title Loan without Vehicle Inspection
If you are interested in a completely online title loan with no car inspection, the process is very straightforward and simple! Follow our simple 3-step guide to getting a title loan quickly and easily:
Complete our online inquiry.
The inquiry form is available on our website and only takes a few minutes to complete. It allows us to examine whether you are prequalified for a loan and provide you with a preliminary loan offer.
After you have been prequalified, you will be required to provide the remaining requirements for the loan, including the car title, proof of ability to repay, car pictures, and identification documents.
The last step is to get your cash! You can use your title loan money for whatever your needs are, no questions asked. There are multiple ways to get the loan money which will be discussed with you by your loan agent.
As you can see, getting a title loan with no vehicle inspection is as simple as can be! We've worked hard to streamline our process so it is most convenient for you, our customers. If you want to learn more about how title loans work, click here.
So there's no need to rush to an inspection or worry about it at all! At 5 Star Car Title Loans, you can get a title loan with no car inspection!
Documents for a Title Loan with No Car Inspection
Now that you have a better understanding of how the title loan process works, you may wonder what documents you will need to provide in order to be approved. The list below outlines the most common requirements for a loan with no car inspection.
It could be a state or government issued ID, and it should state your name, address, date of birth, and have your picture on it.
As we mentioned, you will need to provide several photos from different angles so we can see the condition of your car. You will also need a photo of the odometer so we can verify the mileage driven.
This one may seem obvious but you will need to provide the car title which should be free of liens and under your name as the registered owner.
This includes your address, email, phone number, and other basic information that allows us to identify you and that is associated with your loan account.
It is required that you provide at least three references with their name, relation to you, and phone number.
Outlined above are the basic requirements for a title loan. Sometimes, your lender may request other information such as proof of residency or car insurance. These verify based on your specific situation and loan amount. Click here for more detailed information on the requirements for title loans online with no inspection.
Get Started on Online Title Loans with No Store Visit
All you need to do is complete our online inquiry. It is really quick to fill out and we made sure it is hassle-free and simple. You will need to enter some basic personal information, car details, and upload photos of your vehicle. It will also ask you how much you want to borrow using your title loan. Since these are high interest loans, we always suggest borrowing the lowest amount possible that will fulfill your needs.
There are many benefits to getting an online title loan:
• All credit scores accepted
• No hidden fees
• You keep your car
• No prepayment penalties
• Fast and simple approval
Online Title Loans Have Never Been This Simple!
5 Star Car Title Loans has years of experience in providing customers with the best possible service. We have thousands of satisfied customers, many of which enjoyed our online title loans that don't require a car inspection. If you are looking to get started on your loan, we invite you to give us a call or contact us via our website. No matter what your financial situation is, we will do our best to assist you. Our professional loan agents are waiting by to help you get the best title loan with no car inspection.