Car Title Loan Information
For those of you having trouble securing a personal loan or another financing, a title loan might be right for you. Unlike conventional financing, you may not need to pass a credit check with flying colors to get access to capital.
Here's some essential car title loan information to help you make a decision on whether title loans are right for you.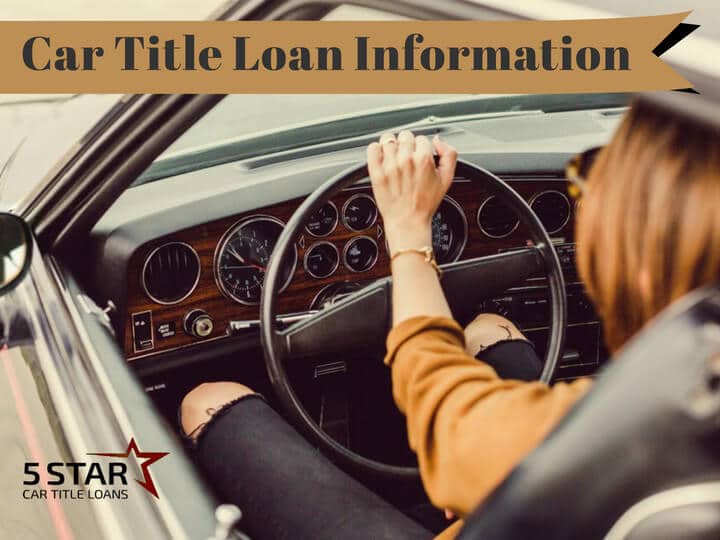 A title loan is an incredibly quick and simple way to get cash using a car title instead of your credit score. The size of your title loan is determined by how much money you need, the value of your vehicle, and whether or not you can repay the loan
What Are Car Title Loans?
So, what are car title loans and how do car title loans work? When you take out a title loan, essentially what you're doing is putting up the title to your car as collateral so you get the money, but you also get to keep driving your car.
You can get the cash you need that you're free to use any way that you wish.
The title loan lending period is typically between one and four years. With 5 Star Car Title Loans, you will not incur any fees or penalties for early payoffs.
How Do Car Title Loans Work?
How do title loans work?
You need to have enough equity in your car to fund the loan: It's important that the collateral be enough to cover the loan so that if the vehicle is recouped, the value will cover the outstanding loan balance.
Demonstrate your ability to repay: Once you're able to demonstrate your ability to repay the loan, we'll be able to move forward with the process to get you the cash you need.
Provide the clear title to your vehicle: Title loans work by giving money to applicants in exchange for the clear title to a vehicle plus interest. While a bank would normally require nearly pristine credit to consider lending you money, title loan companies are much more indiscriminate.
5 Star Car Title Loans Information:
Minimum loan amount – $2,600


Loan term length – 36 months

All credit types can apply!


No hidden fees or prepayment penalty

Get 25% – 120% of vehicle's value

Assistance with transferring the name on the title

APR (Annual Percentage Rate) of 60% to 175%

Assistance with registering out of state titles
The Difference Between Car Title Loans and Other Types of Personal Loans
With other types of personal loans, you will need to meet certain credit criteria in order to get approved for funding. If you don't have a high credit score, you're likely to get denied.
Use the Money How You Want
When applying for other kinds of personal loans, you typically have to explain what you're doing with the funds. With a title loan, you're free to use the funds as you see fit.
Most lenders require you to fill out an application, provide necessary documents, and return to the lending facility on a later date to fund your loan. With 5 Star Car Title Loans, you may be able to walk away with funds within hours.
How to Apply for a Car Title Loan?
Applying for a title loan is much easier than applying for financing through a bank. You won't be presented with countless hurdles just to get a little cash.
You can apply in person or online or by phone, and all you need are the two things mentioned previously, a government-issued ID and clear title to our car.
The application process is short and sweet. After asking all your questions on car title loan information, you can be pre-approved within hours. All it takes is a few pen strokes and you can get the cash you need.
Find the Best Car Title Loans Provider
Now that you know more about title loans and how advantageous they are, getting one might sound like a pretty good idea. To make the most out of it, you should always ask for more car title loan information and questions like how high are the interest rates (5 Star Loans interest rates average: 60% – 175% APR). Other good questions to ask include how much interest rates can fluctuate.
Always look at the reviews and see what other people have experienced when getting a title loan from the same company
Get the Best Deal with 5 Star Car Title Loans
5 Star Car Title Loans is the premier destination for title loans in the US. Like our service, our rates are unmatched in the state. When you take out a title loan from 5 Star Car Title Loans, you don't just get a creditor, you get a partner who is invested in your success.
Get in touch with 5 Star Car Title Loans today and ask for more car title loan information. When you work with us, you can walk out cash in hand!