Commercial Vehicle Title Loans
A commercial vehicle title loan is created when you put up your vehicle's title as collateral with a lending company to garner quick cash to satisfy your financial obligations.
Apply online to find out if your commercial vehicle qualifies you for a title loan with 5 Star Car Title Loans:
Any commercial vehicle or trailer that has a title can be eligible for a title loan. Find out how commercial vehicle title loan work, how to apply and what are the pros and cons!
Commercial Vehicle Title Loans Ranging From $2,600 Up to $50,000
Commercial vehicle title loans typically are given in amounts ranging from $2,600 up to $50,000. By using your title to secure the loan, you can usually get a loan lasting several months. For larger amounts, you can extend the term up to 48 months, depending on meeting certain criteria. If at any time you want to prepay the loan, you can do so without penalties.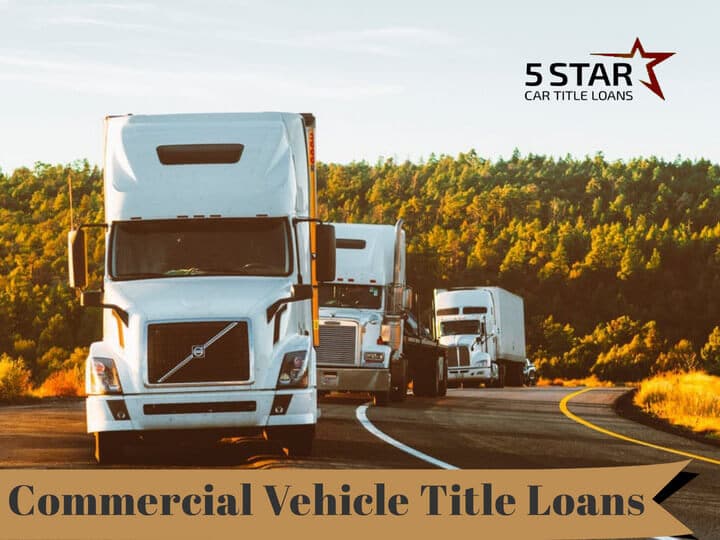 Keep in mind that you can get fast cash quickly and easily by using your vehicle's title to get a loan. No matter what your credit rating is today or was in the past, you can still apply for commercial vehicle title loans!
How Do Commercial Vehicle Title Loans Work?
If you own a commercial vehicle, you are eligible to apply for a commercial vehicle title loan. It just involves the lender using the equity built up in your vehicle to process your loan. The application process is simple, so if you are in need of a commercial vehicle title loan, don't hesitate to send in your application today.
If you need fast cash, you might be wondering why you shouldn't just go to a pawn shop for the money. If you pawn an item for cash, you need to actually turn that item over to the pawn shop dealer. However, with commercial vehicle title loans, you get the money you need in a hurry but you keep your vehicle. The only thing you need to give up for the duration of the payback period is the vehicle's title. That is a huge benefit!
Although the laws governing title loans are different from state to state, they are allowed in California. Besides meeting credit specifications (which includes applicant's ability to repay the loan) the value of your title loan depends on how much the vehicle you own is worth.
Keep your vehicle. The only thing you need to give up for the duration of the payback period is the vehicle's title. That is a huge benefit!
Evaluating Your Commercial Vehicle
When you have your title, documentation and driver's license ready and available, it is possible to apply online and get pre-approved. Commercial vehicle title loans are based on your ability to repay the loan and the worth of your vehicle (the title itself is kept as collateral). But, keep in mind that you need to own the commercial vehicle outright. There can be no liens, claims from 3rd parties or charges pending.
Your quick loan will be secured by your commercial vehicle's title, and this will be the lender's guarantee that the loan will be repaid.
Borrower's Ability to Repay the Loan
If the person borrowing the money has proven income to pay back the loan, a title loan can be very fast. While the credit status is not so important, proof that you can pay back the loan is important. This is typically in the form of salary slips, but can include any source of income. Then the lender can determine the size and length of the title loan according to the borrower's ability to repay it.
Still Making Payments to a Different Lending Company?
If your commercial vehicle is not totally clear and you are still making payments on it to a different lending company, it is possible that they can be paid off by the lender through a title loan. You will still be able to get the quick loan that you are seeking. If you have built up capital in your vehicle, even though you are still making monthly payments, the lender may be able to use the capital you have in the vehicle. In that case, the lender will hang on to your title and the lender's name will be added as lien holder. Even though you have obtained a loan based on its capital, you can still keep driving your vehicle.
Types of Vehicles That Will Qualify for Commercial Vehicle Title Loans
Semi-trucks are likely what first pop into your mind when considering or thinking about commercial vehicles, but in truth, the term "commercial vehicle" applies to several different items.
These vehicles can often include ones involved in construction projects, such as:
Lowered Interest Rates From Your Lender
Commercial vehicles tend to be very large and expensive, which means that most of the time, you'll enjoy lowered interest rates from your lender. Standard cars and trucks are smaller and aren't worth as much, whereas commercial vehicles can be sold for a lot of money. If you're unable to make your payments or you default on the loan, the lender can claim full possession of the vehicle and sell it for a solid profit, so even though there's risk involved, you'll likely wind up paying less on the loan then you would if it involved a standard vehicle's title.
Advantages of Commercial Vehicle Title Loans
When you are ready to send in your application to a lender using your commercial vehicle title, you can expect to enjoy the following benefits:
Keep on driving your truck

Personalize the terms of your loan

Fast funding can be the next day

Possibility of longer loan terms of 24-36 months

Pay back early without prepayment penalties or fees

Multiple locations around the states
Why Would I Want a Commercial Vehicle Title Loan?
There are many reasons why a commercial vehicle title loan would work for you, the first being that you're starting a commercial trucking business or you're starting a career as a cross-country driver or deliverer.
In certain cases, truck drivers working in this capacity do not serve as corporate employees, but rather as independent contractors. They are responsible for all their work-related purchases and expenses. This may involve the truck itself.
How a Title Loan Can Benefit You if You're a Contractor or Entrepreneur
If you're working your way towards becoming a truck driver but the vehicle is not being supplied to you by the company, you might benefit from putting your vehicle's title up for grabs with a lender, so you can get the money you need to pay for additional expenses.
The good news is that as a truck driver, you'll be earning a regular income, which means you can potentially use your paychecks to return the funds to the lender quickly. This will allow you to abstain from enduring high-interest rates. Most title lenders require the funds they give you be paid back within 24-48 months period, but if this not within your means, you'll probably have the option of extending your loan, so you can continue to make payments.
Doing this, however, entitles the lender to change certain terms of the loan, meaning they can increase interest rates and charge you more than what your initial loan was worth.
Other Possible Scenarios
The above situation for getting a commercial vehicle title loan also works in reverse. If you're a former truck driver and you no longer have need of your commercial vehicle either due to retirement or a similar reason, putting the title up with a lender to get fast cash could be an option.
Maybe you started out as a truck driver but decided halfway through that the job wasn't for you or wasn't what you were expecting. There's nothing wrong with that; people change careers all the time, but now you're stuck with a vehicle that you own and don't need, and you need money to discover your other job options.
In this case, offering your vehicle's title to a lender in exchange for fast funds could prove to be a viable solution.
Vehicle Must Be in Your Name
In many cases, the vehicle must be in your name, and the title cannot be owned by another person. This will likely prevent you from putting the title up with the lender, but there are exceptions to this rule. Speak with your employer first and foremost about what name the vehicle's title is under. From there, check with your lender to see what steps can be taken.
Frequently Asked Questions about Commercial Vehicle Title Loans
Q: How do I choose the best lender?
A: In general what you want to end up with is the most money with the lowest interest rates. Search the internet for companies that give fast loans that can be repaid over time. With title loans in general, you don't need to worry too much about having a bad credit rating. Look for a lender that will assure you of the cheapest rates without added on fees or penalties. 5 Star Car Title Loans APR (Annual Percentage Rate) from 60% up to 130%.
Q: Am I under any obligation when sending in an application for a commercial vehicle loan?
A: No of course not! Complete the title loans application, send it in and you will soon find out how much money you are eligible for. Whether you accept it or not is your choice.
Q: How do I go about getting a copy of my vehicle's title?
A: When you paid for your vehicle, you should have received an original title. If for some reason you don't have it, the DMV in your area can help you with this. They will give you step by step instructions to follow so that you can get a copy. In the top portion of the title, the VIN number and the information pertaining to your vehicle should appear.
Q: What if I want to prepay my title loan?
A: If you are able to pay off your loan early, go ahead! With 5 Star car Title Loans there are no penalties or fees for this.
Q: I sent in my online title loan application, but will I also need to go to a vehicle title loan office?
A: When you're borrowing money, you'll need to sign the papers, have your car assessed and get your cash. Go ahead and send in your application online to get a head start on all of this. You can also call the lender to submit an application.
Q: If my credit is bad, can I still get a commercial vehicle title loan?
A: To be approved for a commercial vehicle title loan, you will get an offer that is according to the value of your vehicle and subject to meeting our credit criteria, which includes applicant's ability to repay the loan. Even if your credit is bad, you can qualify. Complete the paperwork and get a fast quote. When the application is complete, a representative of the lender will get in touch with you to finish the loan process.
Q: Could a quick loan help you pay your bills, emergency expenses or any other circumstance?
A: Each year, many citizens of the US take advantage of title loans to pay bills or cover unexpected expenses. Typically, some citizens who apply for title loans use the extra money to get through the month, but the money can be used for any purpose.
Ready for a Commercial Vehicle Title Loan?
If you think a commercial vehicle title loan is right for you, give us a call. We are 5 Star Title Car Loans. We work to help people like you get the cash they need to tend to life's everyday problems. Our minimum loan amount is $2,600. We have several plans available designed to assist you whether you have good credit or not. Contact us today for an estimate. We look forward to serving you!
[yasr_overall_rating size="small"]
[yasr_visitor_votes size="medium"]