5 Star Car Title Loans Google Reviews:
When I checked into personal loans at the bank, gosh, they sent me through a lot of red tape and hassles. Forget it! I walked out of there and sent in an application for personal loans using my car as collateral. It was so much easier, and before I knew it I had the money. The loan company used my

car to secure the loan, but I was still able to keep it. Which was great, since I needed to drive to work every day.

read more
Taylor Frost
05:55 15 Nov 19
Kiara was awesome, great customer service, thank you very very much!
Alan Chieffo
00:35 11 Oct 18
About This Location
Robledo's Registration Services provides registration services for 5 Star Car Title Loans customers. The store is located at 2471 Main St. STE 14, near the intersection with Jacqua St. If you live in Chula Vista and in need of registration services, stop by Robledo's Registration Services that works with 5 Star Car Title Loans in Chula Vista. Robledo's Registration Services provides our clients with unmatched customer service. 5 Star Car Title Loans does not issue loans at this location.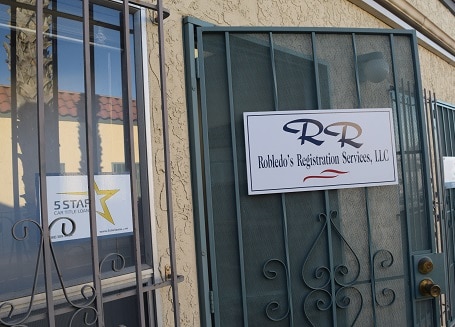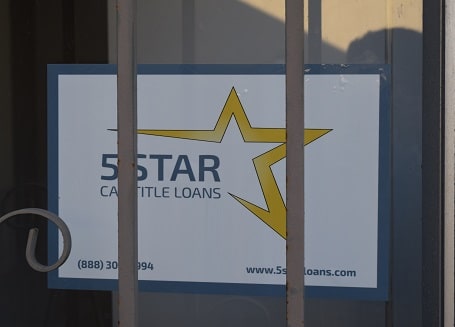 5 Star Car Title Loans in Chula Vista
If you're living in Chula Vista and need extra money for purchases, debts, bills coming due or any other expense, we might be able to help you at 5 Star Car Title Loans in Chula Vista. Take a minute to send in your online application and let's talk!
Is It True that Auto Title Loans Are a Better Deal than Payday Loans?
There are significant differences between auto title loans and payday loans, and those differences make auto title loans a better deal for the customer. Take, for instance, the length of time for each one. While payday loans are prepared for two week periods, until your paycheck comes in, auto title loans are for longer terms. Then with payday loans, if you need a new one for another two weeks, they start all over so it's really hard to ever get them paid in full. Auto title loans require monthly payments and at the end of the contract they are totally finished with zero balance. You can get a clear picture by calling us at 5 Star Car Title Loans in Chula Vista.
If I've Had Credit Troubles Can I Still Qualify for Bad Credit Loans?
Sure, and we can sometimes even approve your online application the same day! Everyone goes through financial woes from time to time that can leave them with a bad credit history, but if you fit our credit criteria, have a car with value and can pay back the loan then we're good to go! Send in your application for online loans for bad credit and let's review your individual situation. More questions? Contact the agents at 5 Star Car Title Loans in Chula Vista.
.
When Would My First Payment on Auto Title Loans Begin?
We'll prepare the contract and ask you to sign it. 30 days later, after you've signed, your first payment will be due. After that you can pay us each month. If you suddenly are able to pay back the entire amount early, that's good too. Some companies would charge you a prepayment penalty, but at 5 Star Car Title Loans in Chula Vista we do not charge a penalty for early payback.
Would My Spouse Be Able to Cosign for Auto Title Loans in California?
Sure, so long as your spouse meets the same credit criteria. Call us for the California location near you.