5 Star Car Title Loans Google Reviews:
These people are all about helping you secure quick funds when others won't. I suggest checking them out especially if you have bad credit since they are experts on that.
Karen Dennis
21:37 28 May 21
They offer such a convenient process for getting a bad credit loan. Getting started is simple and they make it really effortless throughout.
Tosca Casillas
08:27 27 May 21
Thank you for helping me get the money I needed! I was already so desperate so I am relieved to have found you guys and will be back for another loan for sure!
Niesha Daphine
08:27 12 Mar 21
I feel lucky and blessed to have found you guys online. I had a much better time than I thought I would have. You guys made this whole situation slightly better and easier. Thanks so very much!
Ellsworth Bounds
08:25 10 Feb 21
I am happy I chose 5 Star Car Title Loans they were terrific and got me a great loan offer I didn't expect to even be pre-approved honestly
John Ander
20:04 20 Jan 21
I'm glad I was able to get the money I needed using pawn car title loans. It was an efficient process that didn't take too long and was simpler than I initially thought it was going to be
Howard Rueben
12:24 22 Dec 20
If you're considering to apply for a title loan then go with 5 star loans. They have a really easy approval process and much simpler than Loanmart or other places.
Cosette Lalonde
08:11 07 Dec 20
Everyone at 5 star loans were kind and informative. They answered all my questions and made the process very quick. Got my title loans the same day which was wonderful.
Jasmin Piper
09:36 20 Nov 20
Great place good services they really worked with me just like they said they would they kept their word. They care to help you and it's and it shows. Thanks so much again and hopefully we will see

each other again in the future.

read more
Viki Doxey
06:12 04 Nov 20
Wow even with a bad credit score they still approved me. I'm so happy right now, going to pay my bills and sleep well because I got the money I needed
Edward Brady
10:49 10 Sep 20
honestly 5 star loans are the best when it comes to pink slip loans. I always have a positive experience with them.
Ted Penfold
06:04 07 Sep 20
My friend was so worried because she has a bad credit score. She's been receiving rejection letters, so I suggested 5 Star Loans to her. She applied on the same day and went home with her cash. The

next day she kept thanking me for giving her the suggestion.

read more
Fiona Cornish
07:37 13 Jul 20
There was a time when money was tight, and I had some late payments in the bank. That gave me a bad credit score. Since then, I took bad credit loans in Odessa at 5 Star Loans. I'm thankful I have

this option.

read more
Elna Hermiston
05:55 26 May 20
I and my friends in Norwalk are regulars in 5 Star Car Title Loans. They approve loans fast, unlike banks that usually take ages.
John Hamel
04:10 13 Mar 20
Get a loan with car title at 5 Star. I did that after getting rejected by the bank, and I don't regret my decision at all.
Ronald Smith
04:10 18 Feb 20
It's really cool having a motorcycle but what's even better is that I can use it as collateral for a quick cash loan everytime I need fast money. It's a motorcycle title loan.
Bernadette King
12:42 29 Jan 20
A bad credit loan is not so difficult to get. Use your car for collateral and get an online loan the same day.
Larry Nguyen
05:35 13 Jan 20
I don't know about you, but I found the easiest way to get quick money is when I get car title loans online. They don't ask me a lot of dumb questions or pry into my personal affairs.
Lucas Fraser
20:11 08 Jan 20
For me, a big rig title loan is what saved my day. I couldn't wait for the money I needed, so I applied. A few hours later I had the money in my account.
Gavin Young
07:29 14 Dec 19
It was so great working with those guys over at 5 Star Car Title Loans. I mean, I really needed some fast money. They helped me do everything. All I had to do was send in the application and they got

me a no credit loan without a lot of hassle. I hope I don't need to get quick cash again, but if I do, I know where I'll go! I'm telling all my friends about them.

read more
Johnny Schaefer
07:27 09 Oct 19
When I was working two jobs to support my family, one of my kids needed urgent help. I couldn't work any more hours on my job, so I used my car's value to get a quick loan at 5 Star Car title Loans.

That's how I got the money I needed. Today I'm still paying it back, but at least I had cash when I needed it.

read more
Nels Lehner
06:00 26 Aug 19
Me gusto el servicio, me ayudaron rapido y facil
Mario Juarez
21:23 07 May 16
I needed cash that day. They stayed and extra hour before closing to help me. If I am ever in need I'll definitely be back
Very easy process, staff was friendly and helpful. Would definitely recommend this business to others.
The were super fast and easy! They waiting for me even after they closed!
Kayla Salsberry
01:44 17 Jan 16
About This Location
EIM Insurance provides registration services for 5 Star Car Title Loans customers. The store is located at 13301 San Antonio Dr, near the intersection with Sproul Street. If you live in Norwalk and in need of registration services, stop by EIM Insurance that works with 5 Star Car Title Loans in Norwalk. EIM Insurance provides our clients with unmatched customer service. 5 Star Car Title Loans does not issue loans at this location.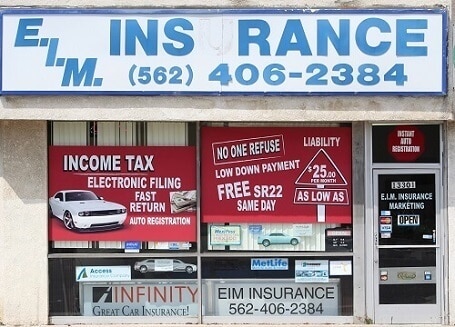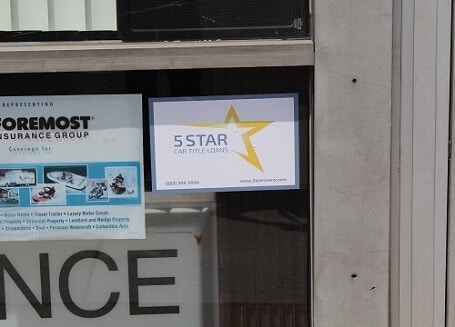 The Norwalk Station
Considered part of Greater Los Angeles, Norwalk came by the name because of a railroad crossing of the Anaheim Branch Railroad at the North-walk. In 1874, that name was written as the official name of the town that was being planned in that area. The Norwalk Station was a major center for dairy farms, the first important industry being a cheese factory established in 1882. But those days when prosperous farmers built stately homes in their bucolic orchards and farms are long gone. Today, those properties are highly sought after for homes due to the proximity to employment opportunities in the Los Angeles area.
Cash Needs for People Living in Norwalk
For those people who are living in Norwalk but are short on money, it can be hard to get through the month without going into debt. The costs incurred with being in debt can be very high, but if you have a bad credit record it can be difficult to convince a bank to loan you cash. One solution to getting extra cash is by sending in a request to 5 Star Car Title Loans in Norwalk. If you are approved for a car title loan, you can get anywhere from $2,600 and up to use for anything you want or need. Take a look at the online car title application form and submit it to us anytime you feel like you could use some extra cash.
Title Loans for Cash
Title loans from 5 Star Car Title Loans in Norwalk use the equity in your private car as collateral for a cash loan. The loan can be paid back in simple installments. While you're making the payments, there's no problem keeping your car and driving it to anyplace you need to go. However, to use the value of your car to secure a quick loan, we will place the name of 5 Star Car Title Loans in Norwalk on your car title. We'll remove it after the terms of the contract have been met. In the meantime, you're good to go with cash in your pocket while driving your car.
Apply Now – 5 Star Car Title Loans in Norwalk
When you receive your application at 5 Star Car Title Loans in Norwalk, we will check that you meet our credit criteria, that the value of your auto is sufficient and that you have the ability to make the payments. If yes, we will contact you!