5 Star Car Title Loans Google Reviews:
Because I got laid off due to COVID and waiting on unemployment to go through I called 5 star and they helped me with a car title loan. Thank you!
Thomas Heaney
17:36 06 Sep 20
I am grateful to these professionals for approving my car loan request. The online loan payment facility makes my work easier for repaying the loan amount. Great service.
Heather Lyman
13:58 15 Aug 20
Life in San Fernando has been hard lately after I lost my job. I'm just thankful that I got a car title loan at 5 Star Car Title Loans to help me get through these rough times.
Edson Edmund
05:24 12 Jun 20
I used the money I got from them to pay for my rent. I'm behind for two months now.
Albina Nolan
08:10 22 Apr 20
I visited several loan companies in San Fernando. I decided to sign with 5 Star Car Title Loans. Their staff is very accommodating, and they offer the best terms!
tony leber
09:17 14 Mar 20
In installment loans, there is no static interest rate. It depends on the time until maturity.
Brad Green
03:09 19 Feb 20
I don't have any steady income but I have some valuable stuff, including the expensive car that I own. So even without a job I can still apply for title loans without income.
Annie Sauls
08:16 31 Jan 20
I'd been wantin that new furniture set for so long. I'd had my eye on it as I walked to work each day. Then guess what! I walked by the store and saw a 50% off sale on that furniture that I wanted! I needed cash really fast so when I got to work I sent in an application for loans on car titles. I wish I would have had the cash saved up to pay for that sofa set, but I didn't. I was approved for

the amount of money I needed and got it so fast that I ran down to the store on my lunch hour and bought the set! I saved a bunch of money and now I'm paying back the loans.

read more
Great service! I called inquiring about a car title loan and 5 star service was polite and professional. The rep I was talking too walked me through the process and took his time to answer all my questions.
Sean Baker
07:59 04 Feb 18
About This Location
Tatiana's Auto Registration Services provides registration services for 5 Star Car Title Loans customers. The store is located at 741 S Workman St, near the intersection with S Workman Street. If you live in San Fernando and in need of registration services, stop by Tatiana's Auto Registration Services that works with 5 Star Car Title Loans in San Fernando. Tatiana's Auto Registration Services provides our clients with unmatched customer service. 5 Star Car Title Loans does not issue loans at this location.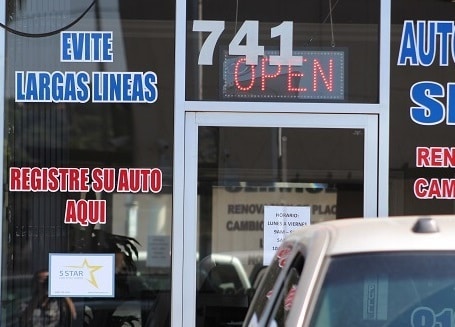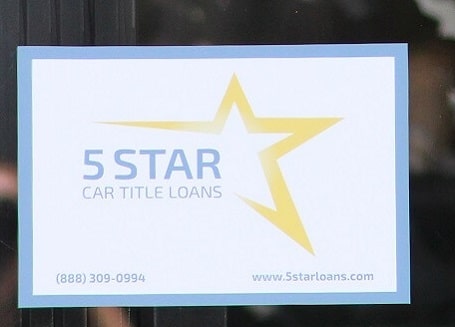 San Fernando, California
San Fernando is a distinct town with its own sense of community, but is totally surrounded by the City of Los Angeles. Most towns in the San Fernando Valley were annexed to Los Angeles in the early part of the 20th century in order to partake of the abundant water supply. The water arrived from the Los Angeles Aqueduct, which brought it from the Owens River in the Sierra Nevada Mountains to the east of LA. The city of San Fernando, however, had plenty of groundwater and decided to keep its independence. Thus, they were able to get by on their own.
5 Star Car Title Loans in San Fernando - Cash Loans for Residents
Getting extra cash or a cash loan in San Fernando can be complicated. This is really true if you happen to have a bad credit rating. And you know, any number of things can come up that cause your credit score to drop. If you found yourself between jobs and the next paycheck was late coming in, if you just had too many unexpected expenses pop up or if you suddenly needed to replace some items in your home, you can quickly get behind in your monthly payments. The good news is that for car owners, it's possible to get a minimum of $2,600 from 5 Star Car Title Loans in San Fernando.
Online Car Title Loan Applications
Car title loans from 5 Star Car Title Loans in San Fernando give you a chance to get some quick cash that will help you start over. Pay your bills, cover your expenses and reduce that extra financial stress in your life! Start by sending in your online application. Tell us about your vehicle and who you are, and we will figure out how much value your car has today. Even if your credit score isn't great, that won't prevent you from getting a car title loan. What's important to us is that your car is of adequate value, you can repay the loan and you fit our credit specifications.
Quick Cash and Keep Your Car
When you get the money from a title loan, you can still keep possession of your automobile. We will put our name, 5 Star Car Title Loans in San Fernando, on your car title as a lien holder, but we'll take it off when you finish paying.loans begin at $2,600 but can go up depending on your details. So send in your online car title loan app now and let's get started!